A growing number of California detainees are Indians crossing through Mexico to seek asylum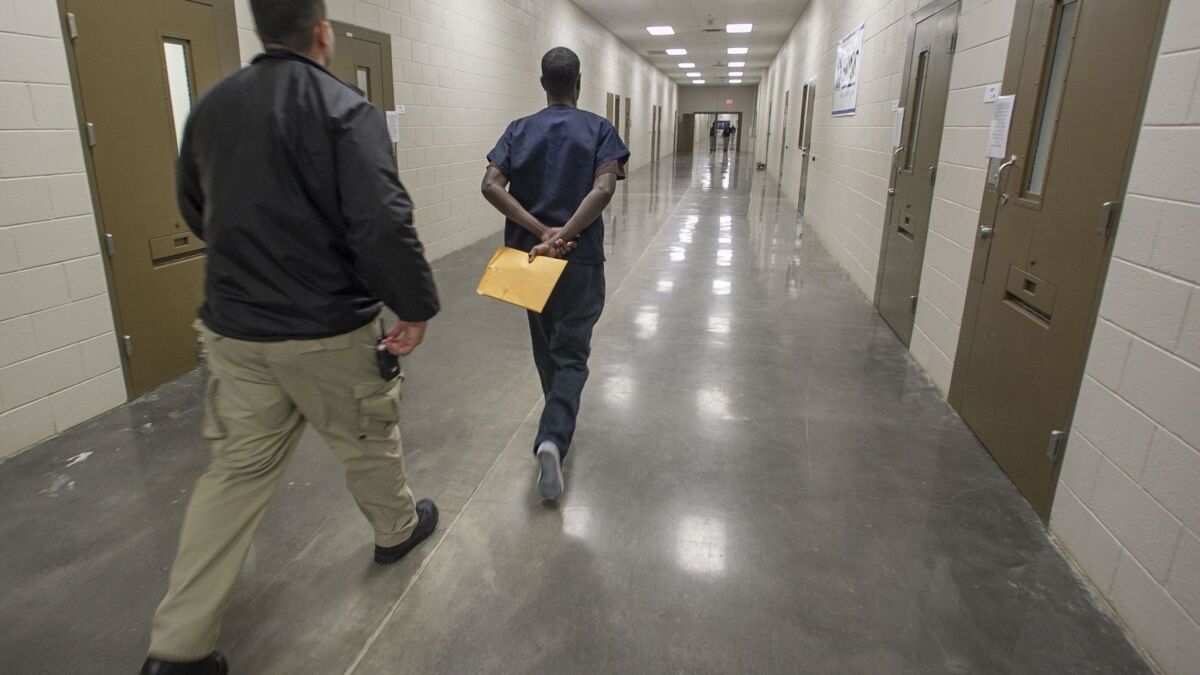 On a recent visit to the federal prison in Victorville, U.S. Rep. Mark Takano was caught by surprise. Of the hundreds of immigrants detained there, he learned, possibly 40% had traveled from India seeking asylum.
The Riverside Democrat had expected to see a high concentration of Central American detainees, many of them fathers who had been separated from their children.
Not all of the men spoke English. The group appointed a representative, who told Takano that they were supporters of two different political parties and had been persecuted by India's governing Bharatiya Janata Party.
"They said they were often bullied into doing things that were immoral," Takano said. "They would have to carry drugs, perpetrate violence against others."
According to immigration officials and attorneys, there has been an increase in recent years of Indian nationals crossing into the U.S. through Mexico — although they represent a small percentage of those detained overall. Indian citizens are among thousands of migrants from Haiti, Africa and Asia now trekking across Latin America, taking advantage of travel routes forged by Latino immigrants.
By early August, about 380 of the 680 migrants at the Victorville facility were Indian nationals, according to the Federal Bureau of Prisons, sent there as civil rather than criminal detainees pending the outcome of their immigration cases.
In addition, about 40% of the detainees at Immigration and Customs Enforcement's Imperial Valley facility are from India, a spokeswoman said. Nearly 20% of detainees at ICE's Adelanto processing center are Indian.
So far during the 2018 fiscal year, 4,197 of those arrested by Border Patrol agents have been Indian nationals, according to data from Syracuse University's Transactional Records Access Clearinghouse.
And many have seen their asylum claims denied.
From fiscal years 2012 to 2017, about 42% of asylum cases from India were rejected, clearinghouse records show.
"I ask, 'Why not stay in Mexico?'" said immigration attorney Deepak Ahluwalia. "They see us as the traditional country that has helped the persecuted."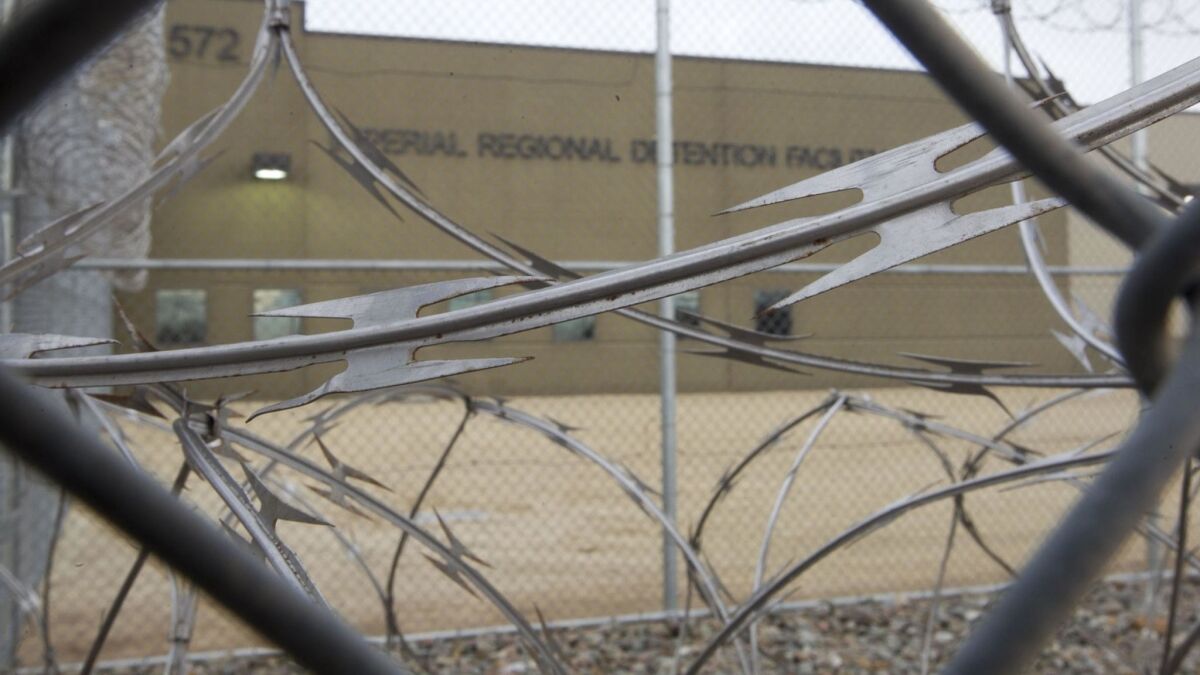 Indeed, detainees from India have cited an increase in political and religious persecution as their reasons for seeking asylum, according to U.S. Customs and Border Protection.
Sukhwinder, an immigrant from the northern state of Punjab who did not want his full name used for fear of retribution, spent two months inside the Imperial Valley center, where he said he was not allowed to wear the turban and bracelet many Sikhs wear as part of their faith. Hindus housed in the same facility were forced to eat meat for more than two weeks, despite their religious beliefs, he said.
"I didn't feel at ease," Sukhwinder said through an interpreter. "I wished I was in my home country."
On Tuesday, Management and Training Corp., the company that operates the Imperial Regional Detention Facility, said in an email, "We provide turbans to detainees free of charge" when they are requested. The company added that the center's menu is approved by a dietician according to national standards, and if detainees request, they are provided with a vegetarian diet.
Sukhwinder, who is 20, said he fled India after being attacked late last year by a group of men who stepped out of their car and asked him why he hadn't joined the BJP, the party of Prime Minister Narendra Modi's Hindu nationalist government. When he told them he did not support their cause, they pummeled him with hockey sticks and threatened to kill him the next time they crossed paths, he said.
Fearing for his life, Sukhwinder's parents sold gold and part of their wheat farm to get him a visa and a ticket to Mexico — in hopes that he could seek asylum in the United States. At the end of a five-day journey from Mexico City, he and a handful of other Indian nationals jumped the border wall in Baja California and were arrested by authorities on the U.S. side near Calexico.
Sikh detainees, as well as those of other faiths, have complained of conditions that don't allow them to freely practice their religion.
At a recent know-your-rights gathering in the Victorville prison, nearly 40 people who met with Meeth Soni, co-legal director at Immigrant Defenders Law Center, were Sikh. All of them, she said, were told they could not wear their turbans or kara — allegations that are part of a recently filed lawsuit against President Trump and Immigration and Customs Enforcement.
One Sikh detainee "made repeated requests for a head covering and was told it was not allowed," according to the lawsuit.
"They've been told it's going to cost them $10 for a turban — $10 that these people don't have," Soni said. "ICE took their turbans away from them, threw them away and now is saying you have to pay us money to properly observe your religion."
ICE referred a request for comment to the Bureau of Prisons, which said it does not comment on pending litigation.
Attorneys who have spoken with detainees about why they left their home countries said many Indians have stories similar to Sukhwinder, who said he could not turn to the police in Punjab for help.
"In some cases, the beating has been pretty gruesome. People have been hospitalized. The police have not done anything to protect them, and even though they try to relocate, the threats continue to them and their families," Soni said.
After the first assault by supporters of the governing Hindu nationalist party, Sukhwinder said, police threatened to bring up a false charge against him if he spoke out against that party again. A 2018 Human Rights Watch report said others in India experienced similar treatment at the hands of police.
"Mob attacks by extremist Hindu groups affiliated with the ruling BJP against minority communities, especially Muslims, continued throughout the year amid rumors that they sold, bought, or killed cows for beef," the report said. "Instead of taking prompt legal action against the attackers, police frequently filed complaints against the victims under laws banning cow slaughter."
Experts say there is no denying that the political climate in India has become hostile to many minorities.
Vinay Lal, a history professor at UCLA, said that although he has not seen evidence of Indian refugees coming to the U.S. to escape political persecution, it is possible. He said he views the greater trend of Indian immigrants crossing through Mexico as part of a global "migration crisis" rather than a political one.
"I think that the word has gone out that there are various ways that you can try to move," Lal said, "and coming through the Mexican border remains one of the more accessible ways."
Gaurav Khanna, an assistant professor at UC San Diego's School of Global Policy and Strategy, said religious and political persecution in India have become more intertwined with the rise of the BJP.
"There's definitely people getting attacked for their political beliefs," Khanna said. "You do see, especially before elections, people are killed for … campaigning for certain parties. My sense is it has been happening for years, but the question is, is it rising in recent years?"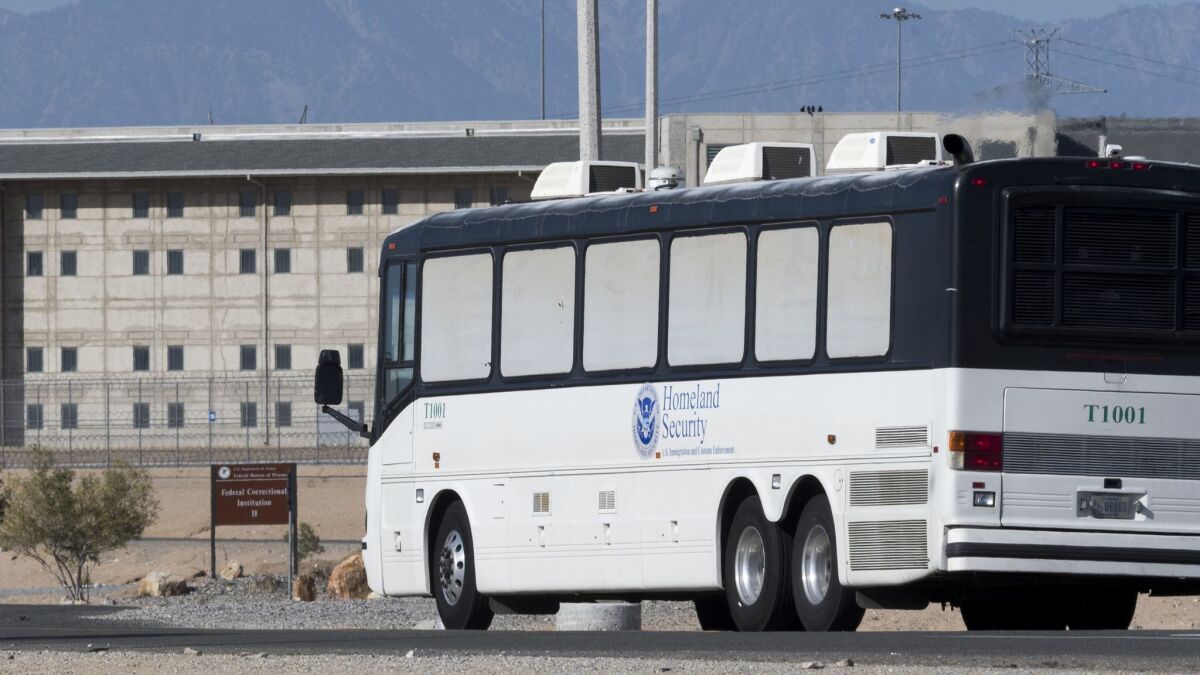 Sukhwinder said he felt forced to leave his home, taking a path that snaked through the United Arab Emirates, Greece and Germany.
"My life was obviously more important to my parents than any gold or land in India," Sukhwinder said.
Once he arrived in Mexico, he met two other Indian men who had taken a similar route. A contact in India put them in touch with someone who then led them to a home in Mexico City.
There, Sukhwinder said, they stayed in a bedroom furnished only with the linens they slept on. They were allowed supervised walks to the bathroom and ate one meal each day, usually a burrito or bread with water.
"I feared for my life," Sukhwinder said. "If I were to be sent back, I could be located anywhere."
Sukhwinder is out on $10,000 bond while he files for asylum. The decision on whether to accept his account and approve his claim ultimately rests with an immigration judge.
As he waits to hear his fate, he said he is grateful but stressed that he can't plan for his future.
"Asylum seekers are not being granted asylum as easily as they were before," he said. "I don't know how likely it is that I will be able to stay."
For more California news follow me on Twitter: @sarahparvini
---
UPDATES:
Aug. 14, 12:45 p.m.: This article was updated with comment from the company that runs the Imperial Valley ICE facility.
This article was originally published Aug. 13 at 1:15 p.m.
---
The stories shaping California
Get up to speed with our Essential California newsletter, sent six days a week.
You may occasionally receive promotional content from the Los Angeles Times.