Jeanine Pirro again at center of Robert Durst hearing in New Orleans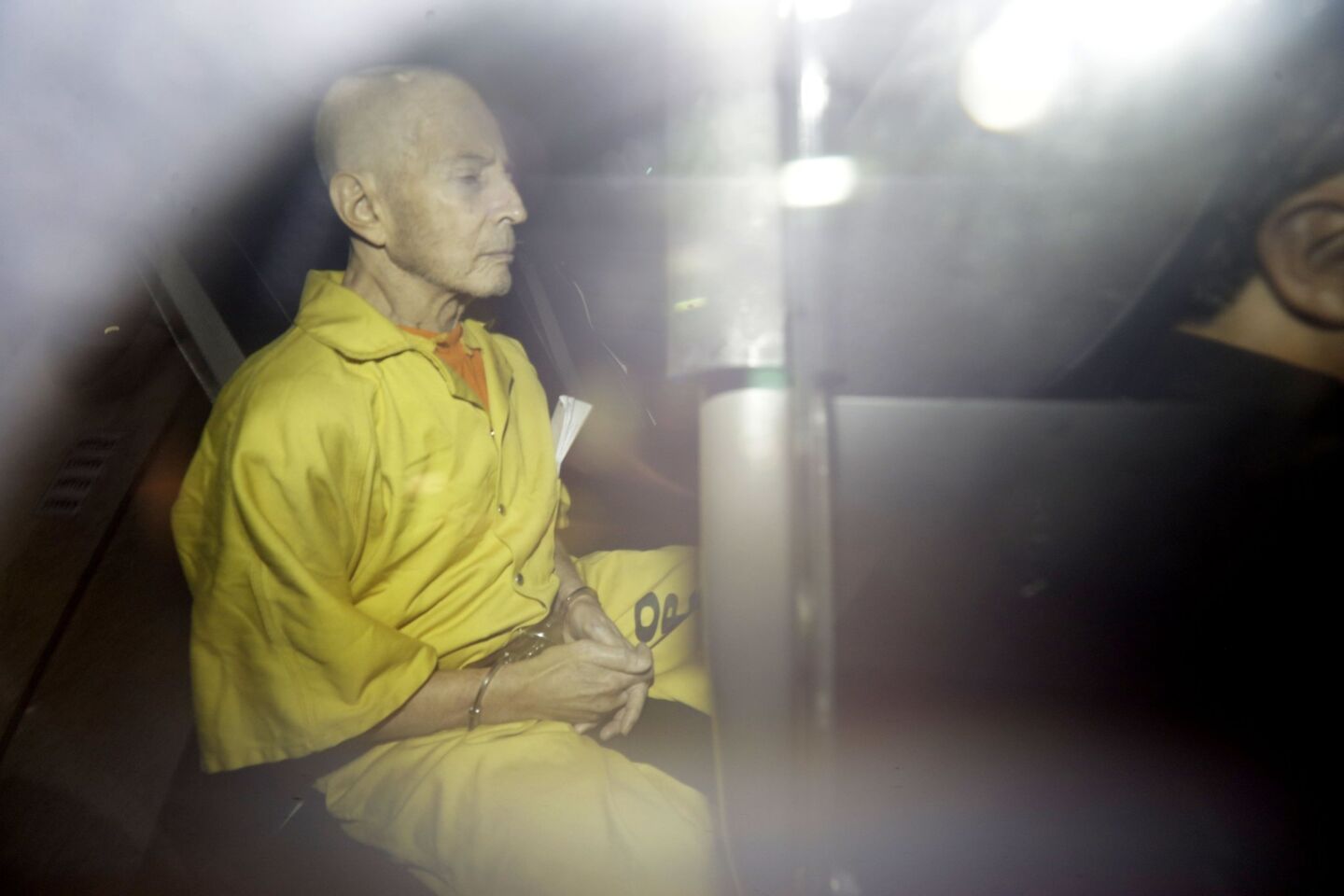 Robert Durst leaves federal court in an Orleans Parish sheriff's vehicle after his arraignment April 14 in New Orleans.
(Gerald Herbert / Associated Press)
Robert Durst is transported from district court to prison after his arraignment in New Orleans on Tuesday.
(Gerald Herbert / Associated Press)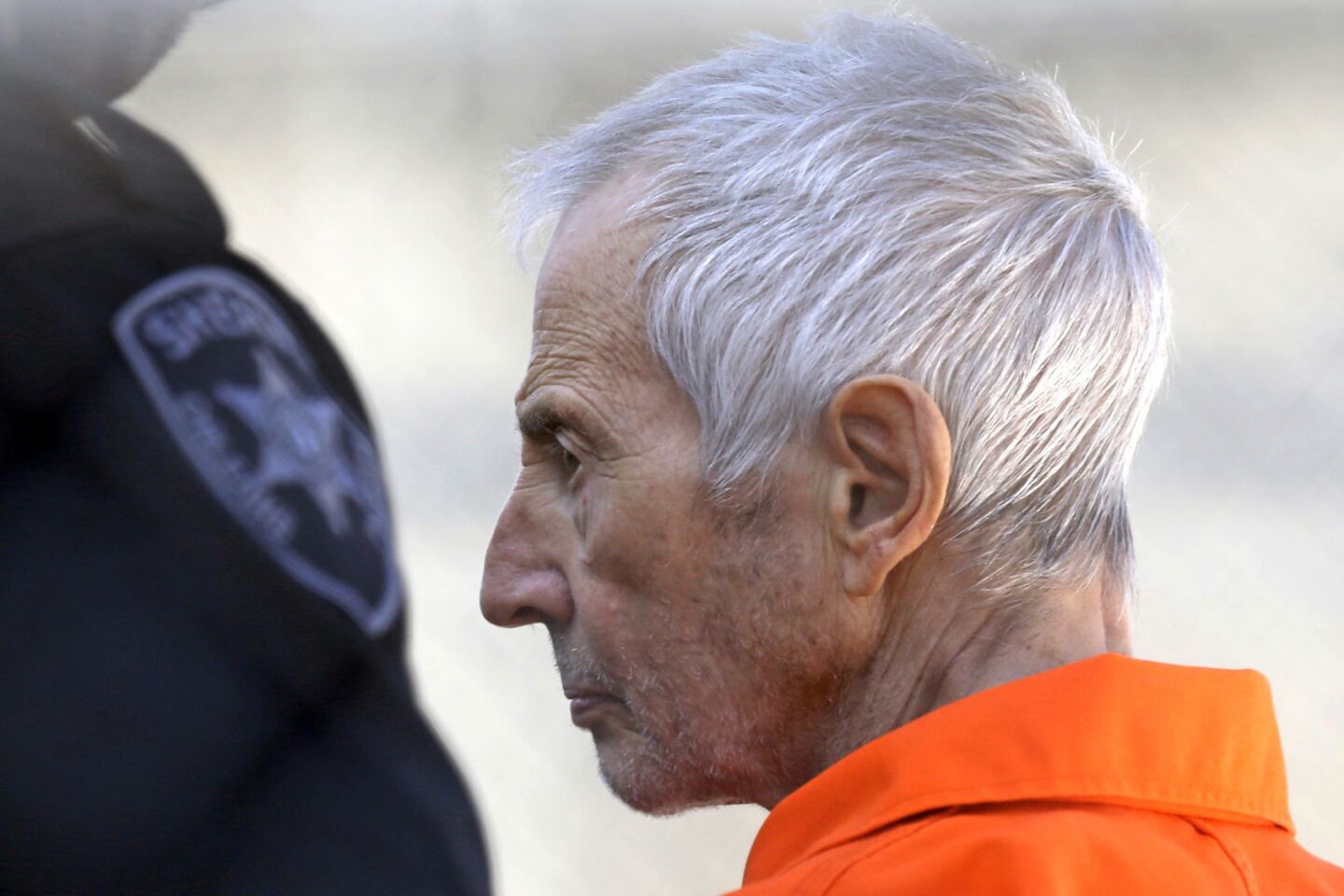 Robert Durst is escorted into prison after his arraignment in New Orleans on Tuesday.
(Gerald Herbert / Associated Press)
Writer Susan Berman was killed in her home in the Los Angeles neighborhood of Benedict Canyon.
(Francine Orr / Los Angeles Times)
Robert Durst, far right, photographed through fencing, is escorted into Orleans Parish Criminal District Court through a tunnel entrance, in New Orleans. Durst waived extradition Monday and will be taken to Los Angeles to face a murder charge in the 2000 slaying of a writer and friend.
(Gerald Herbert / Associated Press)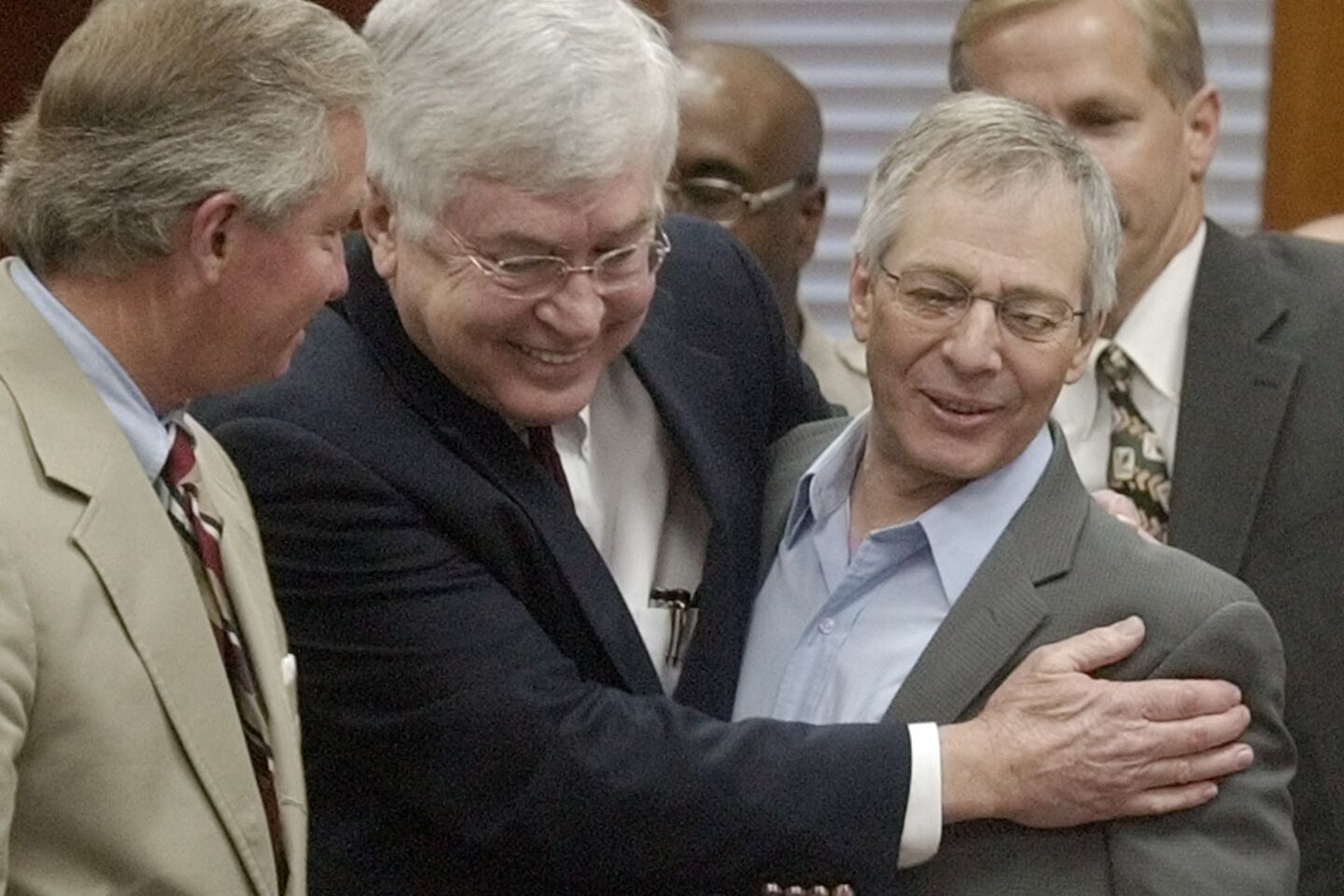 Multi-millionaire murder defendant Robert Durst, right, is congratulated by his attorneys Dick DeGuerin, left, and Mike Ramsey after receiving a verdict of not guilty Nov. 11, 2003, in Galveston, Texas.
(Pat Sullivan / Associated Press)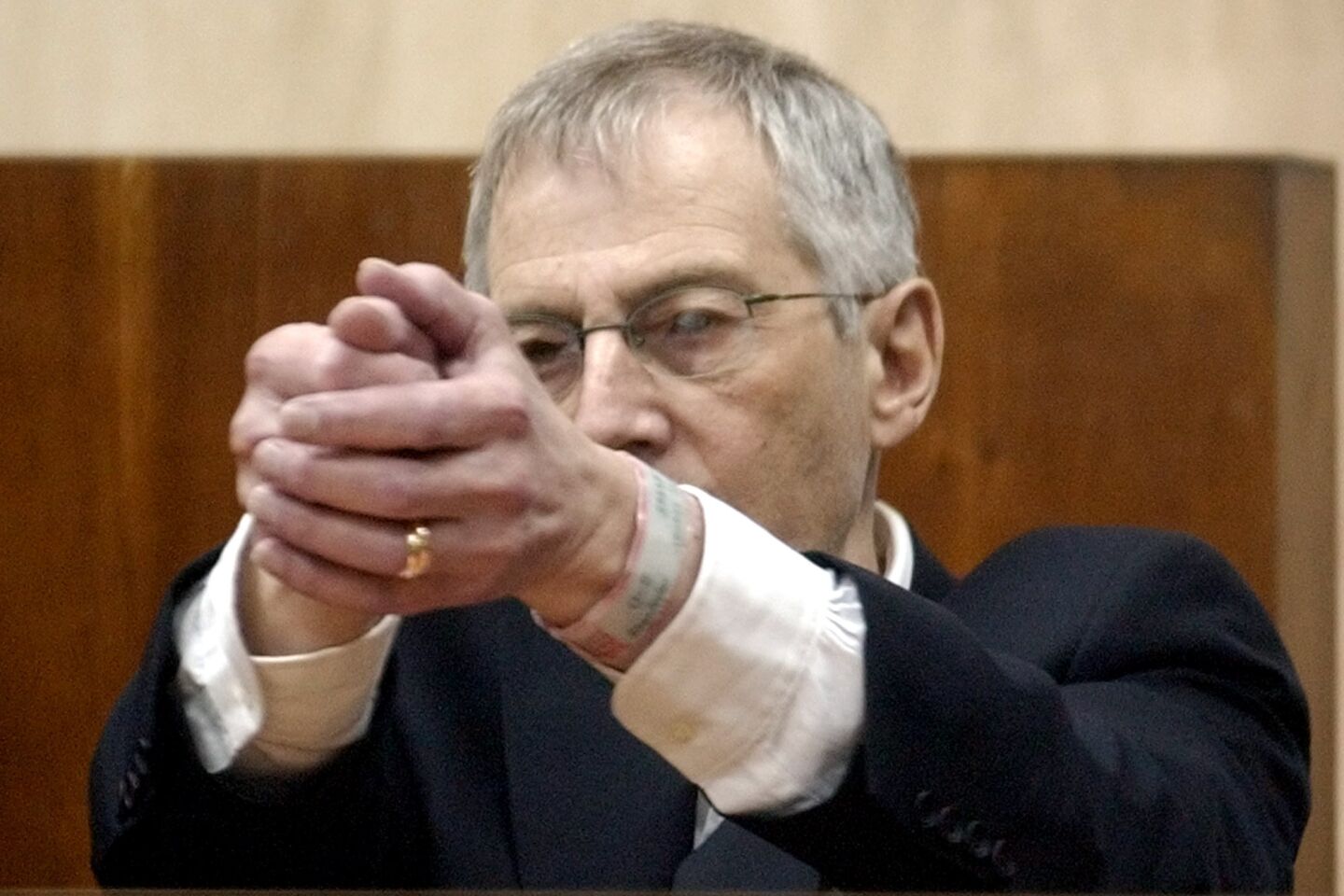 Multi-millionaire murder defendant Robert Durst demonstrates how Morris Black handled a gun during testimony at his trial on Oct. 23, 2003, in Galveston, Texas.
(Pat Sullivan / Associated Press)
In this Aug. 18, 2003, file photo, Robert Durst, left, sits in a courtroom during a pretrial hearing at the Galveston County Courthouse in Galveston, Texas.
(Kevin Bartram / Associated Press)
Robert Durst, center, is escorted by Northampton County deputy sheriffs before a hearing advising Durst of his rights under extradition laws Dec. 3, 2001, in Easton, Pa.
(Robert Fish / Associated Press)
Reporting from Houston —
Attorneys defending New York real estate heir Robert Durst plan to call as a witness and subpoena Fox News host, former judge and Westchester Dist. Atty. Jeanine Pirro on Thursday before a preliminary hearing in New Orleans.
Durst, 71, was arrested at a Canal Street hotel on March 14 in connection with the murder of Susan Berman, a Los Angeles author and Durst's friend, 15 years ago.
In his hotel room, investigators found a .38 revolver and marijuana; Durst was charged with possession of a firearm by a convicted felon and possession of a firearm with a controlled substance.
Durst waived extradition, but Orleans Parish prosecutors have pursued the state charges, which, if he is convicted as a first-time offender, carry maximum sentences of 10 and 20 years.
After Berman's execution-style shooting, it was reported that Pirro's office had been looking to question her about Durst's involvement in the 1982 disappearance of his wife. After Kathleen Durst vanished, Berman had served as a spokeswoman for Durst, who later admitted that he lied to authorities about his actions the night he claims his wife left their Westchester County home and boarded a train to New York City.
Now, according to Wednesday's filing, Durst's attorneys want Pirro to testify to "confirm that, as part of her investigation, Ms. Pirro never requested an interview or otherwise contacted Susan Berman prior to Susan Berman's death in December 2000."
Pirro had vowed to convict Durst of the killing when she reopened the case, but never managed to charge him.
When Durst was later charged with murdering a neighbor in Galveston, Texas, and stood trial in 2003, his defense attorneys -- including his current lead attorney, Dick DeGuerin -- persuaded a jury that Pirro had persecuted Durst, forcing him to hide out in the Gulf island community dressed as a woman using a fake name.
After killing his neighbor in self-defense, he dismembered and dumped the body in the bay because he feared he would be blamed by his nemesis and others, they argued.
When Pirro appeared at Durst's last hearing at Orleans Criminal District Court on March 20, DeGuerin initially persuaded Magistrate Judge Harry Cantrell Jr. to remove her from the court as a potential witness for the defense, arguing she couldn't be both a lawyer and a journalist.
Pirro balked.
Her attorney and Assistant Orleans Parish Dist. Atty. Christopher Bowman soon returned to protest that removing Pirro was a constitutional violation, among other things. The judge eventually relented and allowed Pirro to return to court, where she sat in the front row of the gallery, eying Durst and taking copious notes.
At Thursday's preliminary hearing, the judge is expected to address a motion by Durst's attorneys to throw out his arrest based on the timing of the issuance of the underlying search warrants and Louisiana state law, which they argue did not prohibit Durst from having a gun.
Now the judge will be asked to set a hearing, potentially ahead of the scheduled one, to decide whether Durst can call Pirro to testify about her investigation as Westchester district attorney into his wife's disappearance.
Reached late Wednesday, Bowman said his office does not comment on open cases. Fox News did not respond to requests for comment.
Galveston Det. Cody Cazalas has appeared on Pirro's show to discuss how he investigated Durst. He said Wednesday that he is hopeful Louisiana officials can make their case against the man worth an estimated $100 million.
"DeGuerin wants to get out of Louisiana because I think he already realizes it's a strong case," Cazalas told The Times. "I think the warrants are good. He can put a lot of smoke and mirrors up, but [Durst] is a convicted felon. "
Cazalas said DeGuerin is trotting out the same "poor Bob" defense he used in Galveston back in 2003, pitting a persecuted Durst against Pirro. But if Durst really feared for his safety in New Orleans, Cazalas said, why not hire bodyguards instead of buying guns?
"He can hire a whole army, as much money as that man's got," Cazalas said.
In Galveston, Cazalas said, Durst "bought his way out of justice" with a high-profile defense team. But in Louisiana, the investigator said, "He's got a tab to pay with justice."
For more news from the Robert Durst case, follow @mollyhf.
The stories shaping California
Get up to speed with our Essential California newsletter, sent six days a week.
You may occasionally receive promotional content from the Los Angeles Times.