Some memorable moments of the L.A. Pride parade through the years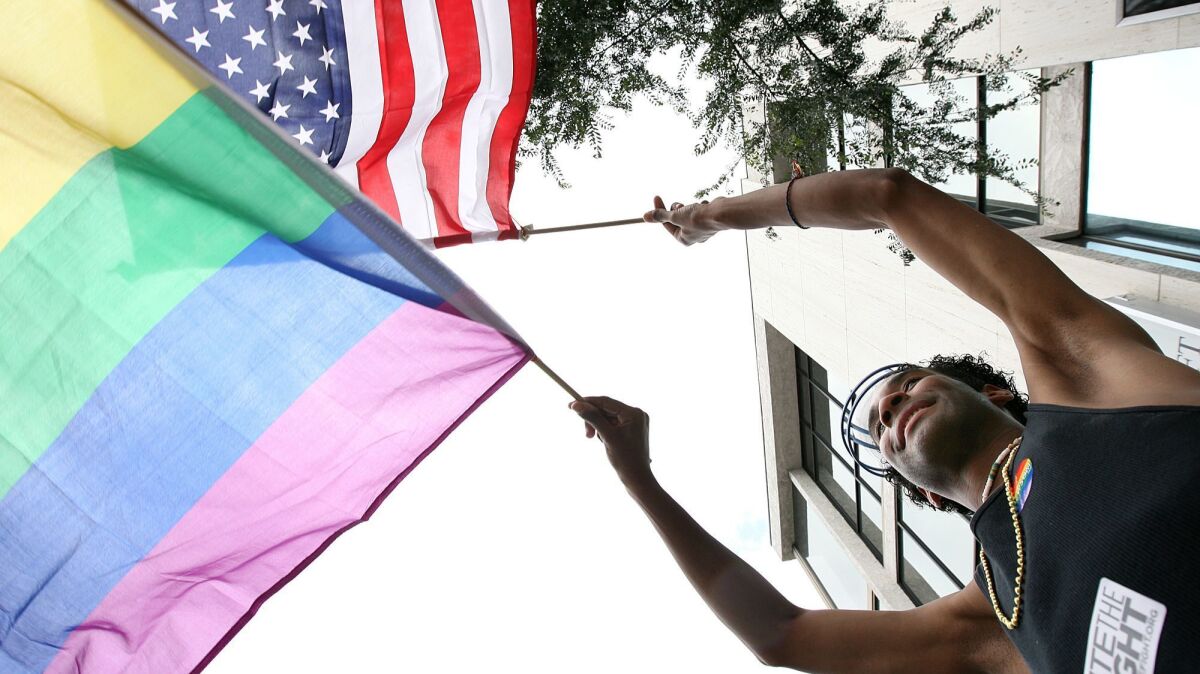 The LA Pride parade is usually a celebration for the LGBTQ community. But this year, organizers are returning to its political roots with the Resist March.
"We're getting back to our roots," Brian Pendleton, a board member for Christopher Street West, the nonprofit that organizes the annual event, told The Times in March. "We will be resisting forces that want to roll back our rights, and politicians who want to make us second-class citizens."
Here's a look back at the parade's history and its memorable moments.
---
1970
The first LA Pride Parade
The first parade took place in Hollywood — at a time when gay sex was actually illegal in California. It was organized to commemorate the 1969 Stonewall riots, an uprising triggered by a police raid of a gay bar in New York City.
The LGBTQ community in L.A. also had experiences with police brutality. Officers beat gay patrons and arrested 14 for same-sex kissing — which was illegal during the time — at the Black Cat on New Year's Day 1967. That event sparked gay-rights protests.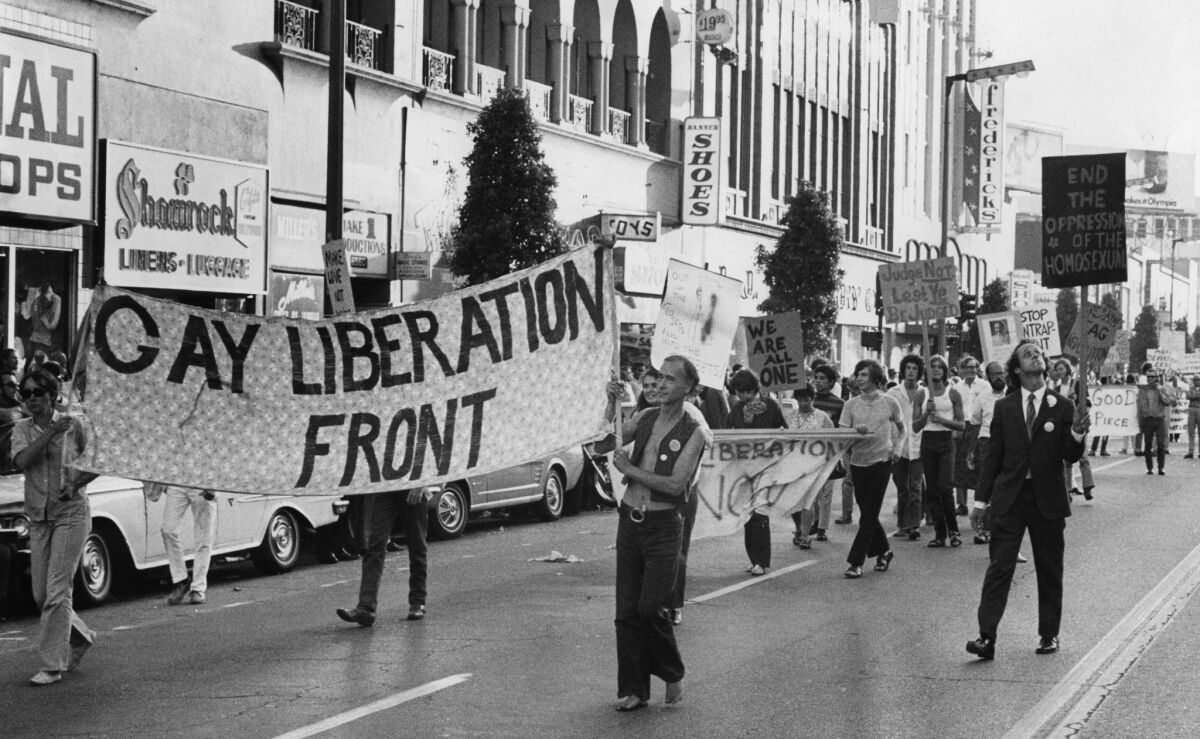 1973
The parade is a no-show
The parade skipped a year in 1973 due to infighting among the organizers, "offensive" parade floats and opposition from some bar owners, according to The Advocate.
1978
'Defeat Briggs'
Parade attendees protested the Briggs Initiative, a proposed measure that would have banned LGBTQ people from working in California public schools.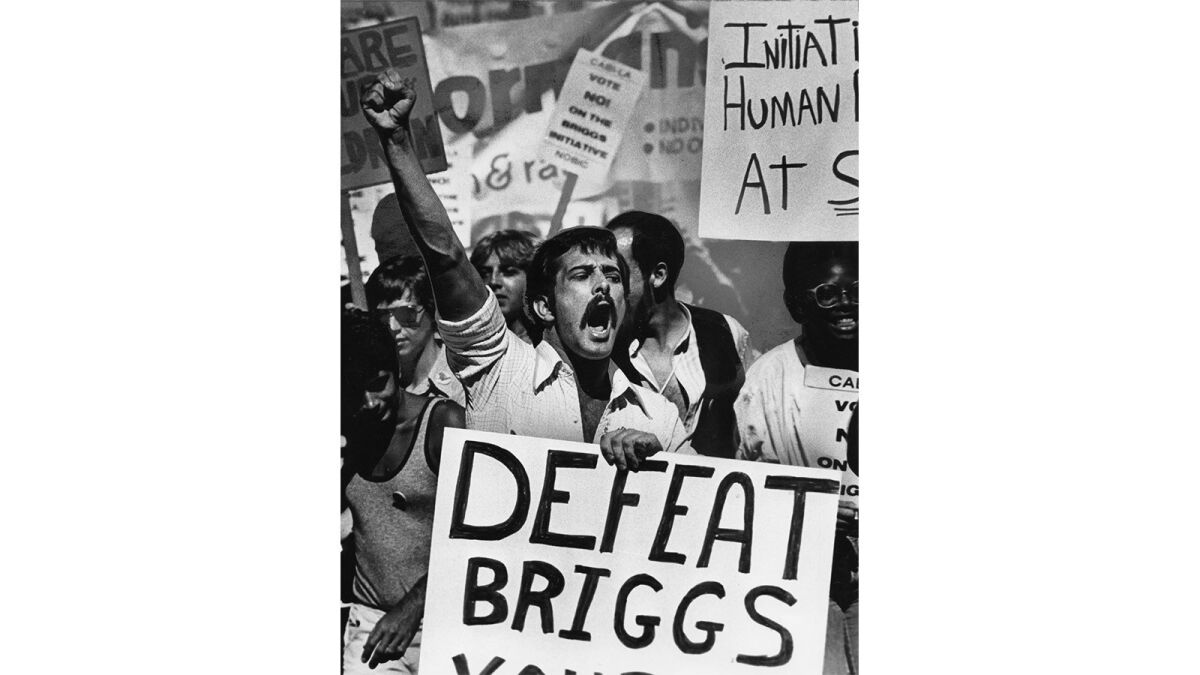 1980s
The parade moves to West Hollywood
The parade moved to Santa Monica Boulevard in West Hollywood — now one of the biggest LGBTQ-friendly cities — after the community incorporated.
1990
AIDS epidemic
An AIDS advocacy group staged a die-in, forming chalk outlines to represent people who died of AIDS.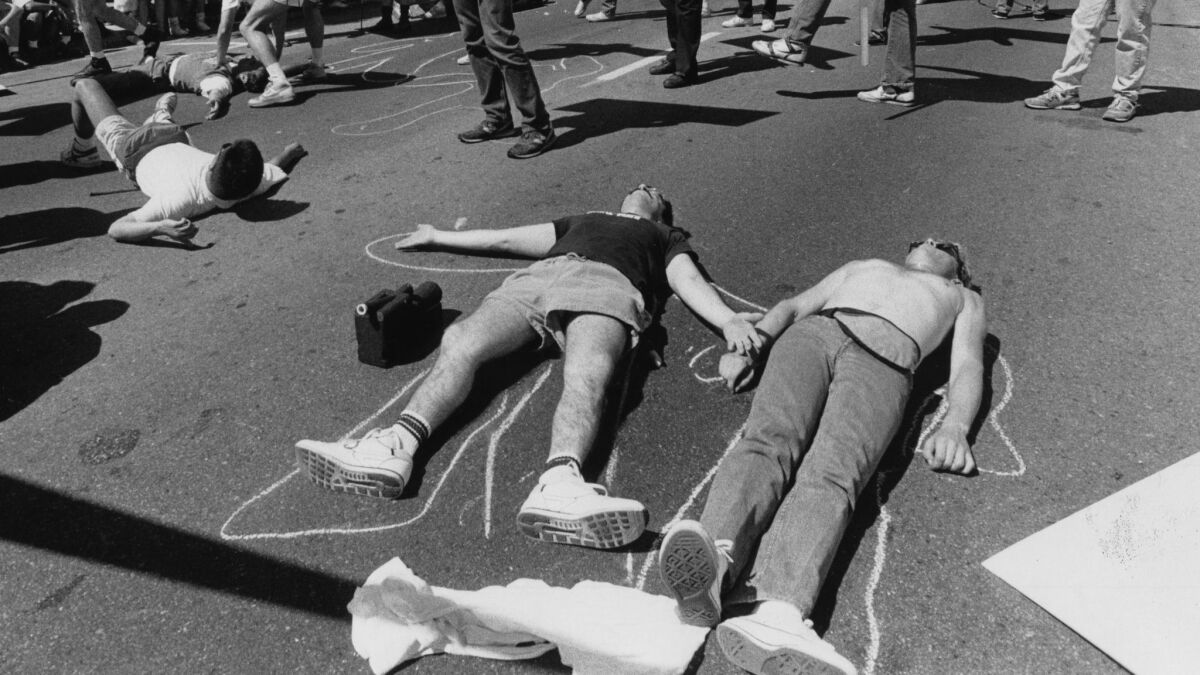 2008
Same-sex marriage win in California
Attendees celebrated the California Supreme Court decision to legalize same-sex marriage in the state. But later that year, California voters approved Proposition 8, which eliminated the right of same-sex couples to marry.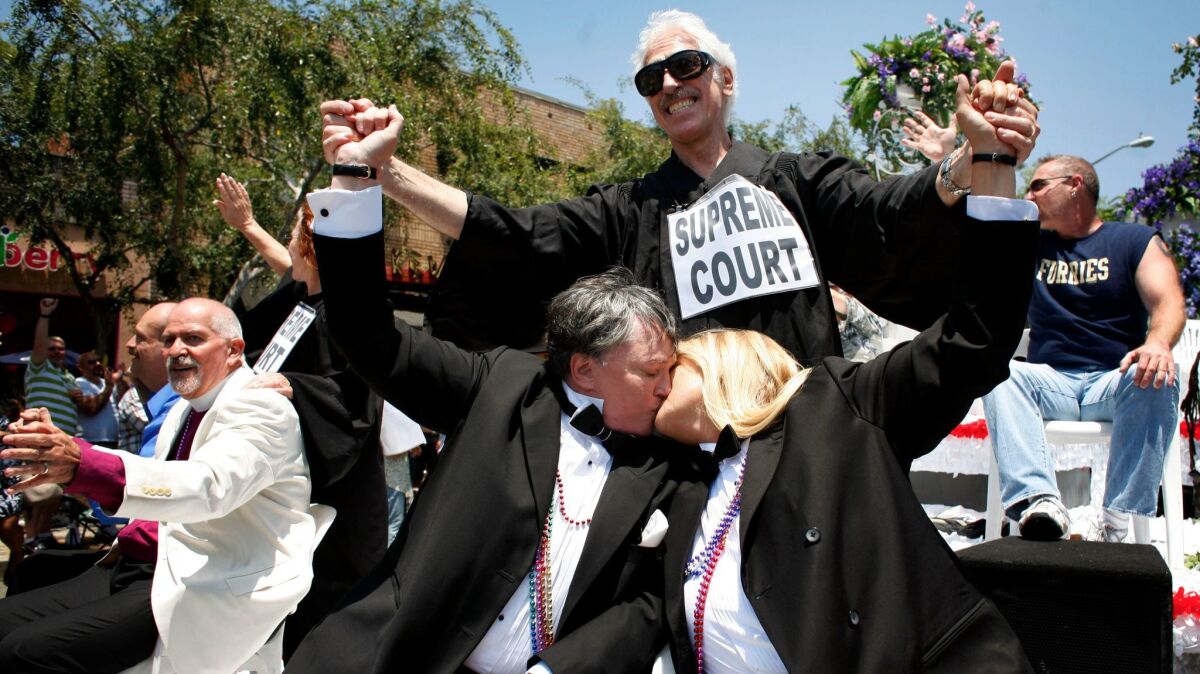 2011
NOH8 and Prop. 8
The NOH8 movement — and many other LGBTQ organizations — jumped into action when Proposition 8 was enacted in California. The campaign, created by celebrity photographer Adam Bouska and his partner Jeff Parshley, rallied for marriage equality and gay rights by using images of people wearing duct tape over their mouths, symbolizing their voices being "silenced."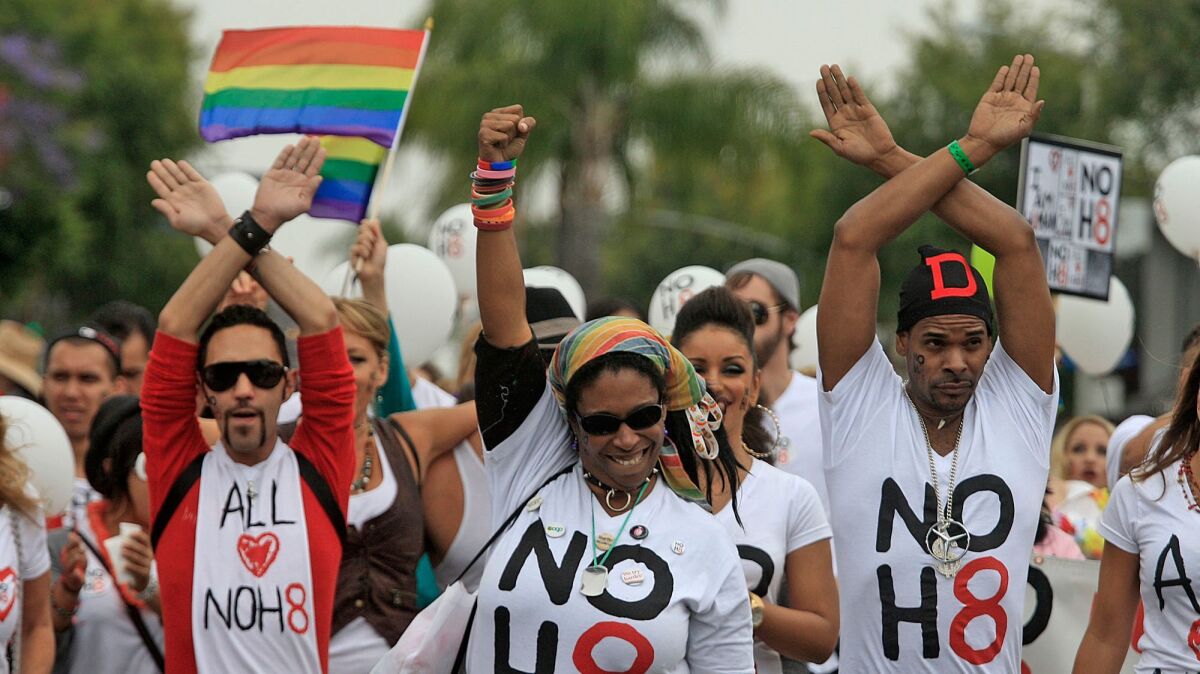 2016
'Equal dignity': Same-sex marriage becomes a right
The U.S. Supreme Court's historic ruling on same-sex marriage is highlighted during the 2016 parade. (There had been an impromptu celebration in June of 2015, hours after the court's decision.)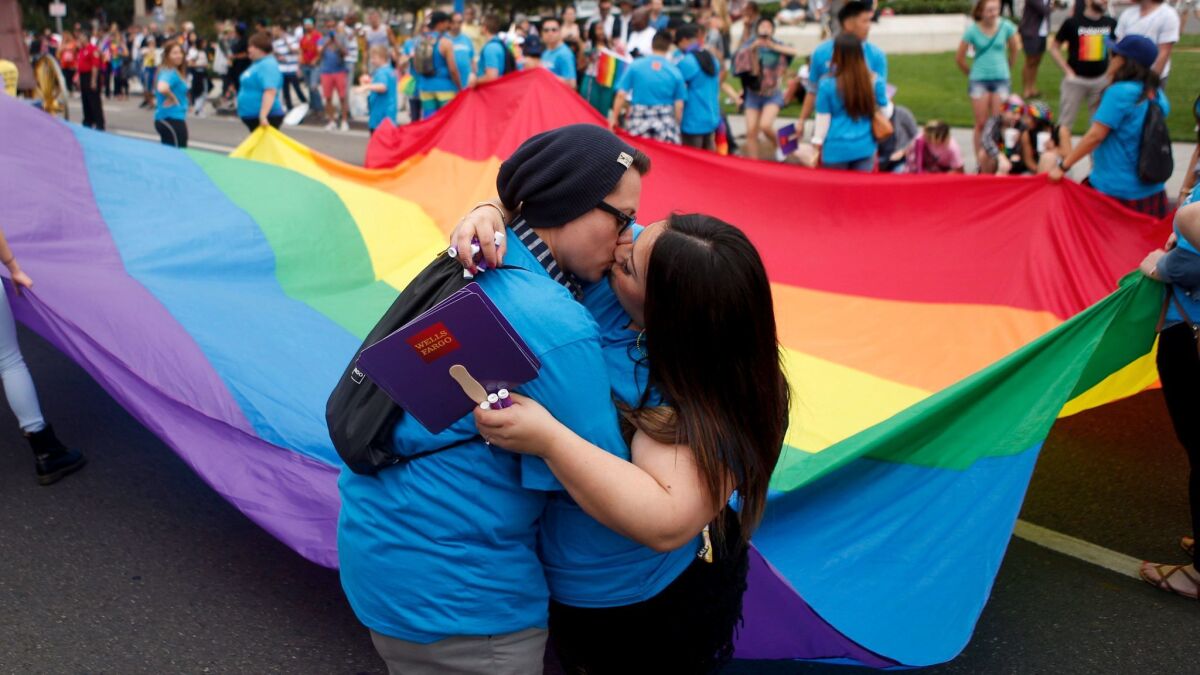 2016
Pulse shooting creates a somber tone
Last year's parade took place just a few hours after a mass shooting at the Pulse gay nightclub in Orlando, Fla., in which 49 people were fatally shot. The 29-year-old gunman, Omar Mateen, had spoken in the past of his hatred for gay people.
---
The stories shaping California
Get up to speed with our Essential California newsletter, sent six days a week.
You may occasionally receive promotional content from the Los Angeles Times.