LA Pride Parade to be replaced with protest march this year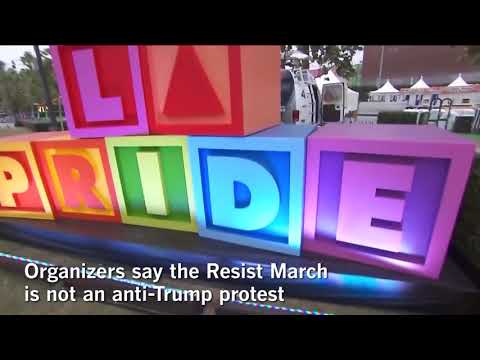 The LA Pride Parade will be replaced with a protest march this year.
The iconic LA Pride Parade — a decades-old celebration of the LGBT community — will be replaced this year with a protest march, according to the event's organizers.
In lieu of the colorful floats that typically roll down Santa Monica Boulevard in West Hollywood, this year's event on June 11 will simply consist of "people moving through the streets" marching for human rights, said Brian Pendleton, a board member for Christopher Street West, the nonprofit that organizes the annual event.
"We're getting back to our roots," Pendleton said. "We will be resisting forces that want to roll back our rights, and politicians who want to make us second-class citizens."
The first Los Angeles Pride Parade took place in 1970 and was so controversial that the city's police commission tried to stop it, citing the possibility that participants would be attacked. In the years since, the event moved to West Hollywood and grew to include a multi-day festival celebrating lesbian, gay, bisexual and transgender people.
The move to scrap the parade in favor of a protest march comes a year after Christopher Street West tried, controversially, to re-brand the accompanying festival as a music festival in an effort to appeal to millennials. Protesters derided the event as a "gay Coachella" and organized under the moniker #NotOurPride.
Pendleton said this year's march, which will be called Resist March, was inspired by the massive women's marches that took place across the globe the day after President Trump's inauguration.
Pendleton said that while the current "political climate" makes a protest appropriate this year, the event is not being billed as an anti-Trump protest.
"It's not a red thing or a blue thing," he said. "It's about marching for human rights, which are a Republican concept and a Democratic concept. … We're changing the format this year to let people know we care about human rights, whether you're a woman, a Dreamer, or an LGBTQ person."
Though the parade for many years has taken place entirely in West Hollywood, this year's march will begin in Los Angeles, starting at the intersection of Hollywood Boulevard and Highland Avenue, Pendleton said. The march will end in West Hollywood, but organizers are still working with officials in both cities to determine the route, he said.
The accompanying LA Pride festival, meanwhile, will also be potentially downsized because of construction in its venue, West Hollywood Park. It is unclear whether the festival will have fewer live music acts because of space constraints, or if there will be other space made available, said Mike Stommel, a spokesman for the festival.
"Everything is contingent on the park and construction around it," Stommel said. There are many details still being worked out, but it will likely still include both ticketed and free entertainment events, Stommel said.
Twitter: @haileybranson
Sign up for Essential California for news, features and recommendations from the L.A. Times and beyond in your inbox six days a week.
You may occasionally receive promotional content from the Los Angeles Times.