Malfunctioning backup power system led to LAX travel nightmare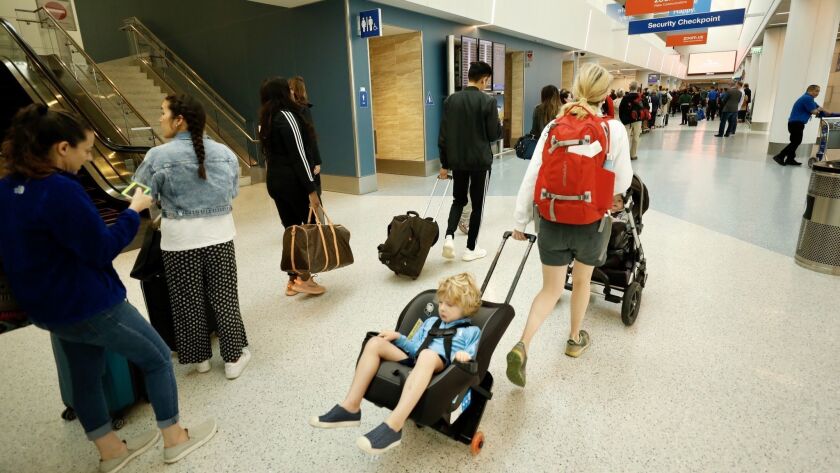 A power outage caused hours of chaos and delays at Los Angeles International Airport this week because a secondary power source that was designed to keep the flow of electricity to terminals and other facilities malfunctioned, officials said Friday.
LAX's power grid is designed for backup systems to click on when the main source of power goes off. But those automatic transfer switches failed to power up Wednesday night at three terminals, some parking structures and CTA traffic signals, officials said. The automatic transfer switches properly functioned for six terminals.
It took staff three hours to manually turn on the switches, and the airport's power was fully restored at about 10 p.m. Wednesday.
The airport operated on the backup power Thursday as crews with the Los Angeles Department of Water & Power worked all day to repair the damaged underground power cable near Sepulveda Boulevard and 98th Street.
The cause for the failure of the power cable and automatic transfer switches is under investigation, LADWP spokesman Albert Rodriguez said.
Heath Montgomery, a spokesman for LAX, said the outage resulted in 21 flight cancellations and nine aircraft diversions. Over the two-day debacle, just about 1% of 4,000 scheduled flights were affected.
Without power, airline staffers weren't able to move jet bridges to deplane passengers aboard flights that had landed. Departing flights at other airports were grounded to avoid landing aircraft without available gates for passengers to use, which was one of the primary reasons for the delayed and canceled flights, Montgomery said.
"We are very appreciative of the patience of our passengers," he said. "People were calm, people helped each other, and that helped us get back to normal."
Travelers had a different account of the experience. Chaos unfolded as customers tried for hours to get in contact with family members, employers and airline staff members to reschedule their flights. Many were stranded after their flights were canceled, and slept on the floor Wednesday night.
Airport staff distributed water, blankets, snacks and personal hygiene kits to travelers in the affected terminals during the outage, officials said.
Fallon Anderson, 27, of Phoenix said she stayed awake all Wednesday night, guarding her many bags after her flight was re-booked for the following afternoon. She watched the madness unfold as she kept her ground, reserving a valuable spot by an electrical outlet in the packed terminal.
"Everyone was being so horrible to each other," Anderson said. "Old ladies fighting with young girls, people blocking people on wheelchairs. It was just nasty."
The next day, new travelers poured into the airport. Those who spent the night on the floor waiting for their flights were awakened by staff early to go through security.
After a night of sleeping near the Transportation Security Administration area, Shaelyn Terrio, 29, and her three young children breezed through security and headed for a Chick-Fil-A for breakfast. Soon after, security personnel were escorting them out.
"The sun was still rising," she said. "We ate on the run. [Thursday] morning they keep saying it was a security breach, but when they were evacuating, they didn't say anything."
Anderson said she was surprised by the poor organization at a world-class airport.
"It doesn't seem like they had a plan of action for something like this happening," she said. "It was a scramble."
alejandra.reyesvelarde@latimes.com
Twitter: @r_valejandra
---
The stories shaping California
Get up to speed with our Essential California newsletter, sent six days a week.
You may occasionally receive promotional content from the Los Angeles Times.