Shark population off Huntington Beach increases dramatically, observers say
If it seems like there have been a lot more shark sightings than usual off Huntington Beach lately, you're not mistaken.
For reasons that scientists have yet to determine, the number of juvenile great white sharks observed swimming along the Orange County city's shoreline has increased dramatically.
"I've seen more white sharks this year than I have in the previous 30," said Lt. Claude Panis of the Huntington Beach Fire Department's Marine Safety Division.
Prior to 2015, authorities never had to keep the public out of the waters off Huntington Beach because of shark activity. Since then, however, there have been three closures, including one earlier this month after several large sharks were seen in the water about 150 yards off of the coast.
Scientists with the Shark Lab at Cal State Long Beach detected 21 instances of juvenile white sharks swimming in Huntington Beach waters in 2015 – the first year scientists began to systematically track sharks in that area. That was the highest number of hits along any Southern California beach, matching the number near Oxnard.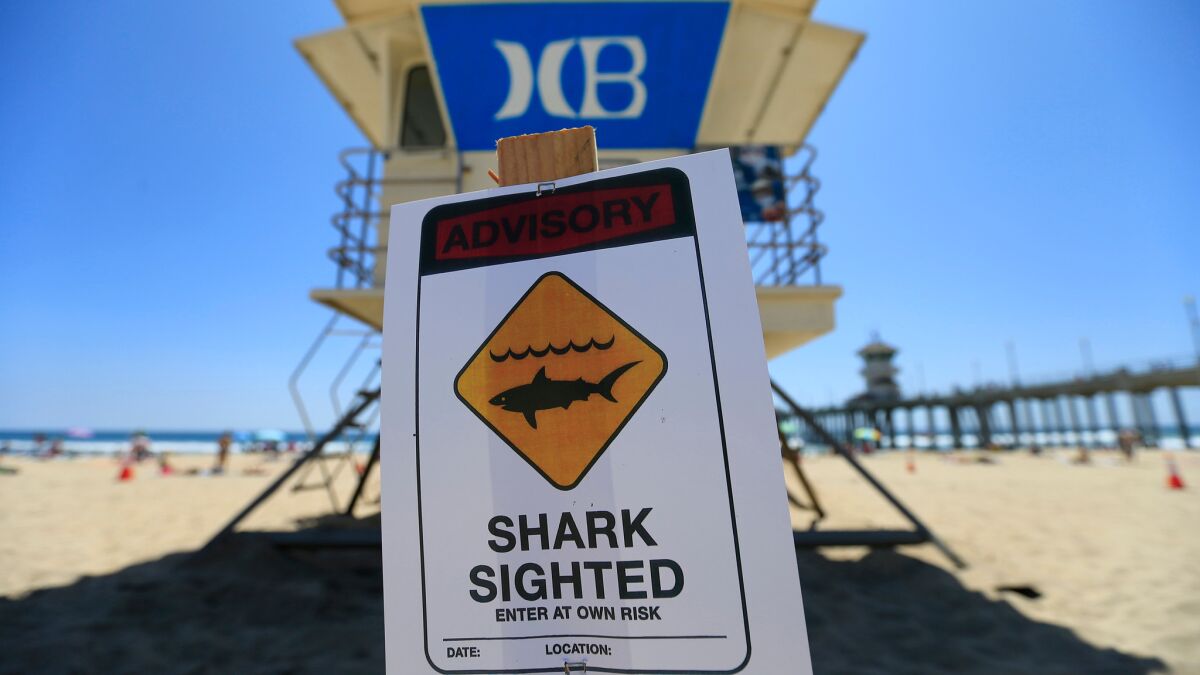 "I'd never heard of juvenile great white sharks in the water off Huntington Beach until last year," said Chris Lowe, who is head of the lab and tracked fish for a decade and has sensors from Avila Beach in San Luis Obispo County to San Clemente in Orange County.
Lowe noted that scientists also tagged 16 great white sharks in Huntington Beach in 2015, four times the total of all great whites tagged in 2014.
Juvenile sharks feed on fish and are unlikely to bite humans, scientists said. "We're nothing close to what their prey is," said Dana Murray, a marine scientist with the nonprofit Heal the Bay.
Even adult shark bites are extremely rare and generally happen when the fish mistake swimmers or surfers for sea lions or other marine animals, scientists believe. For Americans, the lifetime risk of dying from a shark attack is approximately 1 in 3.7 million, according to scientists at the University of Florida.
A woman swimming off Newport Beach was bitten by a shark on Memorial Day and survived. While it's unclear what species bit the woman, Lowe said it was most likely an adult great white over 10 feet long, based on the severity and size of the swimmer's wounds.
A 2014 survey found that there are about 2,400 great white sharks living in California waters, and Lowe said he suspects that number has grown because of improved ocean water quality and higher ocean temperatures because of El Niño.
Many great white sharks migrate to warmer waters in Mexico during the winter, Lowe said, but some tagged juveniles have stayed in Southern California during the past two years.
Lowe said young fish may stay close to shore to avoid predators and because food sources are more plentiful, but he's not sure why Huntington Beach has suddenly become so popular.
"It's a mystery we're going to try to solve," he said.
For California news, follow @byjsong
ALSO
2-mile stretch of O.C. beaches closed again after sharks spotted near coast
Decapitated shark found in Newport was a legally caught mako, officials say
The stories shaping California
Get up to speed with our Essential California newsletter, sent six days a week.
You may occasionally receive promotional content from the Los Angeles Times.