Two former models accuse Bill Cosby of drugging them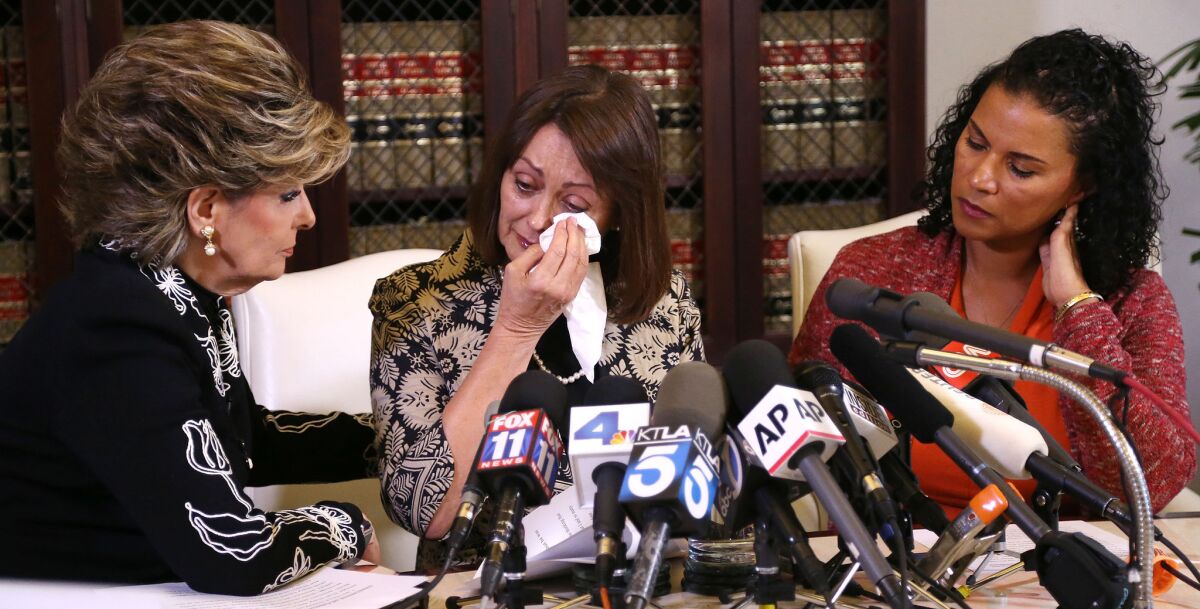 Two former models on Thursday became the latest to accuse comedian Bill Cosby of sexual misconduct.
Flanked by their attorney Gloria Allred, Lise-Lotte Lublin and Linda Brown told reporters that they were young models at the time Cosby is accused of drugging them in hotel rooms. Brown said Cosby sexually assaulted her.
"I felt like a rag doll and like a real-life blow-up doll for him," she said. "I was in a stupor."
The women said they met Cosby through their modeling agency. Both women said they felt they could trust him.
"I am appalled and disgusted by what so many women have told me about Bill Cosby," Allred said.
Cosby's attorney, Martin D. Singer, declined to comment on the latest allegations. But he has denied the validity of similar accusations in the past.
It is unclear whether the Los Angeles Police Department is investigating the women's claims, but LAPD Chief Charlie Beck has said investigators would look into all claims brought forward about Cosby.
Lublin and Brown described in detail their encounters with Cosby.
Brown, a former magazine cover girl, was 21 when she agreed to meet Cosby for a dinner after his show in 1969.
After dinner, he agreed to take her home, but made a stop at friend's home, she said. Later, he persuaded her to go to his hotel room, saying he had a present for her, Brown said.
At the hotel, Brown said, he prepared a soft drink for her, which she drank. She then "blacked out."
She woke up to find herself lying naked in the hotel bed next to him, she said.
Brown said he flipped her over and sexually assaulted her.
"This horrible experience has had a long-lasting impact on me," said Brown, who was overwhelmed by tears. "As a result, I find it very hard to trust men."
Years later, Lublin was 23 and a model when she met Cosby in the Elvis Suite at the Hilton Hotel in Las Vegas. She had already met him twice before, Lublin said.

He asked her to perform an improvisation so that he could evaluate her acting skills, she said. During the meeting, Lublin said, he gave her two alcoholic beverages, which made her feel dizzy and disoriented.
Although her memory was fuzzy about what happened next, Lublin said he straddled her and petted her hair.
When she awoke, Lublin said, she was home and her car was in the driveway. At first, she believed she had a reaction to the alcohol because she didn't drink much.
But Lublin said she had never experienced a blackout.
For breaking news in California, follow @VeronicaRochaLA
The stories shaping California
Get up to speed with our Essential California newsletter, sent six days a week.
You may occasionally receive promotional content from the Los Angeles Times.