Trying to get through on L.A.'s 311 hotline? You're probably waiting longer on hold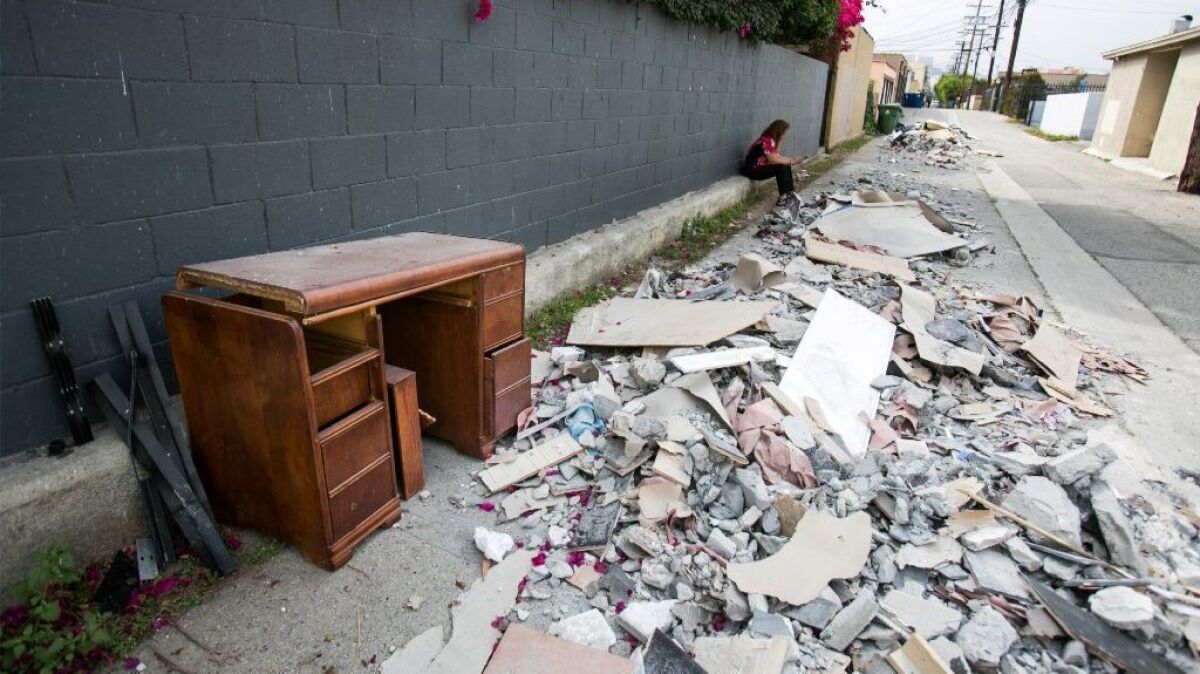 Two years ago, Los Angeles Mayor Eric Garcetti celebrated a milestone in his campaign to make City Hall more efficient. Time spent on hold during calls to the city's 311 phone service fell to just about a minute, from the nearly four-minute wait before Garcetti took office.
"By going back to the basics, we are doing big things," Garcetti said in his State of the City speech at Cal State Northridge.
But now, hold times have shot back up. Callers seeking to report graffiti, illegal dumping and other vexing problems to City Hall's main hotline waited an average of about six minutes to speak to a 311 operator in the fiscal year that ended June 30, according to city data.
In the first four months of this fiscal year, the average hold time was more than five minutes.
City staff say the longer hold times are the result of new 311 services intended to improve callers' experience. Operators now stay on the phone longer and field more types of requests, rather than transfer the calls to another department. Callers can also leave their number and get a return call from an operator.
The call center also recently expanded its operating hours.
At the same time, staffing levels haven't increased, which means callers are left on hold as operators juggle more tasks.
The union representing 311 operators says the city needs to hire more staff. But Garcetti's office argues that hold times have dropped in recent months and that more people are using the 311 app and website, which now handle more than 30% of requests.
"Reducing hold times is an important priority," Garcetti spokesman Alex Comisar said. "But improving 311 is also about making our service to each caller better. And it's about expanding digital access so that Angelenos can get the answers they need, when and where they need them."
Donna Arrechea, director of the city's 311 service, said a request for more operators in the city budget was turned down last year. She described the additional workload as the "straw that broke the camel's back."
"Absolutely the wait time is longer, and we're aware of it and we're doing everything we can to minimize it," she said. "Basically, an agent can only take so many calls in a day."
Asked about requests for more 311 employees, Comisar said that "adding staff isn't always the most effective way to overcome a challenge, or make the system better. That's why Mayor Garcetti has expanded digital capacity and added technologies to improve service to 311 customers."
The 311 center has about three dozen operators, who take questions and complaints about an array of issues. Operators get the most calls about bulky item pickups, graffiti removal and illegal dumping, Arrechea said.
When Garcetti took office in 2013, hold times averaged 3:45, according to a city audit. Those wait times plunged to 1:10 in his first year, and dropped to about a minute in Garcetti's second year.
Hold times increased last fiscal year even as the number of calls dropped to 1.02 million that year from 1.19 million the year before.
At the same time, operators are answering a broader range of questions on the spot now, and transferring fewer calls to other departments, including Animal Services. That department is having problems with its phone system, with complaints about busy signals or callers left waiting in silence.
At an October City Hall meeting, Jeanne Holm, an assistant general manager at the city's Information Technology Agency, said that 311 operators are handling an additional 2,000 to 3,000 calls a month that would have been transferred to Animal Services.
"It stretches our personnel at 311 and increases our hold times, but it seemed like in the sense of city service, it was at least a Band-Aid that we could put in place," Holm said at the hearing.
The longer 311 hold times concern animal activists, who say the extra wait can be devastating if a caller is trying to rescue or help a hurt animal.
"Animals can die in that amount of time. They can run out of sight in that amount of time," said Lisa Lange, a senior vice president at People for the Ethical Treatment of Animals.
Lange met with the mayor earlier this month to discuss animal issues and said Garcetti looked surprised to hear complaints about the 311 hold times. He called the service in front of her to test it, but hung up after a second because the "hold" audio was a distraction and he didn't want to disrupt their meeting.
Comisar declined to comment on Lange's account of the meeting with the mayor. He said integrating Animal Services requests into the 311 system made "service to these callers better, more consistent, and in many cases, faster."
Meanwhile, the city audit found that L.A.'s 2013 hold time of 3:45 was 3½ times that for callers in comparable cities. In New York City, the average wait time before speaking to a 311 representative was 18 seconds in fiscal year 2017, a spokesperson for Mayor Bill de Blasio said last week.
According to L.A.'s city administrative officer, adopted budget levels for the city's 311 department remained flat the last two years. The previous year, it received an additional $1.7 million to help pay for the new 311 services.
Teresa Sanchez, a business representative with the American Federation of State, County and Municipal Employees District Council 36, the union that represents the city's 311 operators, complained of "chronic understaffing" at the call center.
"Even with an app or an email, you still need a person," Sanchez said. "A person has to interpret the request. There's just a depth of knowledge and judgment needed to respond to the request."
Arrechea said the 311 operators hear complaints about the longer wait times, "but we also get a lot of compliments" about the service.
"Our agents have a lot of city knowledge," Arrechea said. "That makes them very valuable."
Twitter: @dakotacdsmith
---
The stories shaping California
Get up to speed with our Essential California newsletter, sent six days a week.
You may occasionally receive promotional content from the Los Angeles Times.