Electrical disruption caused Angels Flight to derail, operator says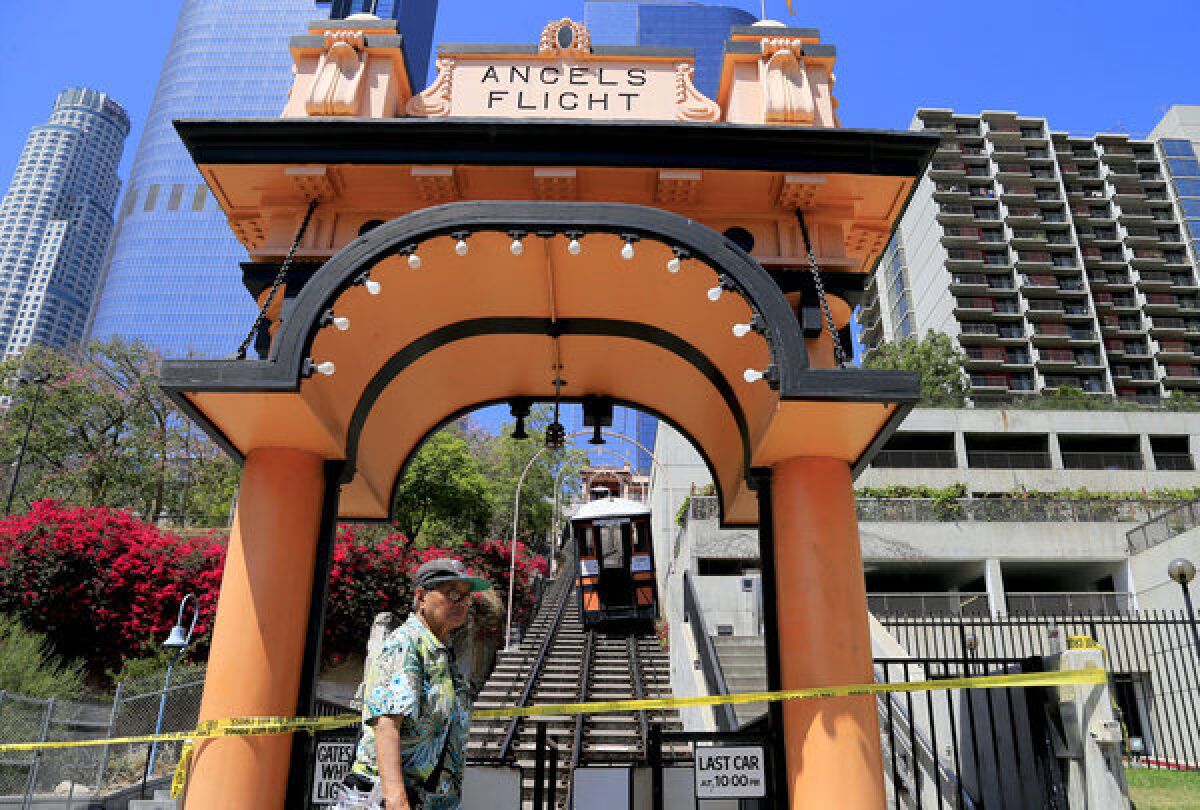 Angels Flight derailed Thursday morning after an electrical circuit was disrupted and the car's emergency brake engaged, lifting it off the track, the rail's operator said.
Angels Flight Railway President John Welborne said the funicular stopped because the rail's circuit was disrupted when lubrication from routine maintenance done Wednesday weakened the connection between the grounding brush and the third rail. The car's backup batteries drained, and the emergency brake engaged, which lifted the wheels of the car off the track.
Six passengers were assisted off the cars after the incident, which occurred about 11:30 a.m., said Katherine Main, a spokeswoman for the Los Angeles Fire Department. No one was injured, she said.
The railway looks old, but it has a very sophisticated safety system, Welborne said. Computers make dozens of checks before each ride, he said. Thursday's issue was a narrow mechanical problem, Welborne said, and the safety systems worked exactly as they should by stopping the car.
Stops are not uncommon on the system, though this particular instance was unusual because of the emergency brake, he said.
"Some people don't like to be inconvenienced," he said of the stops, adding that only a small number of people were affected by the incident. "It's up to other people if they want to walk the stairs."
The California Public Utilities Commission sent investigators to the scene but had no immediate information about the incident, said Andrew Kotch, a PUC information officer. The commission, which inspects the railway every three years, was next scheduled to inspect Angel's Flight in 2014, according to its website.
ALSO:
Huntington Beach trying to halt Wet Electric oceanfront rave
LAPD Chief Beck 'fairly confident' crime will decline for 11th year
13 school district workers indicted in $200,000 textbook theft ring
Twitter: @Sam_Schaefer
---
Life is stressful. Our weekly mental wellness newsletter can help.
You may occasionally receive promotional content from the Los Angeles Times.