April showers expected to linger through the weekend
A man eyes an umbrella stand as April showers fall in dowtown Los Angeles Saturday.
(Gina Ferazzi / Los Angeles Times)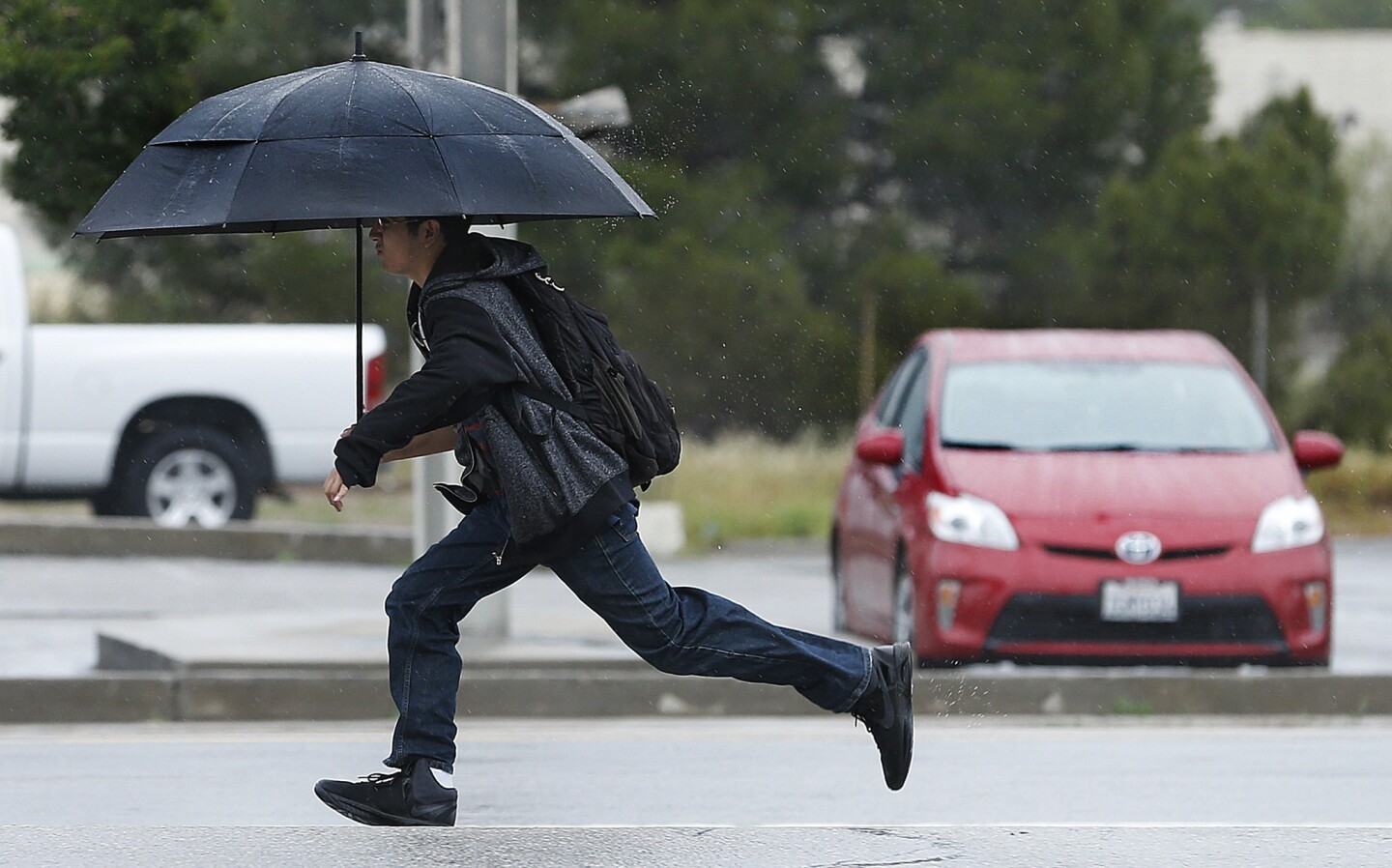 A pedestrian makes his way in the rain along Foothill Boulevard in Sylmar.
(Mel Melcon / Los Angeles Times)
Sarfin Salas covers up from the rain while heading to his car in a Vons parking lot in Sylmar.
(Mel Melcon / Los Angeles Times)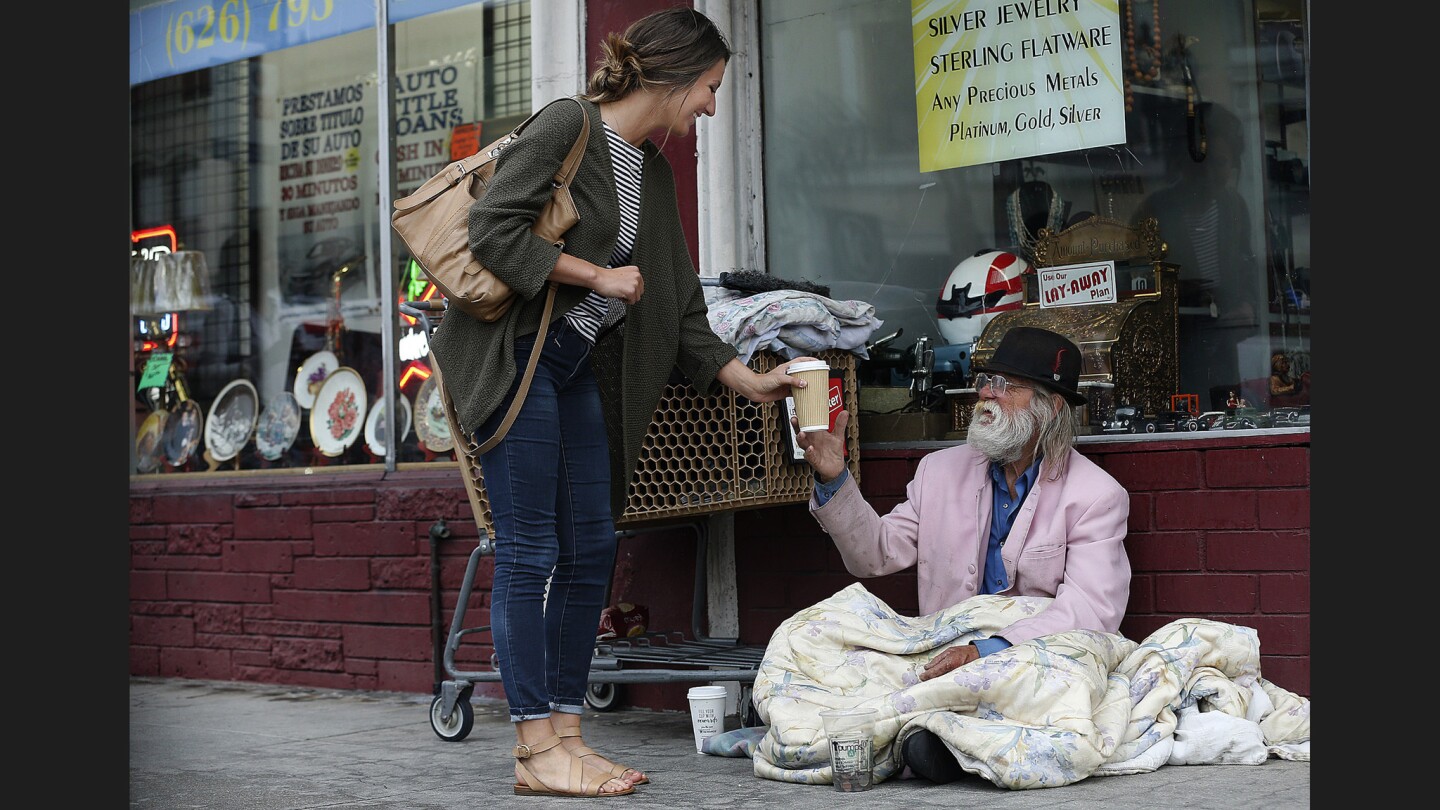 Stephanie Saigh of Redding buys a hot cup of coffee for Jerry Wilson, who is homeless, as he sits on the sidewalk on Colorado Boulevard in Pasadena.
(Mel Melcon / Los Angeles Times)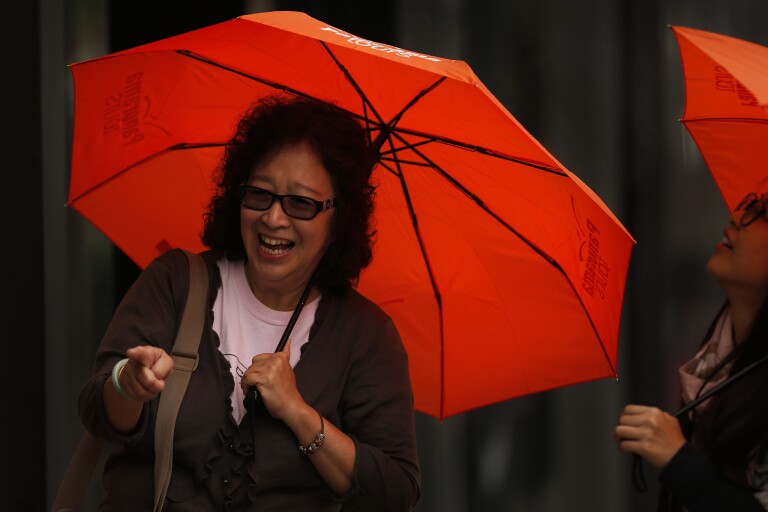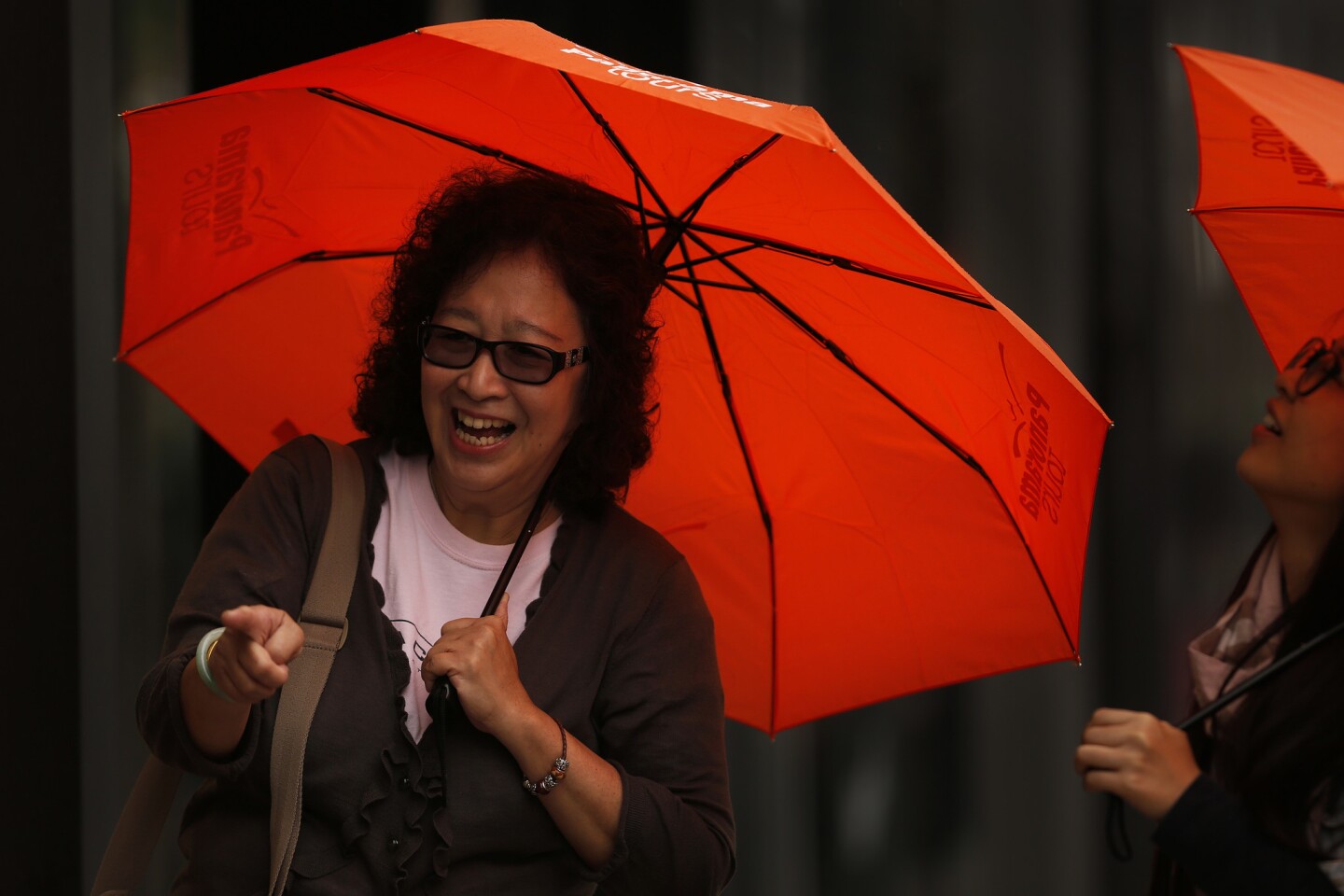 Friends Fay Wang of Los Angeles and Huifei Wang, 20, of China shop along the Third Street Promenade in Santa Monica despite the drizzle that persisted throughout the day.
(Rick Loomis / Los Angeles Times)
A woman shields herself while walking down La Brea Avenue during the first of what is expected to be several days of light rain.
(Allen J. Schaben / Los Angeles Times)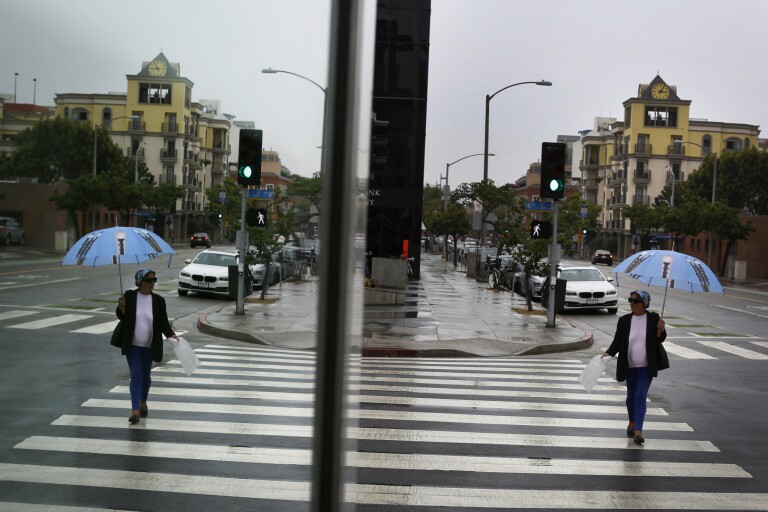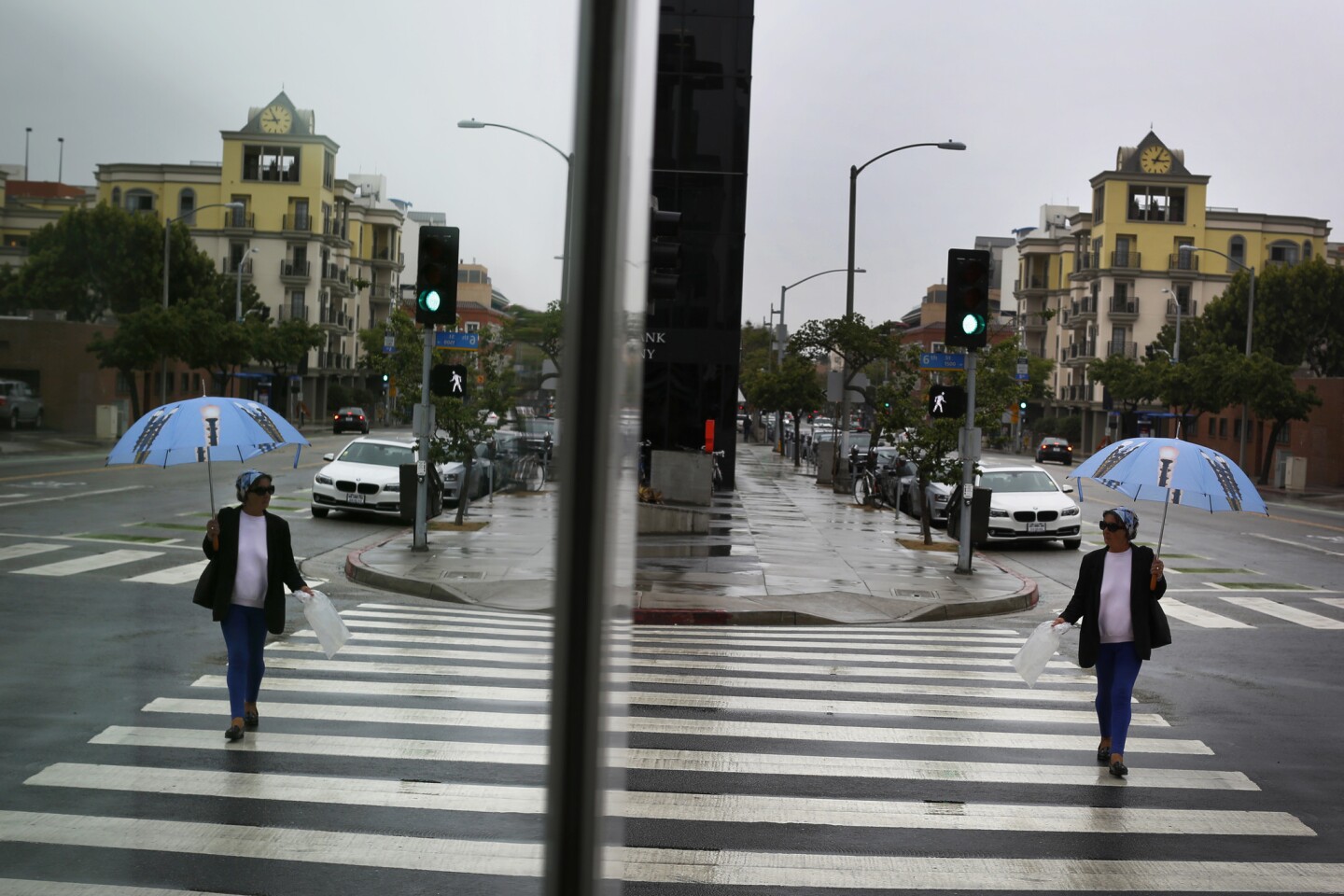 Eve Wallen, 66, of West Hollywood walks down a rain-damp sidewalk along Broadway in Santa Monica on Thursday afternoon.
(Rick Loomis / Los Angeles Times)
Light rain begins to fall as students cross the campus at Chadwick School in Palos Verdes.
(Gina Ferazzi / Los Angeles Times)
A man makes his way across Spring Street in downtown Los Angeles. Rain moved into the Southland Thursday and may linger through Sunday.
(Robert St. John / Los Angeles Times)
People seek shelter from the rain on Spring Street in downtown Los Angeles on Thursday.
(Robert St. John / Los Angeles Times)
An April storm moving over Southern California is expected to bring rain and a chance of thunderstorms to much of the parched state this weekend, forecasters said Saturday.
The slight chance of thunderstorms was enough to elicit a flash-flood watch for the burn areas of Los Angeles and Ventura counties, where concentrated, heavy rain could generate mud and debris flows.
Authorities warned of possible flooding on some roads as traffic accidents piled up Saturday afternoon.
"The guts of the storm will be this afternoon into early evening," said Bonnie Bartling, a weather specialist with the National Weather Service's Oxnard office. "These aren't huge storms … but it'll be just enough to bring out the weeds that we love."
Saturday's storm is the latest in a recent string this week and is expected to linger into Sunday. Forecasters say another storm is expected to follow on its heels Monday. Tuesday and Wednesday should be dry, though rain could return on Thursday, Bartling said.
The current cold Pacific weather system could dump about half an inch of rain on the coast and valley areas and as much as 1.5 inches in the foothills and the mountains, Bartling said.
Cold air is stirring up the possibility of thunderstorms Saturday afternoon and evening, she added. If they generate precipitation at a rate of one-half inch per hour, mud and debris could loosen in parts of the county that were scorched by wildfires in recent years. The flash-flood watch for burn areas will remain in effect through Sunday.
See more of our top stories on Facebook >>
As of Saturday afternoon, the Los Angeles Fire Department had responded to about 30 crashes, said spokeswoman Margaret Stewart.
Though she could not detail exactly how those statistics compared with a dry day, she said the department "always sees an increase" in traffic problems when it rains.
"Any time the roads are wet, we get more traffic collisions," Stewart said. "People fail to adjust their driving habits accordingly."
The same weather system moving inland across Southern California was sending wet weather to parts of the San Joaquin Valley and Sacramento.
Merced's airport got more than 2 inches of rain Friday into Saturday, said Scott Rowe, a meteorologist at the NWS Hanford Station. A flood advisory for much of the San Joaquin Valley and the Sierra foothills ran through noon Saturday.
Farther north, light rain was falling over Sacramento, NWS forecaster Karl Swanberg said. As much as half an inch was expected to fall there, he said.
Although April is known for its showers, forecasters said the chance of rain diminishes quickly by the middle of May.
By one measurement popular among water-watchers, California stood at about 120% of the average precipitation Saturday. Based on those recordings, the state already has received enough rain in the northern Sierra to remain at above-normal levels throughout the rest of the water year.
Twitter: @ByMattStevens
ALSO
Search underway for diver reported missing off Palos Verdes
Man found shot to death inside South L.A. laundromat, police say
Man arrested in rock-climbing marriage proposal says he did it for love
---
The stories shaping California
Get up to speed with our Essential California newsletter, sent six days a week.
You may occasionally receive promotional content from the Los Angeles Times.