L.A. Unified again fires attorney who blamed student for having sex with teacher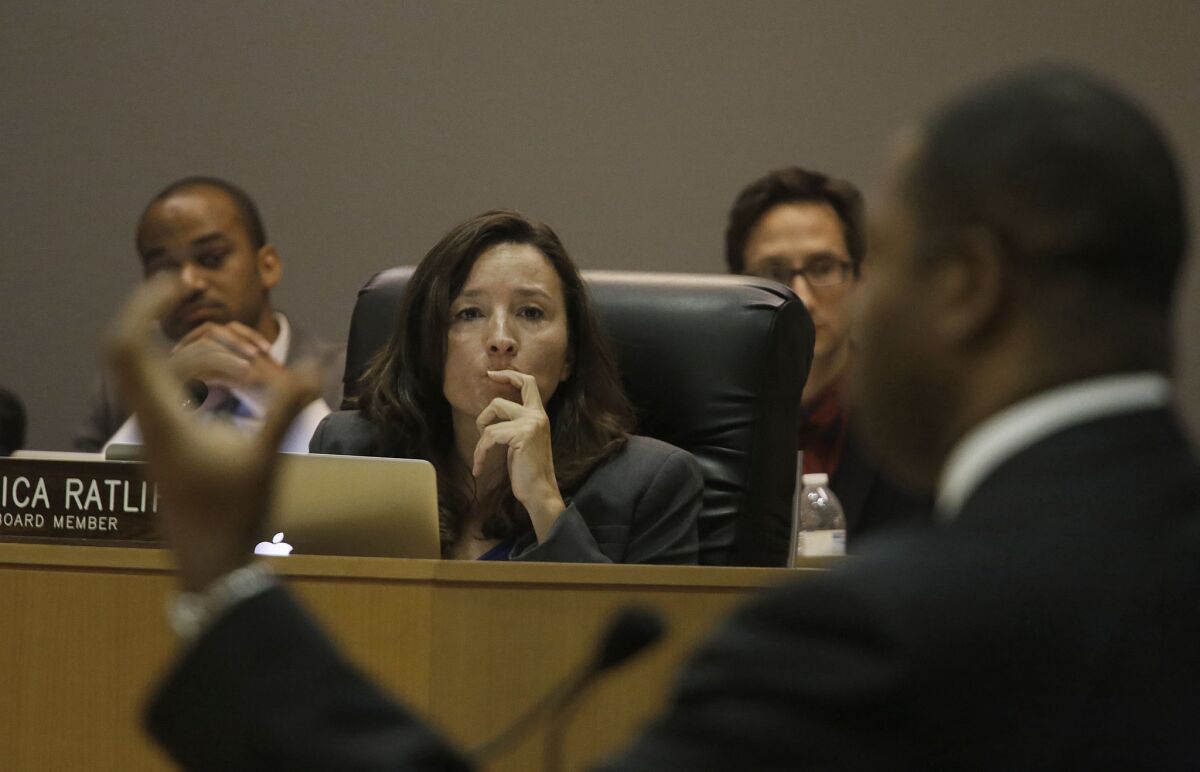 The attorney who argued in court that a 14-year-old was partly to blame when a teacher induced her to have sex has lost his job with the Los Angeles Unified School District for a second time — after an outcry over his rehiring.
Veteran attorney W. Keith Wyatt will no longer handle cases for the nation's second-largest school system, the district confirmed Tuesday. The decision was made by General Counsel David Holmquist, who had defended Wyatt and the work of his firm in the past.
"Under the totality of the circumstances, it's in the district's best interests to take this action at this time," Holmquist said.
Holmquist acted after a lengthy discussion about the case in a closed meeting of the Board of Education.
The board also debated whether to appoint an outside committee to guide the search for a new superintendent of schools. Board members then voted in public 5 to 2 against establishing such a panel, leaving the selection process firmly in the hands of the school board.
L.A. Unified hopes to choose a new leader by the end of the year, when current Supt. Ramon C. Cortines, 83, said he would like to step down. Cortines agreed to serve a year ago, when Supt. John Deasy resigned under pressure.
Although the decision to dismiss the attorney fell to Holmquist, it was clear that several board members wanted to part ways with Wyatt. The district also was under public pressure to take such action; parents and community members have been organizing a petition drive calling for his removal.
The underlying case involved a former Edison Middle School teacher, Elkis Hermida, who was convicted of lewd behavior with a child and sentenced to three years in prison for sexual misconduct in 2010-11. The victim filed a civil lawsuit against the district, claiming negligence.
Wyatt had sparked outrage when discussing the case with public radio station KPCC-FM (89.3) last year. In that interview, he suggested that a 14-year-old was mature enough to consent to sex with her teacher.
"Making a decision as to whether or not to cross the street when traffic is coming, that takes a level of maturity and that's a much more dangerous decision than to decide, 'Hey, I want to have sex with my teacher,' "Wyatt said.
Wyatt's core argument in court was different: He said the district could not have reasonably known about the sexual relationship and therefore should not be liable for damages. A jury agreed in a 2013 verdict.
A court of appeal, however, ordered a new trial in September. The court ruled that the girl's sexual history should never have been introduced and that the judge's instructions to the jury should never have included the option of assigning partial responsibility to the girl, Holmquist said.
The school district is not contesting those findings, but filed an appeal Monday to the state Supreme Court on other grounds. The district contends that the ruling by the court of appeal, if it stands, would lower the legal standard for when a school district is liable for sexual misconduct by an employee. The district asserts that the current standard is more appropriate, Holmquist said.
The case will be retried regardless of what happens with the appeal, he said.
The district first suspended Wyatt in November but brought him and the firm — Ivie, McNeill & Wyatt — back in February. Holmquist cited 28 years of "outstanding legal work" as the justification.
L.A. Unified will be transferring four cases being handled by the firm to other lawyers. The district has not decided on whether it would employ Wyatt's firm going forward, but Wyatt himself will not receive any district work for the foreseeable future, Holmquist said.
"There's been a lot of attention surrounding his out-of-court statements, making it increasingly difficult for us to do the work that we do, and to properly represent the district," Holmquist said.
Wyatt could not be reached for comment.
So far this year, L.A. Unified has tallied about $4,500 in payments to the firm — a total that is likely to rise once the account is fully settled.
The vote against appointing an outside superintendent search committee showed division on the Board of Education. Monica Garcia and Ref Rodriguez favored such a committee; the other board members did not.
A group of civic leaders and local organizations had pressed the board repeatedly to establish an independent body.
An executive search firm, meanwhile, already is accepting applications and recruiting candidates. And the same consulting team also is collecting public input through a series of community meetings.
School board members expressed disappointment with turnout at these forums and extended the comment period through Sunday, instead of through Wednesday. District officials also will push to have high school students fill out surveys on the topic at school. Parents will be urged to stop by campuses and parent centers to do the same.
Twitter: @howardblume
ALSO:
Gov. Jerry Brown addresses climate change at UC meeting
L.A. to require that stored handguns be locked up or disabled
Ambushes of police are rising again at a difficult time for law enforcement
The stories shaping California
Get up to speed with our Essential California newsletter, sent six days a week.
You may occasionally receive promotional content from the Los Angeles Times.