Autistic activists out to change assumptions about disorder
Ido Kedar wears sound-blocking headphones because of his heightened sensitivity to sound. "My dogs bark like shotguns. The gardeners mow with tanks and blow leaves with hurricanes," he wrote.
(Genaro Molina / Los Angeles Times)
Ido Kedar, left, works in a computer lab with behavior intervention implementer Michael Lowenstein. His "Ido in Autismland" is changing educators' view of the condition.
(Genaro Molina / Los Angeles Times)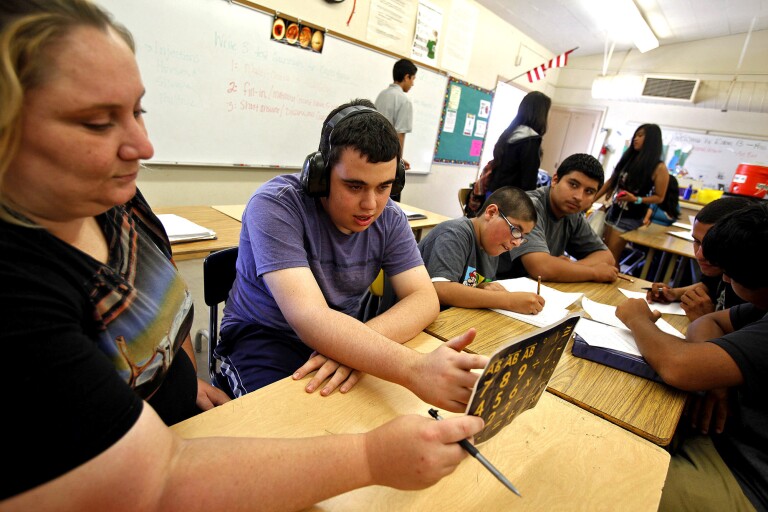 Ido Kedar, second from left, answers a question with the use of a letter board held by aide Anna Page. He prefers the letter board, inscribed with the alphabet, over an iPad.
(Genaro Molina / Los Angeles Times)
Ido Kedar takes a breather while working out at a local high school. Kedar doesn't play sports but his parents try to keep him in shape by having him work out with a special fitness instructor.
(Genaro Molina / Los Angeles Times)
Ido Kedar, with his mother Tracy, writes on his iPad. "I felt kind of terrified when I was a kid that my life would be this way forever," he once wrote.
(Genaro Molina / Los Angeles Times)
Ido Kedar before giving a recorded commencement speech to graduates of the School of Special Education at Cal State Northridge. "It is hard to be a teacher of kids who don't communicate. The kids don't have writing, or gestures, or speech, or facial expressions, but that doesn't mean they can't think," he said.
(Genaro Molina / Los Angeles Times)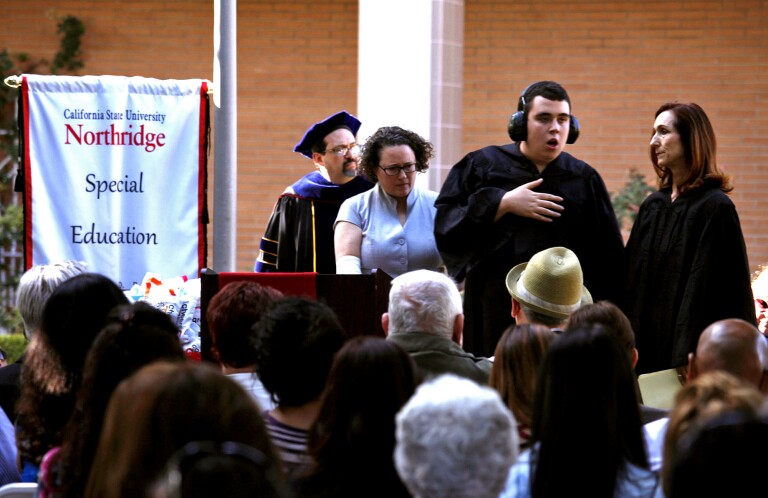 Ido Kedar gives a recorded commencement speech to graduates of the School of Special Education at Cal State Northridge. Ivor Weiner, left, Tracy Kedar and Adrienne Johnston, right, stand next to him. "Ido's words stopped me in my tracks, " Weiner says.
(Genaro Molina / Los Angeles Times)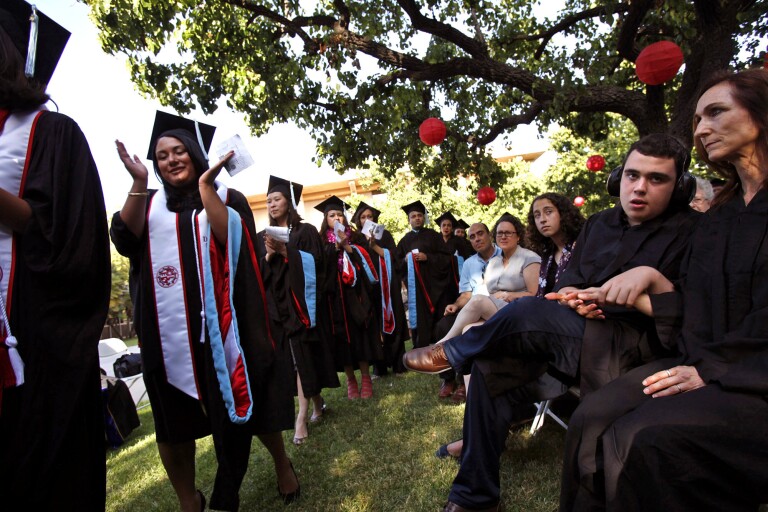 Ido Kedar sits with former teacher and friend Adrienne Johnston, right, along with his family after speaking at Cal State Northridge.
(Genaro Molina / Los Angeles Times)
Ido Kedar spends a quiet moment to himself in the schoolyard during lunchtime at Canoga Park High School. "I'm a strange mixture. I am smart as a mind and dumb as a body. I can think of insights and my body ignores them," he says.
(Genaro Molina / Los Angeles Times)
Ido Kedar belongs to a rare confederacy.
Diagnosed with autism when he was a child, Kedar — now 17 and a junior at Canoga Park High School — refuses to be defined by his disorder and joins a number of other autistic activists who are out to redefine popular assumptions about intelligence and disability.
"Who are we?" Kedar recently wrote on his blog, "Ido in Autismland." "Silent fighters, that's who.… It is time to be advocating for ourselves. Why forever must the theories of scholars be listened to over the people with autism themselves?"
Mostly unable to speak, they communicate with iPads and letter boards. They blog, write books, make films. Mental deficiency and autism, they say, are not synonymous.
Some researchers and critics, however, are not so certain. In 2010, the journal Psychological Medicine published a study that concluded that of 156 autistic children, 55% had an intellectual disability.
Kedar, the subject of a profile in the Sunday Times, hopes more parents with autistic children will question these conclusions. For years, aides and teachers didn't give Kedar credit for his work, and that frustration prompted him to write his blog and turn his blog into a book of the same name.
In January, Kedar, who lives in West Hills, spoke — or rather, his iPad spoke — to almost 250 parents looking to help adult children who are on the spectrum. In August, he was acknowledged by the Helen Diller Family Foundation for his work in the autistic community, and in October, he shared his ideas on doctoring to a class of UCLA medical students.
The ranks of other activists are growing and include:
Carly Fleischmann has become a celebrity through her YouTube video "Carly's Café," which offers a first-person perspective of autism. "Everyone has an inner voice," she writes at the end of the short film. "I found a way to let mine out." Fleischmann was diagnosed at 2 with severe autism and is now attending the University of Toronto.
Sue Rubin wrote "Autism Is a World," a documentary film which in 2004 received an Oscar nomination for documentary short subject. Rubin, who has limited verbal language and difficulty with motor skills, was 13 when she was told that she had a 24 IQ. Through a program known as facilitated communication, she found a means to express herself and in May graduated with a B.A. in Latin American history from Whittier College.
Naoki Higashida's book "The Reason I Jump" received a major boost this summer when "The Daily Show's" Jon Stewart called it "one of the most remarkable books I've ever read." Featuring an introduction by David Mitchell, author of "Cloud Atlas," "The Reason I Jump" is the story of Higashida's experience with autism told through 58 questions and answers.
Written in a series of short chapters, "Ido in Autismland," is similarly structured as Higashida's and is equally revelatory, a journey into not only the physical experience of autism but also the psychological and spiritual implications of the disorder.
"The world is joy and sorrow," he writes in a chapter called "God and Suffering," "and we tend to see joy as our blessing and sorrow as our curse. We work for now to find joy or to preserve it, but the suffering we face is also part of the system of life. It is the suffering that forces the world to improve itself, and it reminds us to appreciate the blessings we have."
When asked whom he considers a good model for this message, Kedar considers Moses, not so much as the prophet but as a "reluctant, disabled person who finally saw the need to liberate the oppressed." According to the Old Testament, Moses had a disability: He stuttered.
"I believe non-verbal people with autism need to be liberated," Kedar explained in an email, "not from Pharaoh but from theories that ultimately deny people communication and education."
ALSO:
BART and largest unions resolve latest contract dispute
Young female tiger at San Diego Zoo killed by prospective mate
Carlos Santana reunites with homeless ex-bandmate after TV report
Twitter: @tcurwen | Facebook
---
For reporting and exclusive analysis from bureau chief John Myers, get our California Politics newsletter.
You may occasionally receive promotional content from the Los Angeles Times.