Fans flock to 'Bird Box' house in Monrovia to pose in photos as craze over film soars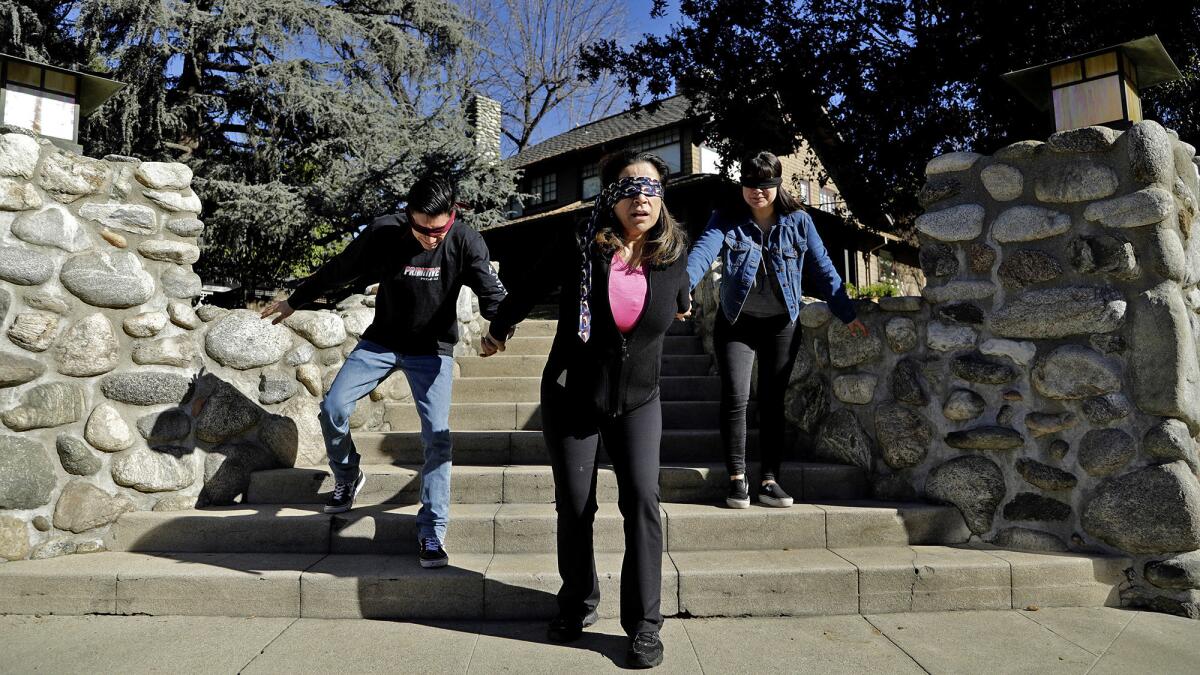 Miles away from the glitz and glamour of Hollywood is a house that has quickly cemented its place in movie history.
Nestled beneath a large evergreen tree, the Craftsman-style home with a distinguished stone staircase on the corner of North Canyon Boulevard and East Greystone Avenue provided a refuge from an evil force in Netflix's recent hit thriller "Bird Box."
Now, the Monrovia home has become the latest tourist attraction in Los Angeles County. Fans of the movie, in which characters must avoid coming face-to-face with the ominous entity, have flocked to the house to take pictures of themselves covering their eyes or wearing blindfolds on the steps leading up to the property.
The pilgrimage follows a long tradition of movie buffs' visiting homes across L.A. that have had starring roles on the silver screen. Monrovia homes and commercial areas have been used for years in films such as "Legally Blonde," "American Pie" and "Never Been Kissed."
The owner of the seven-bedroom house, which was built in 1908 by architect Frank O. Eager, couldn't be reached for comment Friday. However, she reportedly received $12,000 for exterior shots of the house that were featured in the movie.
When Diana Hernandez of Chino told her two teenage daughters they were going on an adventure Friday morning, she received groans. But that quickly changed as the family made their way down Canyon Boulevard.
Hernandez's daughter, Abby Olague, 15, said she "totally freaked out" when she spotted the house.
Abby tried multiple poses in front of the house with one hand over her eyes and another reaching out as if to feel her way up the stairs. Eventually, she used a thick white headband she found in her mother's car as a makeshift blindfold, capturing the ideal shot and replicating the premise of the movie.
"Just seeing the house, it almost makes you want to go in — even though you know the characters aren't going to be there," she said. "This was a good surprise."
Abby was the first in her family to see the film starring Sandra Bullock, which has amassed a significant global following since its Dec. 21 release.
Netflix announced this week that 45 million subscriber accounts across the world watched the thriller during its first seven days on the streaming service, a record debut for the company.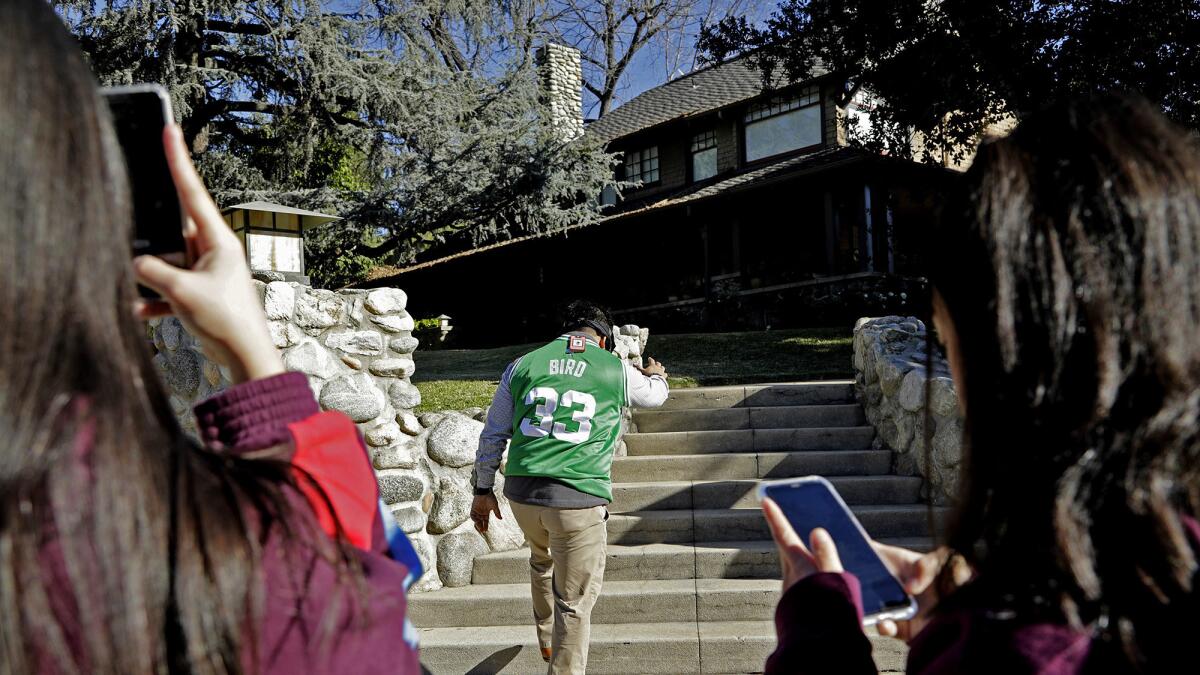 The film has gained such popularity that Netflix had to warn fans not to hurt themselves participating in the newly created "Bird Box Challenge." The premise takes the core concept of the film — wearing a blindfold at all times — and applies it to daily activities.
Some fans arrived at the home in search of an expertly cultivated photo for their social media feeds. Others brought jokes along with their cameras.
Northridge resident Jonathan Bugnosen used a trip to the house to take photos with his daughters as an opportunity to cultivate a cringe-worthy pun.
He chuckled as he pulled a green Celtics basketball jersey out of a black Nike shoe box. He slipped the jersey over his long-sleeved shirt and turned around to reveal the player's last name on the back: Bird.
He held up the shoe box and grinned.
"Bird Box," he said. "It's the ultimate dad joke."
His daughters rolled their eyes.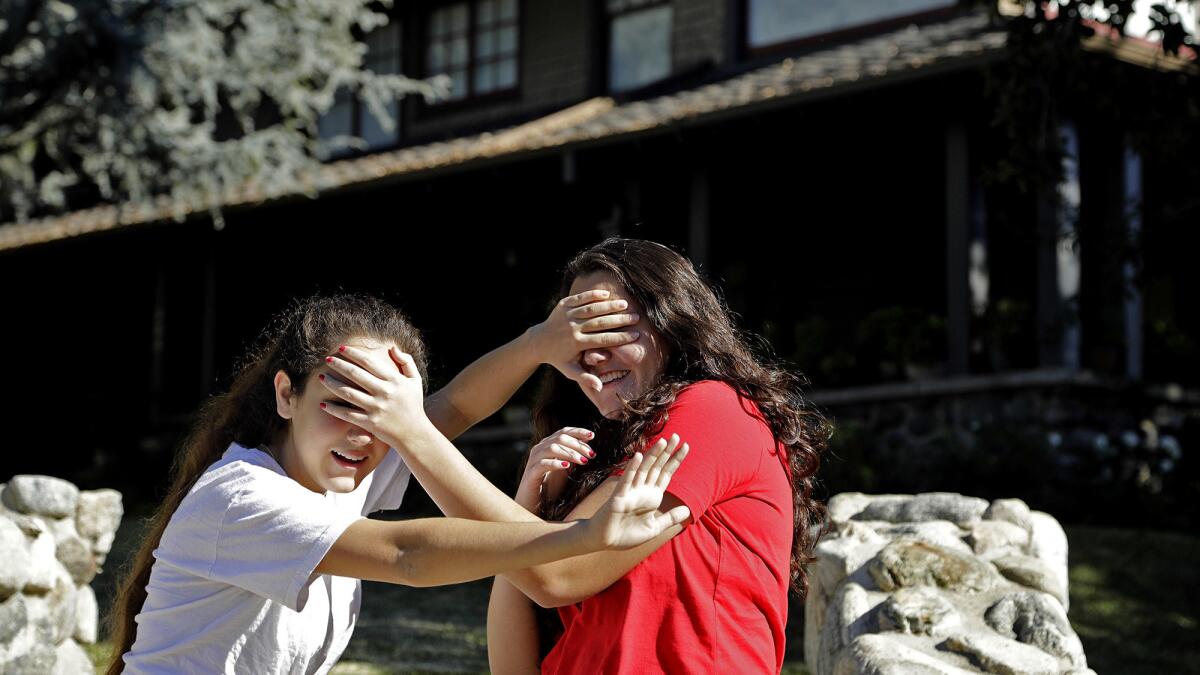 A man driving past the house paused at a stop sign in front of the home and rolled down his window, clearly baffled at the spectacle.
"What's going on?" he shouted.
"He hasn't seen it?" someone in the crowd retorted with a mixture of disbelief and amusement. Another fan quickly explained the house was featured in a film.
"This is more than a house from a movie," Hernandez said. "It's the 'Bird Box' house."
Twitter: @Hannahnfry
Sign up for Essential California for news, features and recommendations from the L.A. Times and beyond in your inbox six days a week.
You may occasionally receive promotional content from the Los Angeles Times.