2 women killed and dumped on L.A. freeway. Six years later, finally a break in case
A man suspected of raping and killing two women in Lincoln Heights and dumping their bodies by area freeways six years ago has been arrested, according to the Los Angeles Police Department.
Geovanni Borjas, 32, was arrested on suspicion of murder on Thursday by the LAPD's elite Robbery Homicide Division and tactical Metropolitan Division officers. Borjas has been charged with two counts of murder, two counts of rape and one count of kidnapping. At his arraignment Tuesday, he pleaded not guilty and was ordered held without bail.
Borjas, of Torrance, stands accused of killing 17-year-old Michelle Lozano and 22-year-old Bree'Anna Guzman.
At a news conference Tuesday afternoon, Police Chief Charlie Beck said investigators used familial DNA to track down Borjas.
A crime scene DNA search in a statewide database showed that Borjas' father — who had been arrested previously on suspicion of domestic violence assault — was a close relative of the suspect in the 2011 killings. Eventually, investigators placed Borjas under surveillance and collected his DNA sample when he spit on the sidewalk. That DNA sample turned out to be an exact match to what was collected during an investigation of the killings, according to police.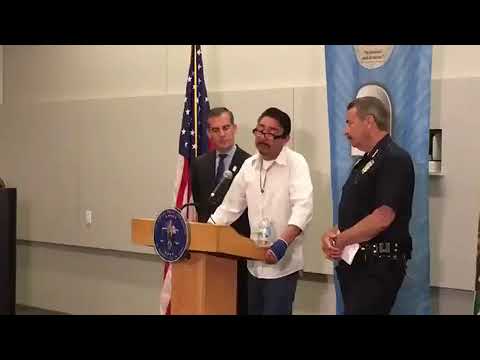 Richard Duran, father of Bree'Anna Guzman, 22, discusses his daughter's murder in 2011 at a news conference attended by L.A. Mayor Eric Garcetti and Police Chief Charlie Beck. Geovanni Borjas, 32, was arrested on suspicion of raping and killing Guzm
Lozano's body was found April 26, 2011, near the southbound 5 Freeway at State Street and Cesar Chavez Avenue in Boyle Heights. A homeless person called police after finding the girl's nude body in a broken container in the brush.
Investigators determined that Lozano's body had been wrapped in plastic bags and stuffed in the plastic container. Afterward, the container was dumped over a concrete barrier along the freeway. When it hit the ground, the container broke open and spilled Lozano's body into the shrubs.
Guzman vanished the day after Christmas 2011. Her body was found a month later on the 2 Freeway onramp near Riverside Drive in Echo Park, according to the LAPD.
On Tuesday, the Guzman family expressed gratitude to the LAPD for its efforts. They said Borjas' name and face were not familiar to them.
"All I wanted was to find somebody who hurt her," said the victim's mother, Darlene Guzman. "And we're there. We're there. I'm so happy. I'm overwhelmed with happiness. I mean, we'll never get her back, but he's arrested. He's arrested, and he won't hurt anybody. I won't know why — I'll never know why — but we're that much closer to closure."
In 2014, LAPD investigators said they determined the killings were related and announced two $50,000 rewards for information leading to an arrest.
On Tuesday, a law enforcement source told The Times that investigators think Borjas knew the victims. Booking records listed Borjas' occupation as a "medical biller" and said he lived in Torrance. However, public records show that Borjas previously lived in the Lincoln Heights neighborhood.
In 2014, a judge granted Borjas' ex-girlfriend a three-year domestic violence restraining order against him. The woman alleged in court documents that the 6-foot-1, 265-pound Borjas was physically abusive to her throughout their two-and-a-half year relationship and that he had broken her nose, choked her and pushed her down the stairs, among other acts.
The restraining order prohibits Borjas from coming within 100 yards of the woman, her home or workplace.
During Borjas' arraignment Tuesday, defense attorney Aaron Spolin requested that Los Angeles Superior Court Judge Mark Hanasono set bail, saying his client has a fiancee and is a father. Hanasono refused to set bail, however, saying it was for the protection of the public.
ALSO
Four killed in head-on collision between passenger car and big rig near Desert Center
Oklahoma man found mentally incompetent to stand trial in slayings of Long Beach mother, 4-year-old girl
Torrance home invasion involved Colorado teen who is wanted for murder, police say
---
UPDATES:
2:50 p.m.: This article was updated with details on Borjas' arraignment and an LAPD news conference.
1:20 p.m.: This article was updated with details on the charges against Borjas and a restraining order.
10:15 a.m.: This article was updated with details on Borjas' occupation and residence.
9:55 a.m.: This article was updated with additional information on the suspect and the history of the case.
This article was originally published at 9:20 a.m.
Sign up for Essential California for news, features and recommendations from the L.A. Times and beyond in your inbox six days a week.
You may occasionally receive promotional content from the Los Angeles Times.