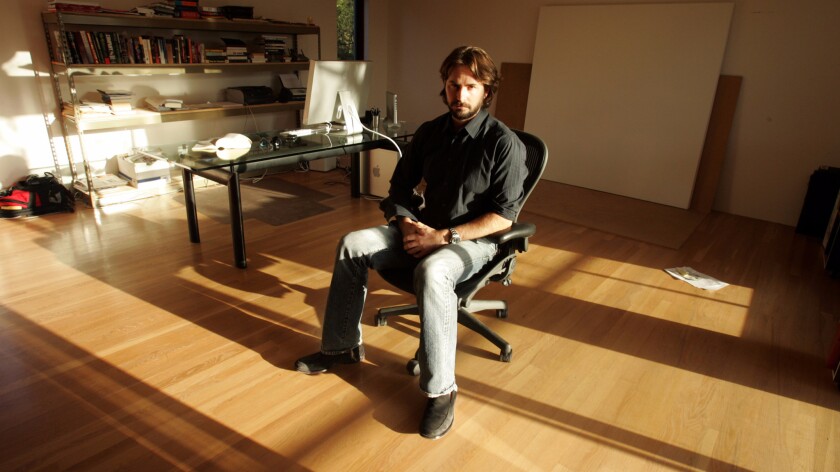 When an Oscar-winning screenwriter interviewed Army Sgt. Robert "Bowe" Bergdahl, he intended to tell the story of the man who disappeared from his post in eastern Afghanistan in 2009 and spent nearly five years in captivity.
But in a twist, Mark Boal is now part of the story — with Army prosecutors threatening to subpoena his extensive recorded interviews with Bergdahl.
Boal, a longtime journalist, filed a complaint Wednesday in a Los Angeles federal court to block the subpoena of his interviews with Bergdahl, who has been charged with desertion and "misbehavior before the enemy" after disappearing from his post. Bergdah's trial is set for early 2017.
Prosecutors had intended to issue the subpoena on Friday for 25 hours of recorded conversations, according to court filings.
"I support the Army, but this particular military prosecutor's tactics contradict and undermine the stated principles and policies of the commander-in-chief and the attorney general to protect 1st Amendment rights," Boal said in a statement. "It's Orwellian, and bizarre."
U.S. Army Forces Command spokesman Paul Boyce said in a statement: "We continue to maintain careful respect for the military-judicial process, the rights of the accused, and ensuring the case's fairness and impartiality during this ongoing legal case."
Boal won Academy Awards for screenwriting and producing for "The Hurt Locker," which drew upon his experiences as a reporter during the war in Iraq. He also was nominated as screenwriter and producer of "Zero Dark Thirty."
He interviewed Bergdahl starting in 2014, with the intention of "developing a story that could be told in multiple mediums," Boal said in a court filing.
Bergdahl allegedly walked away from his unit after expressing misgivings about the role the military played in Afghanistan. He was then captured by the Taliban and held by members of the militant Haqqani network based in Afghanistan and Pakistan.
In a controversial prisoner exchange in 2014, President Obama agreed to release five Taliban detainees from Guantanamo Bay for Bergdahl.
See the most-read stories this hour >>
In May 2015, Boal teamed up with reporters at the Serial podcast to co-produce a 10-hour podcast exploring the case. The podcast included excerpts of his interviews with Bergdahl.
When Boal interviewed Bergdahl he made promises of confidentiality in connection with portions of the interviews, according to court documents.
In a court filing, Boal's lead attorney, Jean-Paul Jassy, suggested that Army Maj. Justin Oshana, a prosecutor on the case, was seeking the recordings because they could reveal inconsistencies in Bergdahl's story.
For example, Oshana mentioned that in the Serial podcast Bergdahl compared himself to the fictional movie character Jason Bourne, Jassy said. Oshana suggested that Bergdahl had not used the Bourne analogy previously when he was interviewed by other investigators or government officials, according to court documents.
Jassy said prosecutors were going on a "fishing expedition."
"It's very important that Mark be able to talk to his interview subjects and sources and if he promises confidentiality to be able to maintain that confidentiality in order to gather the facts necessary to tell an accurate story to the public," Jassy said. "It's important in the course of doing that that a military prosecutor, or any kind of government official, can't come in and take that material away from Mark."
Peter Scheer, executive director of the nonprofit First Amendment Coalition, said Boal was likely to prevail in getting the subpoena quashed. In the U.S. 9th Circuit, which covers California, the law is "fairly favorable to the press," Scheer said.
"I think a federal district judge, feeling bound by the current 9th Circuit precedent, will or should grant the motions to quash and spare Boal from having to turn over these materials to the government," Scheer said. "But I would be concerned if the government wanted to challenge that outcome on appeal."
Scheer said it would set a dangerous precedent if Boal were compelled to turn over the interviews, "or if he were forced instead to go to jail because of his principled refusal to turn them over."
For more California news, follow @brittny_mejia on Twitter.
ALSO
Documents portray Bowe Bergdahl on the edge, troubled well before he left his Afghanistan post
D.A.'s office recuses itself from sibling murder case after prosecutor's daughter is ID'd as victim
'Heroes of the Storm' player threatens Blizzard Entertainment gaming company with AK-47, prosecutors say
---