Brush fire ignited by weed whacker in Brentwood 95% contained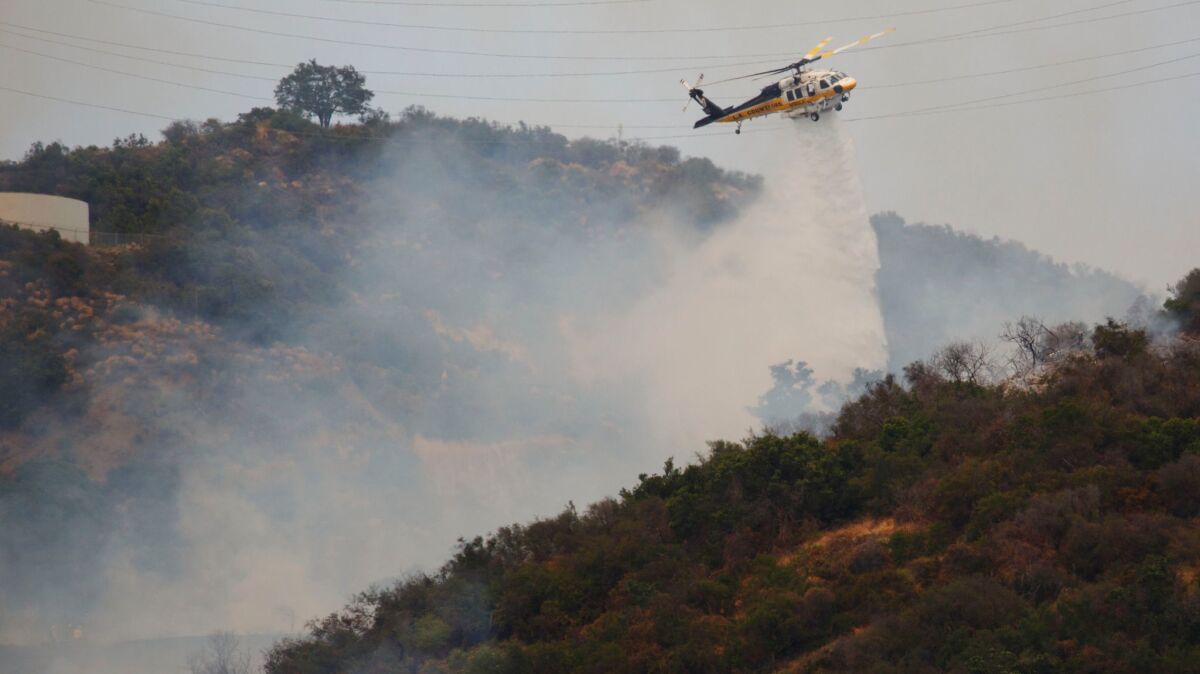 A brush fire ignited by a gas-driven weed whacker in Brentwood was 95% contained Monday but Los Angeles firefighters planned to work through the night, scaling steep terrain with hand tools, to finish the job.
The blaze started Sunday when the muffler overheated on a brush-clearing device being used by a private company working on Mandeville Canyon Road to clear flammable material from around homes.
Ash rained down on cars, a neighbor said, and the fire eventually spread to 55 acres as more than 100 firefighters and a water-dropping helicopter were deployed to the scene. But a marine layer of moisture and fortuitous wind patterns blowing away from homes helped firefighters contain most of the blaze by Monday morning, said Los Angeles Fire Department spokesman Brian Humphrey.
No one was injured and no homes were damaged, Humphrey said.
"This is not so much a wildfire as a warning as we make the steady march to the zenith of wildfire season in the fall with the Santa Ana winds," Humphrey said.
The fire, which triggered the evacuation of five homes in a major emergency response, was reported in the 2900 block of Mandeville Canyon Road at 12:46 p.m., according to the department.
The road, lined with large homes with hillside views, follows a canyon northward and dead-ends not far from a curve in Mulholland Drive.
Humphrey said the area was "billy goat terrain" with steep inclines and thick brush, requiring firefighters to help lift one another up the hill. They were equipped with chain saws and hand tools to turn over the soil and contain the areas that continued to smolder.
He advised homeowners in fire-prone areas to get brush cleared — and to work in teams with a fire extinguisher, garden hose and fully charged cellphone to call 911 in case of fire. Humphrey added that such work should take place before 10 a.m. during cool weather. Other tips are available on Cal Fire's website.
Arson investigators called to Agua Dulce fire
A separate fire, estimated about 2 to 3 acres, in Agua Dulce was declared knocked down at 4 a.m. Monday, about an hour after the blaze started.
Two buildings were destroyed at 12620 Sierra Highway, the Los Angeles County Fire Department said. The Sheriff's Department has dispatched arson investigators to the scene.
ron.lin@latimes.com
teresa.watanabe@latimes.com
---
UPDATES:
6:25 p.m.: This article was updated with additional details.This article was originally published at 9:45 a.m.
---
Life is stressful. Our weekly mental wellness newsletter can help.
You may occasionally receive promotional content from the Los Angeles Times.