Ex-schools chief Deasy to work for leadership academy of Eli Broad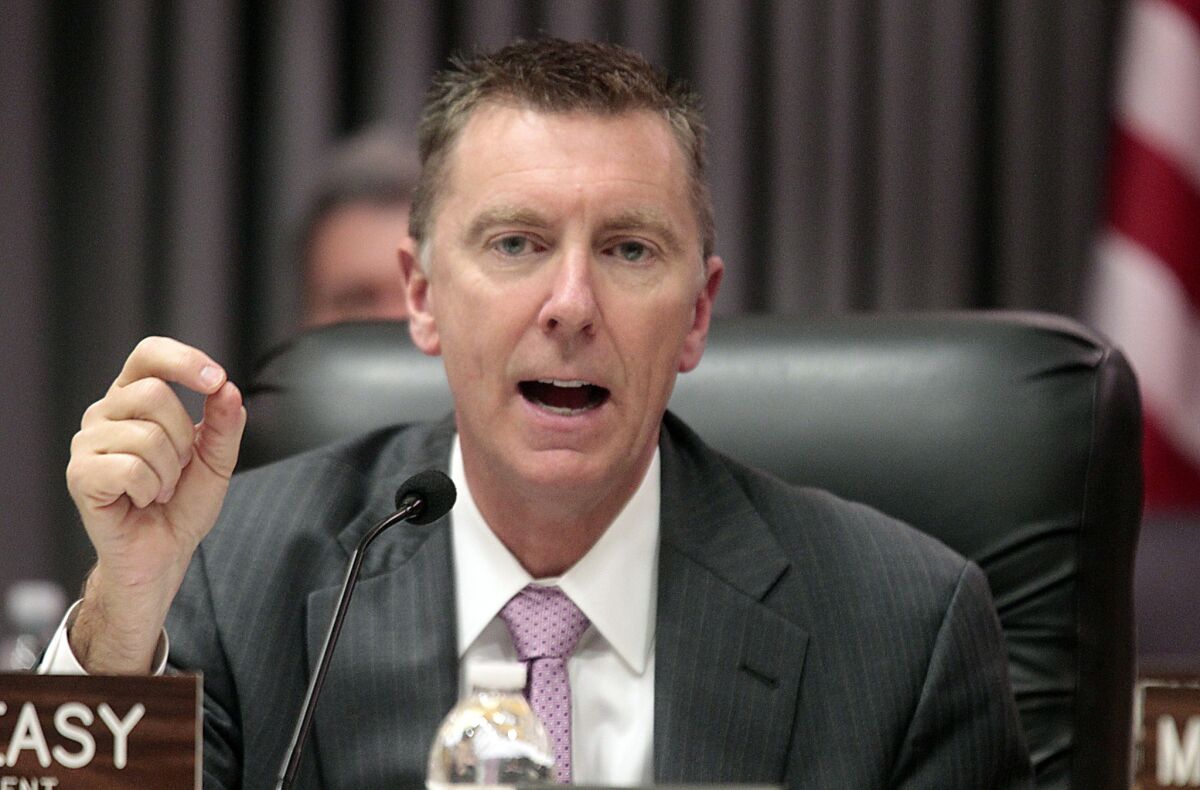 Former Los Angeles schools chief John Deasy has accepted a consulting job as "superintendent in residence" for a training and coaching program funded by local philanthropist Eli Broad.
Deasy, 54, resigned under pressure last October after leading the nation's second-largest school system for three and a half years.
At the time, Broad had lauded Deasy as the best L.A. superintendent in his memory. Deasy will coach graduates of the academy as they manage school systems, and he will also help with the training of future leaders currently going through the program.
"John Deasy's long history of boosting opportunity and achievement for all kids is a testimony to his relentless drive for social justice and fundamental belief in what's possible when school systems are organized around what is best for students," Christina Heitz, managing director of the Broad Academy, said in a statement.
Under Deasy, L.A. Unified continued an incremental rise in student achievement, even during a period of deep budget cuts. But his last year was marred by two troubled technology projects: A $1.3-billion effort to provide iPads to all students stalled and eventually led to an FBI investigation, and a new student records system malfunctioned this fall, putting students at risk of failing to obtain graduation and college admission records.
The Broad Academy was formed to address two problems: the haphazard preparation of superintendents and a perceived dearth of strong district leaders. The program is both for educators and for people of accomplishment from other fields, including the private sector and the military.
The academy is regarded with suspicion by some, especially union activists, who have long speculated that Broad wanted leaders better trained to outmaneuver and weaken unions representing school employees, especially the teachers union.
In L.A., Deasy clashed with the teachers union over his insistence on using student standardized test scores as a portion of a teacher's evaluation. Many teachers also disliked his push to have them oversee the serving of breakfast to students in the classroom. But Deasy reached agreement with teachers on salary cuts during the recession and on expanding the number of schools that could depart voluntarily from some provisions of the teachers contract.
Other well-known superintendents who served in a similar role with the academy were former Boston and San Diego superintendent Thomas Payzant and Arlene Ackerman, who headed school systems in San Francisco and Philadelphia. Current L.A. schools Supt. Ramon Cortines also has worked with participants in the Broad program. Deasy graduated from it in 2006, although he'd already been a superintendent at the time.
"What an honor and important responsibility to support leaders doing some of the most difficult and important work in our country," said Deasy in the academy's statement. "I am humbled to do for others what people did for me."
The academy declined to provide information on Deasy's compensation or whether he would serve full time. Deasy remained on salary with L.A. Unified through December, as part of a separation agreement.
Deasy previously served as schools chief in Prince George's County Public Schools in Maryland, Santa Monica-Malibu Unified School District in California and Coventry Public Schools in Rhode Island.
Twitter: @howardblume
---
The stories shaping California
Get up to speed with our Essential California newsletter, sent six days a week.
You may occasionally receive promotional content from the Los Angeles Times.