Cal State chancellor tackles tuition, diversity and salaries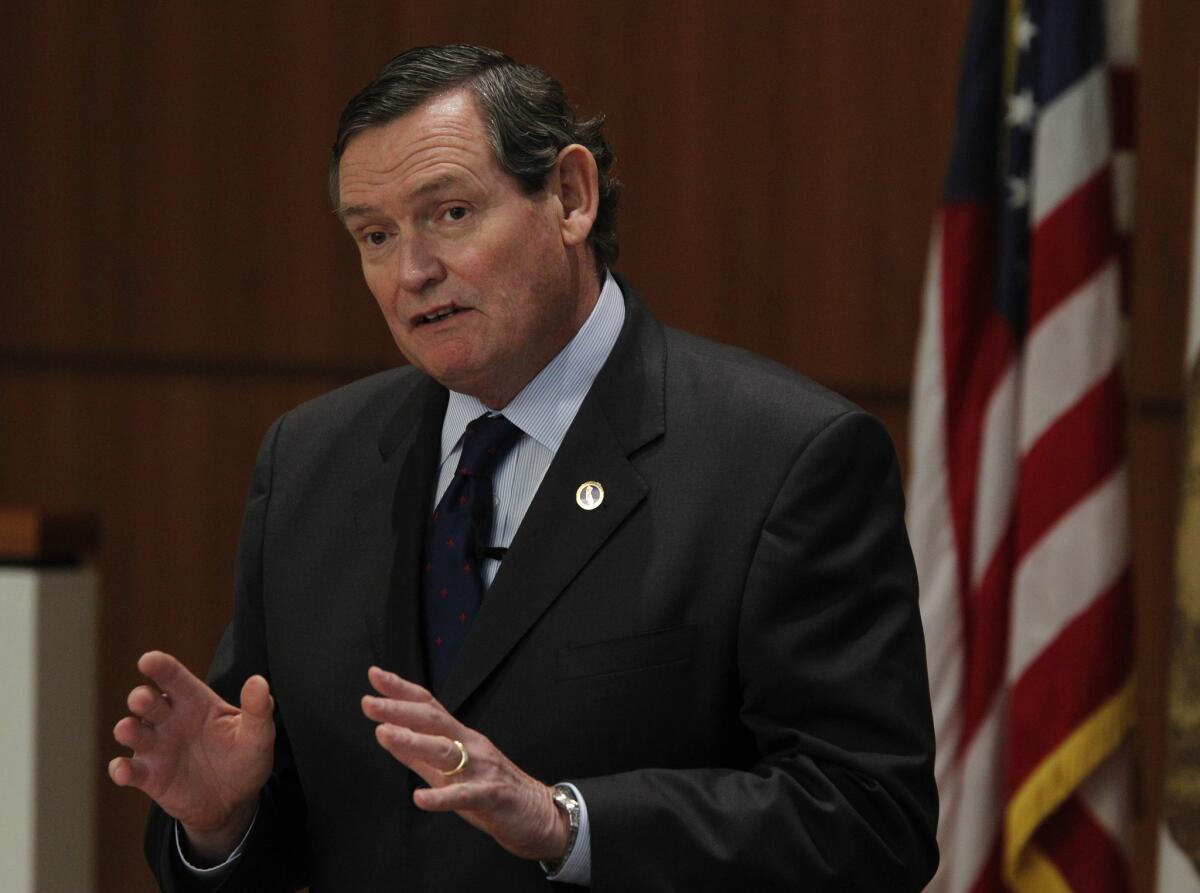 Tuition increases will likely become a new reality for students in the California State University system because of the state's disinvestment in higher education, Chancellor Timothy P. White said Tuesday.
For decades, the 23-campus Cal State system relied on the state to pay for the vast majority of public higher education costs. Now, state general funds cover about half these costs and tuition revenues make up the rest, White said.
Despite Gov. Jerry Brown's efforts to gradually increase funding for Cal State and the University of California, the CSU system still has not completely recovered more than $1 billion in cuts made during the recession, the chancellor added.
"There are a new set of expectations in California and we have to be honest with ourselves," White said in an interview during a meeting of the Cal State Board of Trustees in Long Beach.
"Nobody likes the word that begins with a 'T,'" he said. "I'm an idealist and want to maintain costs as low as possible for students, but I'm also a realist."
White's comments indicated strong support for a set of recommendations from a panel he appointed to study ways to support the schools and their 460,000 students into the future.
Among the proposals presented to trustees was instituting small annual tuition increases, possibly tied to inflation.
That would allow students and their families more predictability in planning for education costs. It would also avoid the need for dramatic tuition hikes, White said.
Cal State and UC have frequently espoused the idea, although it's politically explosive. Under Brown's budget agreements, both university systems have pledged to maintain their annual fees at current levels.
Several trustees said Tuesday that they agreed that Cal State can no longer rely on state funds and that tuition hikes must be part of the discussion — but not before considering all other options and making a strong case to students.
"Tuition needs to be a consideration, but in a place of last resort," said Trustee Lupe Garcia. "I'm not convinced we've looked under every rock for efficiencies."
A draft report on the new financial model will be submitted to different working groups, which will draw up specific policies for board approval.
White said in the meeting that the Cal State system must do a better job of dealing with the swiftly changing demographics in the state and "empower those who have been disenfranchised."
"What we learn in addressing the needs of our students will become the blueprint for those states that may be a generation or two behind us," he said.
Specifically, White directed faculty to develop a more inclusive curriculum and to "ask the question if we are informing enough about difference, power and discrimination."
White also said Cal State hiring and search committees should reflect the "rich diversity of our students and hire the best out of a rich and diverse pool of applicants."
He did not include specific goals or timetables for these changes.
Another prickly topic for the Board of Trustees is the long-running dispute over salaries for faculty, librarians and other professionals.
The union representing faculty is seeking a 5% across-the-board increase. Cal State officials say they can afford to offer only a 2% raise.
To press their point, some faculty members provided a musical interlude at Tuesday's meeting, breaking into a traditional labor union standard.
After addressing the board, about 30 faculty members stood and sang "Which Side Are You On?" a 1930s tune popularized by Pete Seeger and adapted with lyrics written by faculty.
"We're sending you a message we hope is loud and clear, a storm is coming and a strike very near."
The faculty members, dressed in red T-shirts, clapped and marched from the meeting room, still singing in unison.
The musical protest caused little disruption.
On Wednesday, the trustees will address Brown's criticism that the schools have a poor track record of graduating students within four years.
The average four-year graduation rate for freshman at public universities across the country is 34%. However, 20 of the 23 Cal State campuses fall short of that mark, Brown noted in his latest budget.
Follow me on Twitter @carlariveralat
ALSO
The problem with your lottery tickets and school funding
Is El Niño wimping out in Southern California? Not quite
This South L.A. corner is no place for ex-inmates to reenter society, critics say
Sign up for Essential California for news, features and recommendations from the L.A. Times and beyond in your inbox six days a week.
You may occasionally receive promotional content from the Los Angeles Times.