As California wildfires displace low-income residents in wine country, tech industry continues to bolster Bay Area wealth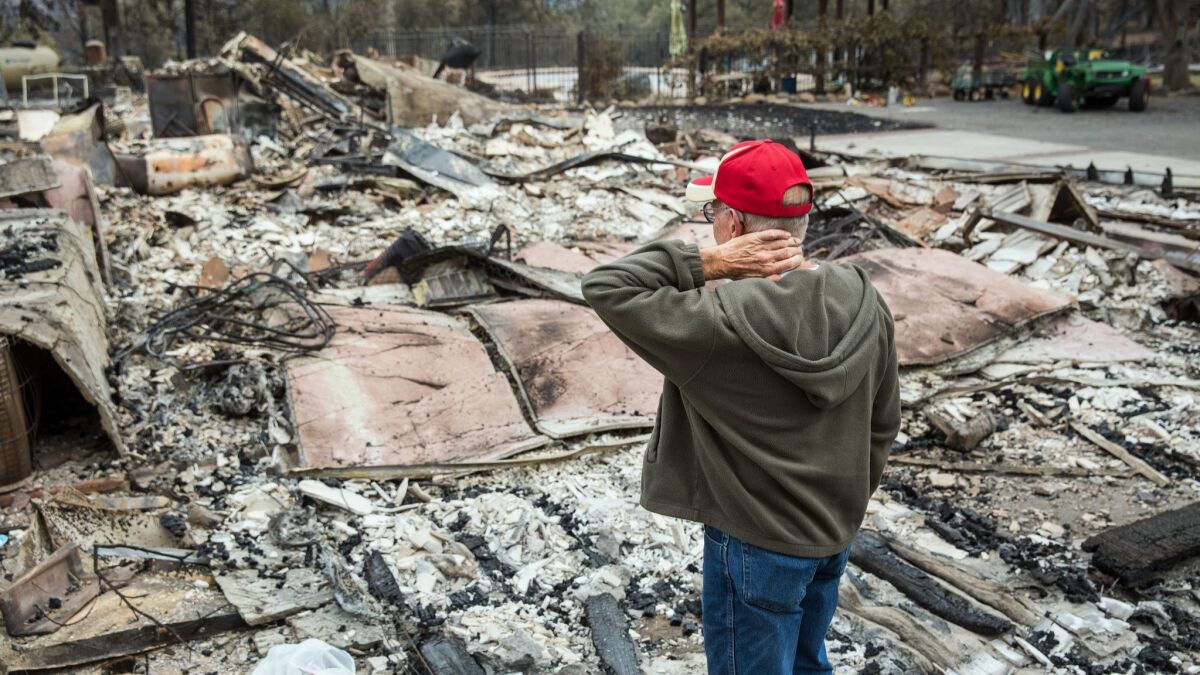 California's booming tech industry continues to pour increasing wealth into the San Francisco Bay Area. But there is evidence that destructive wildfires could worsen some of the inequities that the region has long grappled with.
Data released Wednesday by the U.S. Census Bureau found that while Silicon Valley enjoys some of the nation's highest incomes, areas of wine country that were devastated by wildfire now have some of the lowest poverty rates in the U.S.
A potential factor in that drop? Homes lost to the 2015 Valley fire forced the poorest residents to leave the Napa area entirely, according to analysts.
"Where it burned in Napa was an area that was not … filled with individuals that are well off," said Walter Schwarm, demographer at the state Department of Finance. "Natural disaster is a transformative force. Disasters tend to change the makeup of the population."
The data come as California grapples with a new era of ever more frequent and destructive wildfires — a trend that has collided head-on with a critical lack of housing in many areas of the state.
Most recently, the Camp fire in Butte County displaced tens of thousands of people in and around the town of Paradise, a primarily agricultural area of the Sierra Nevada foothills. Altogether, an unprecedented 21,000 homes across Northern California have been lost in the last 14 months to fire. The disaster has triggered a sharp increase in housing costs as the region struggles to absorb those who were left homeless. Many of those who fled the fire are now facing the prospect of having to leave the area.
The Census Bureau's American Community Survey, which is conducted every five years, examined nationwide trends in income, poverty and computer and internet use from 2013 to 2017. Among the findings released this week was that four of California's major metropolitan areas had some of the highest median household incomes in the nation. Three of them are located in the Bay Area.
Those statistical metro areas are San Jose-Sunnyvale-Santa Clara; the San Francisco-Oakland-Hayward area; Napa and Oxnard-Thousand Oaks-Ventura. The metropolitan area of San Jose led all areas in the country with a median household income of $105,809 compared to the 2017 national median household income of $61,372.
The survey also found that the metropolitan area of Napa had one of the lowest poverty rates in the U.S. at 8.2%, compared to the official national poverty rate of 12.3% in 2017. The survey period included the effects of the Valley fire, which killed four people and destroyed nearly 2,000 structures in Napa, Sonoma and Lake counties.
California analysts said they were not surprised to hear that Bay Area incomes were rising, and said it was clearly due to the technology industry.
"The tech industry has really been pumping out higher-income jobs," said Dowell Myers, a demography and urban planning professor at the USC School of Policy, Planning, and Development.
That high-income trend began around 2010 or 2011, Schwarm said, and has helped to fuel ever rising housing costs in the region.
"In some ways, the median household income that we see here is a response to rising housing prices," Schwarm said. "You're attempting to create an environment where your workers can actually live somewhere close to their employment. If you're planning to attract individuals, you're going to need to pay them enough to live there. And that's really what's doing it."
The case of Napa however, was different. Although U.S. Census officials did not specifically cite the fire in their survey results, experts in California said it was definitely a factor.
"To put it bluntly, people who were worse off before a disaster are usually hit hardest by the disaster and are least equipped to recover," said Gordon Douglas, director of the Institute for Metropolitan Studies at San Jose State University.
Wildfires "unquestionably" have the potential to change the income and poverty demographics of a region, Douglas said.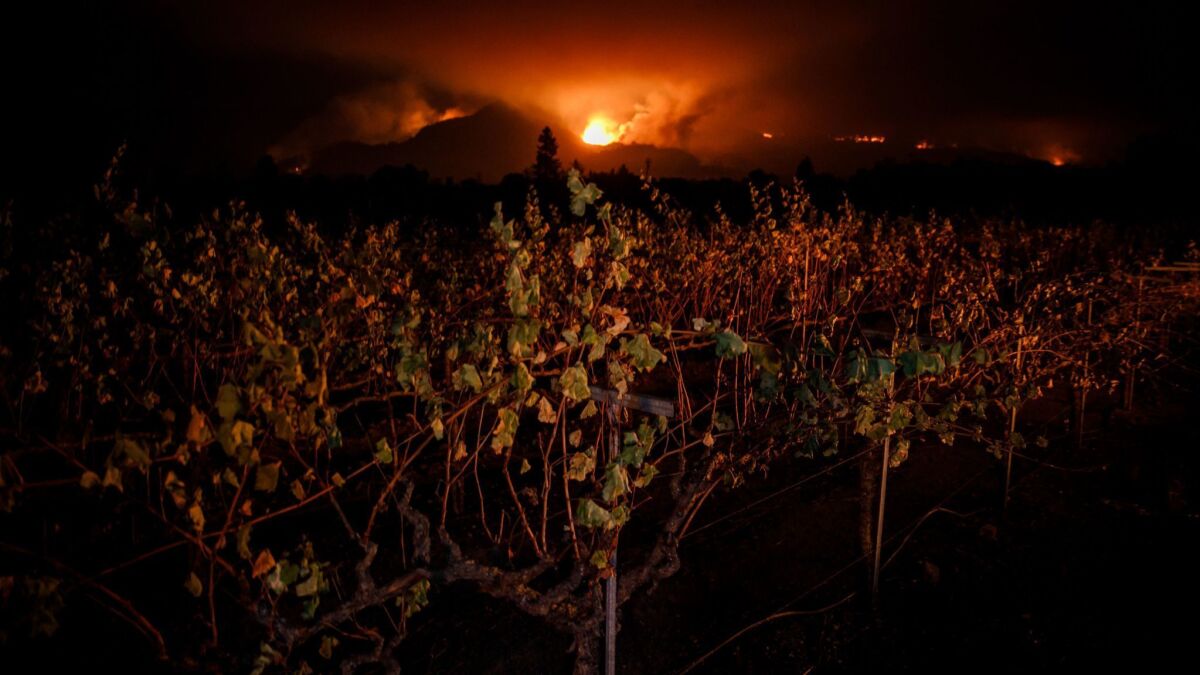 Driven by high winds, topography and vegetation, California wildfires have cut broad swaths through bedroom communities. Such was the case with both the Valley and Camp fires, said Schwarm.
"With the fires, we end up with the core wealthy section of Napa still being there and the others being displaced," Schwarm said. "This was sort of like Paradise in that as it moved toward Lake County, it was individuals who are retired or working for the wineries who were looking for a reasonable place to commute from."
But not all experts agree that the fire played a role.
USC's Myers attributed Napa's figures to recovery from the recession — not displacement.
"The poverty rate is declining in general," Myers said.
Still, displacement by wildfire points to a larger issue of "environmental equity," he added.
"Poor people tend to live in dangerous areas. That's a general problem," he said. "Near the freeway, where it can flood, where there can be mudslides, where there can be fires."
The increasing frequency of massive wildfires has caused some officials to consider the wisdom of building in the so-called urban wildland interface. However, the local nature of zoning regulations suggests that large-scale change will not occur anytime soon.
Author Mike Davis, who has been very critical of regulations that allow development in fire-prone areas, said that new housing in fire-damaged areas is rarely built with low income residents in mind.
After the 1991 firestorms in the East Bay Hills within Oakland and Berkeley, houses were "rebuilt, and larger," he said. A similar phenomenon occurred after wildfires charred the San Diego area in 2003 and 2007.
"The past is clear: Fire produces gentrification," Davis said. "We are going to see this play out again and again, and it's just a taste of what will happen with a major earthquake."
For more California news follow me on Twitter: @sarahparvini
Twitter: @emsimani
The stories shaping California
Get up to speed with our Essential California newsletter, sent six days a week.
You may occasionally receive promotional content from the Los Angeles Times.