California's snowpack is deepest in five years after recent storms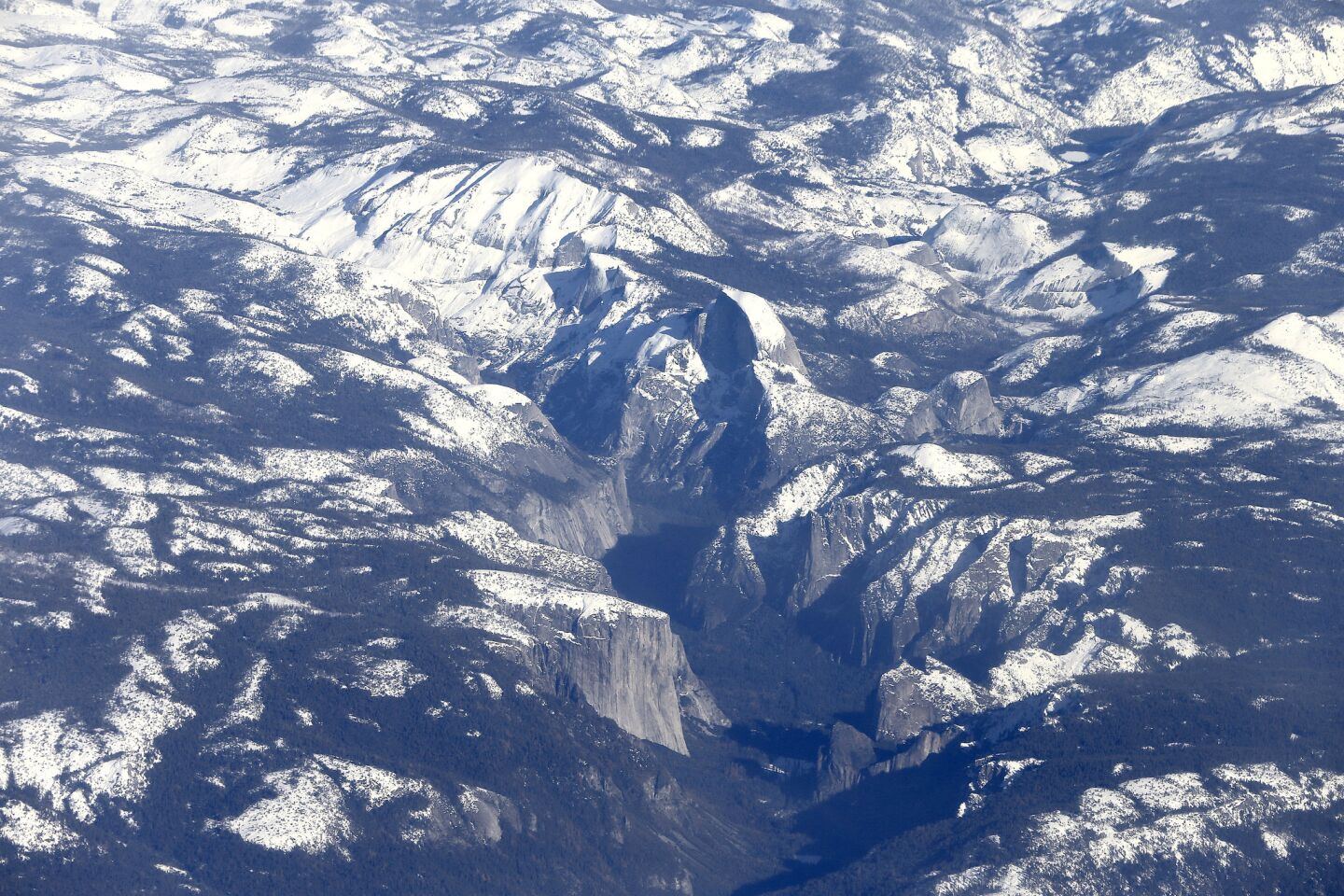 An aerial view shows the snowpack in the Sierra Nevada Mountains and Yosemite National Park
(Allen J. Schaben / Los Angeles Times)
A snowboarder rides along the snow-covered tree line at the top of Mt. Shasta Ski Park in Northern California on Jan. 25. The snowpack at Mt. Shasta was reported to be 9 feet.
(Allen J. Schaben / Los Angeles Times)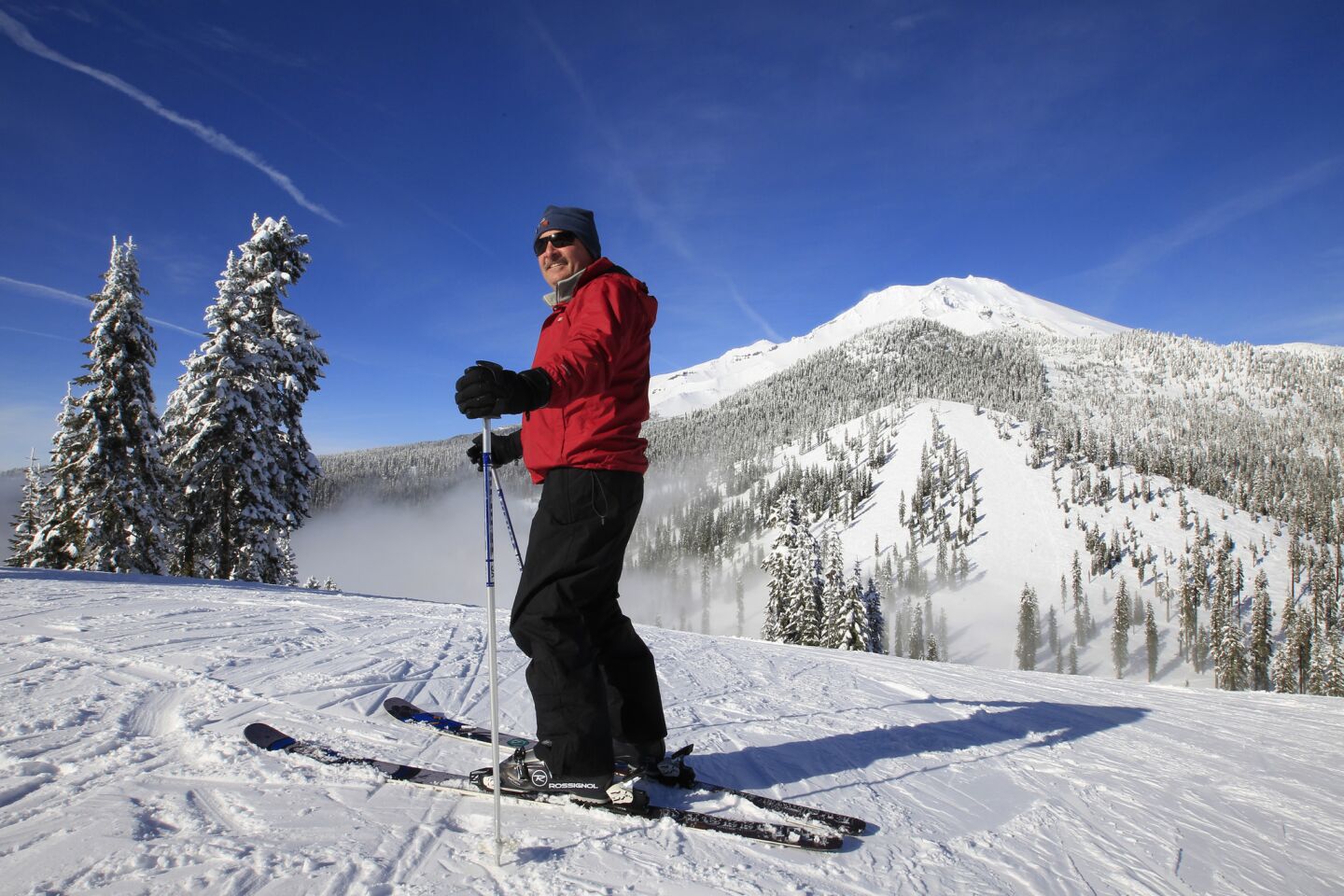 Bob Gullixson glides through the scenic Mt. Shasta Ski Park.
(Allen J. Schaben / Los Angeles Times)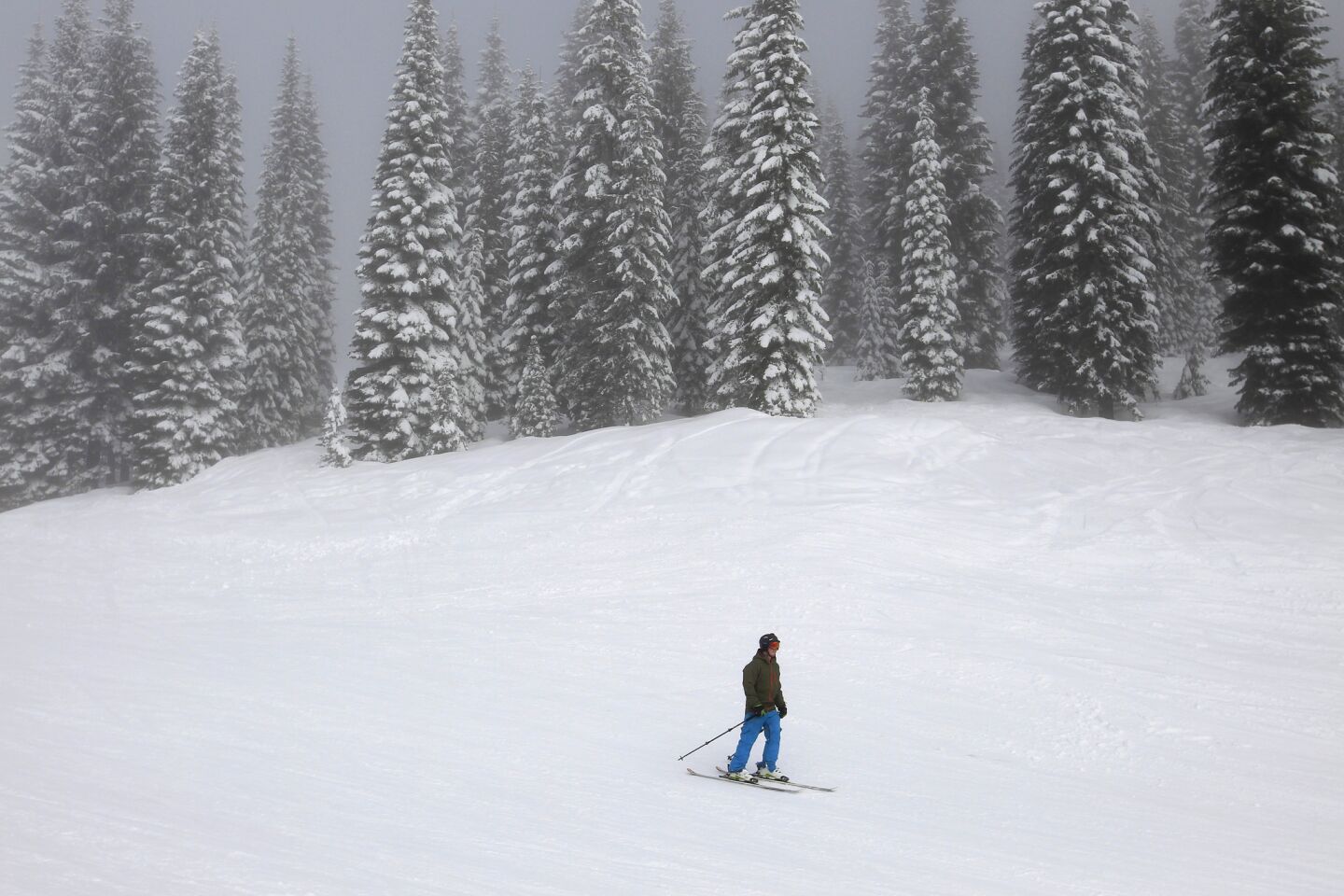 A lone skier at the park.
(Allen J. Schaben / Los Angeles Times)
Mt. Shasta Ski Park mountain manager Richard Coots drives a snowcat to the top of the park.
(Allen J. Schaben / Los Angeles Times)
Snowboarder Jesse Royal laughs as he crashes off a jump.
(Allen J. Schaben / Los Angeles Times)
Skiers and snowboarders ride the chairlift through the winter scene at the park.
(Allen J. Schaben / Los Angeles Times)
A snowboarder at the park.
(Allen J. Schaben / Los Angeles Times)
California's current snowpack is the deepest it has been in five years -- a modest, yet encouraging milestone in a period of prolonged drought.
Readings of the Sierra Nevada snowpack on Tuesday showed water content statewide was 18.7 inches, or 115% of the historical average for that date, according to the California Department of Water Resources.
Water officials say the good news is that California's snowpack and reservoirs have benefited from El Niño rainstorms. But they warned that it was too soon to determine whether winter rains were enough to make any major dent on the California's drought.
See more of our top stories on Facebook >>
The snowpack's water content must be significantly greater than the April 1 average of 28 inches to have any considerable effect on the drought, according to the department.
Water levels in the state's reservoirs have increased since Dec. 1, but storage is still far below historical averages.
Water officials will take manual measurements at dozens of snow courses in a 10-day period next month to determine just how much water is in the state's snowpack.
In an average year, melting snowpack provides roughly one third of the water used by California cities and farms.
2015 was a brutal snowpack year, officials said.
Above-average temperatures and below-normal precipitation resulted in a historically meager snowpack, according to the department. The snowpack measured at only 23% of average last February. Snow water content levels dipped further in March 2015, measuring at only 19% of average.
The snowpack reached an all-time low on April 1, when water content readings came in at 5% of average. That milestone prompted Gov. Jerry Brown to order mandatory reductions in urban water use.
"The scant snowpack and subsequent drop in snowmelt runoff were large contributors to confirming California's fourth consecutive year of drought," the department said in a statement.
The last time the snowpack was higher was in 2011 when it reached 129% of average.
For breaking news in California, follow @VeronicaRochaLA
ALSO
Is El Niño wimping out in Southern California? Not quite
El Niño storms erode Pacifica bluff as homes teeter on the edge
The stories shaping California
Get up to speed with our Essential California newsletter, sent six days a week.
You may occasionally receive promotional content from the Los Angeles Times.