El Niño inspires hope of 'major dent' in drought, but empty reservoirs point to long recovery
The high lake level boat launch at Bidwell Canyon is still hundreds of yards above the current lake level boat launch but the water level is 27-feet higher at Lake Oroville, Calif.
(Brian van der Brug / Los Angeles Times)
Houseboats at Bidwell Canyon Marina are rising with the lake levels at Lake Oroville, Calif.
(Brian van der Brug / Los Angeles Times)
Loafer Creek Recreation Area boat launch is still high and dry but lake levels are rising at Lake Oroville.
(Brian van der Brug / Los Angeles Times)
Fishermen pull out boats at the boat launch at Bidwell Canyon at Lake Oroville, Calif.
(Brian van der Brug / Los Angeles Times)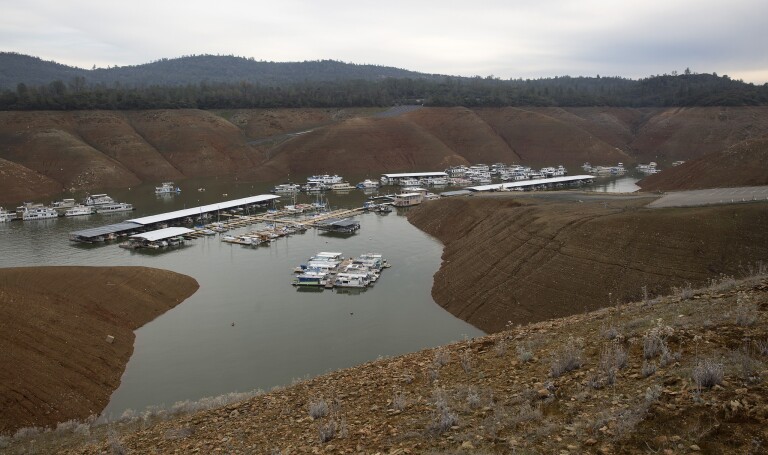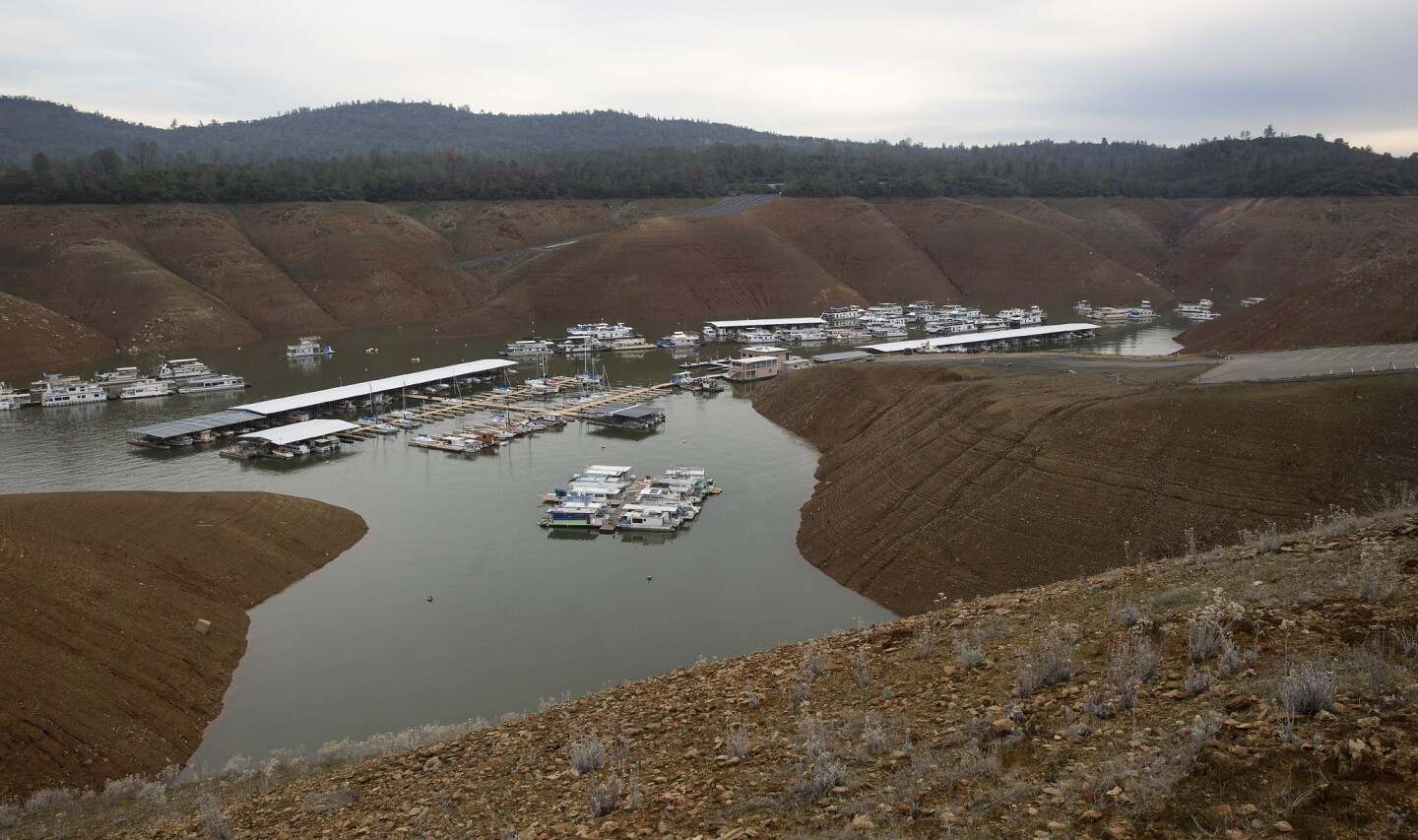 Houseboats at Bidwell Canyon Marina are rising with the lake levels at Lake Oroville, Calif.
(Brian van der Brug / Los Angeles Times)
Houseboats at Bidwell Canyon Marina at Lake Oroville, Calif.
(Brian van der Brug / Los Angeles Times)
REPORTING FROM LAKE OROVILLE, CALIF. —
Ever since climate experts first predicted El Niño last year, California officials have been tamping down expectations that this winter's rains would bring significant drought relief.
Four years of drought have just been too severe, they said, and it was uncertain that the rains would fall where they were needed most: in the northern mountains and valleys where California's water systems begin.
But after two months of steady rain and snow across Northern California, officials are beginning to see some rays of hope.
See more of our top stories on Facebook >>
"It's starting to make a dent, definitely," said Alan Haynes, hydrologist for the National Weather Service in Sacramento. "If storms continue and we keep getting wet into the spring ... we have a good shot at filling up the reservoirs and building up the snowpack."
The water content in the snow in the northern Sierra Nevada is at 124% of average for this time of year; the central Sierra clocks in at 115% of average; and the southern Sierra at 92%. The statewide average is 113%.
But to come close to digging California out of the drought, the Sierras need 150% of average by April 1, state water officials estimate — an ambitious benchmark that is still a long way off.
"The most likely probability is we'll be about average for this year," Haynes said. "It doesn't dig us out of the hole … but it's a good start."
Initial climate forecasts projected that Southern California would get the brunt of winter rains fueled by El Niño, a prospect that would bring relatively little drought relief because much of that rainwater flows into the ocean. Instead, storms have made a direct hit in the mountain areas where federal and state water projects capture rain and snow and deliver the water across the state.
The storms have sent steady amounts of water into California's largest reservoirs. Still, those reservoirs — Shasta Lake, Lake Oroville, Trinity Lake and New Melones Lake — are only at 42%, 36%, 24% and 15% of capacity, respectively.
Since the rains began, Lake Oroville has risen more than 27 feet — a number many boaters at the Bidwell Canyon Marina recited off the top of their heads. An island that had emerged in the middle of the lake during its driest days has since disappeared.
But the lake still feels empty.
To get to their houseboat of 20 years, Tom and Debbie Pelton drove past clusters of evergreens where the water line used to be, down the original boat ramp that now serves as a road to the receding water still hundreds of yards away, down a well-worn path carpeted with gravel and mud, down another dirt slope and eventually onto a parking lot that had been built after the drought drained the lake to where it is today.
From there, they had another 100 feet to go — down a concrete ramp that opened this week.
They turned around and craned their necks, back up toward the evergreens: rings and rings etched into the looming slopes, a humble reminder of the lake's edge and where the water lines used to be.
"It's going to take years to recover from this," Tom Pelton said, motioning up to the evergreens and the ramp.
Lake Oroville is the largest reservoir of the State Water Project, an approximately 700-mile system that ferries water all the way to Southern California. Built along the Feather River on the western edge of the Sierra, the lake is held back by the tallest dam in the United States, rising 44 feet higher than Hoover Dam.
At the lake's visitor center, a display flashes reminders that the lake still has a long way to go: the lake's maximum level is 900 feet above sea level. On Thursday evening, it was at 699.02 feet.
"As you look at the lake itself, visually, you still wonder where it is," said Chuck Hicks, who has lived in the area since the 1960s.
State snow survey chief David Rizzardo said the deficits at the reservoirs remain daunting.
"That's a tough task to do in one winter, filling up the reservoirs," said Rizzardo, as he jotted down new numbers from his computer and did some math. "More realistically, we're looking at — hey, if we can get somewhere in this above-average snowpack, and above-average rain, that goes a long way in digging ourselves out of the four-year effect of the drought."
The storms bearing down on Northern California so far have been steady and under control — a storm every couple of days dropping an inch or two of rain, then a day or two to recover. The weather systems have not prompted massive flows of mud or widespread flash flooding.
"I'd almost venture to say it's coming in an ideal fashion," Rizzardo said.
Since Dec. 1, Eureka has seen nearly 23 inches of rain, about 179% of the average. Since New Year's Day, Redding has seen nearly 10 inches of rain, more than double the average. A new storm was churning through the north Friday, expected to bring as much as 3 feet of snow to the highest peaks of the Sierra.
Still, there are important parts of the central and southern Sierra that are underperforming, said state climatologist Mike Anderson. Those mountains feed the San Joaquin and Tulare basins, which include cities such as Fresno and Bakersfield. The U.S. Bureau of Reclamation said Friday that reservoir levels in the Central Valley Project, a major source of water for California farmers, remain at low levels.
Climate experts forecast that Southern California will get hit by significant El Niño-influenced storms later this winter and perhaps as late as May. El Niño, an immense pool of warm water 1,000 to 2,000 miles south of California fueling atmospheric disturbances worldwide, can have the effect of strengthening the subtropical jet stream — a narrow band of strong winds in the atmosphere — that can push storms along a path east from Japan, said Bill Patzert, climatologist at NASA's Jet Propulsion Laboratory in La Cañada Flintridge.
In strong El Niño years, the subtropical jet stream is so powerful it can push storms all the way to Southern California and into the southern United States, Patzert said.
Recent storms are not coming directly from the El Niño-fueled pattern but from a typical path of winter storms riding the polar jet stream from the northern Pacific Ocean, Patzert said. Those storms enter Northern California with a lot of energy but are mostly wrung dry by the time they reach Southern California.
Los Angeles has not seen major storms in the last two weeks because of a mass of high pressure southwest of California, Stanford University climate scientist Daniel Swain said. But computer models suggest there will be a burst of jet stream energy that will emerge from the western Pacific Ocean around the end of January.
Even if California continues its wet winter, officials say it's important to understand that the state still has a limited supply of water and that conservation needs to be routine.
Southern California has consumed two-thirds of the drought backup supply of water stored with the Metropolitan Water District, and an average year of precipitation wouldn't make up what has been lost during the drought, said Deven Upadhyay of the MWD.
The drought could persist, particularly if a dry La Niña system develops after this strong El Niño, as has happened before.
Water is already overallocated in fast-growing California, Haynes said.
"This isn't the last of our water shortages, I would bet," Haynes said. "And most people can probably see that."
Xia reported from Lake Oroville and Sacramento, Lin from Los Angeles.
Follow us for the latest news in earthquake safety, El Niño, and the drought: @RosannaXia and @ronlin
MORE ON EL NIÑO
To save water, an underground movement to bank El Niño's rainfall
Can El Niño save drought-battered California? Here's why it's not that simple
Wildflowers already popping at Death Valley in what may be epic El Niño season
---
Must-read stories from the L.A. Times
Get the day's top news with our Today's Headlines newsletter, sent every weekday morning.
You may occasionally receive promotional content from the Los Angeles Times.