California fires: Crews boost containment in deadly wildfires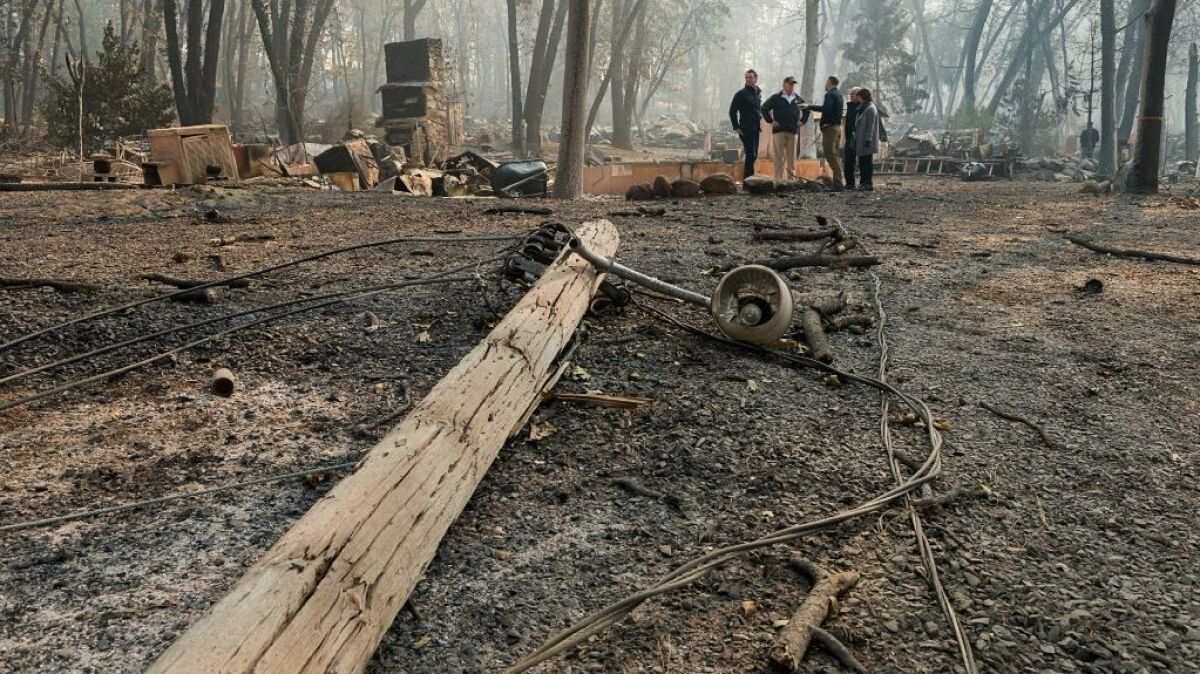 Firefighters continued to make progress Sunday against the deadly wildfires ravaging neighborhoods up and down the state, boosting containment as more residents were allowed to return home.
A red flag warning remained in effect in parts of Northern California, where the Camp fire in Butte County has chewed through 149,500 acres, claimed at least 76 lives and destroyed 12,786 structures, according to the California Department of Forestry and Fire Protection.
The death toll has risen every day as search crews continued to sift through the rubble, while the list of people unaccounted for reached 1,276 Saturday night. Officials said the staggering number is far from precise and could include duplicates as well as the names of people who have not checked in with loved ones or authorities.
A vigil for the victims was planned for Sunday afternoon at the First Christian Church of Chico.
By Sunday morning, the blaze was 60% contained. But forecasters expect gusty winds will bring in critical fire weather conditions across portions of the western slopes of the northern Sierra. Officials said smoke from the blaze would continue to bring poor air quality across the region through Tuesday.
In Southern California, the Woolsey fire has charred 96,949 acres and destroyed about 1,452 structures. By Sunday night, it was 91% contained and Cal Fire said it expects full containment by Thursday.
Evacuation orders were lifted for some parts of Malibu Colony Cove neighborhood on Saturday and others were expected to be allowed back into the community at 2 p.m. on Sunday, and still more on Monday. This link can be used to assist the public in determining what properties remain under evacuation: https://goo.gl/sUCR5v.
But some people couldn't wait any longer to return home. Around noon on Sunday, Valerie and Edward Nalbentian walked north along the shoulder of Pacific Coast Highway near Zuma View Place in Malibu, heading to a home they said they knew had burned down.
"We haven't seen it yet," Valerie said, her expression grim. "But we've seen plenty of pictures."
They had only had the Point Dume house for a year and a half, she said. In the aftermath of the disaster, the couple was preoccupied by trying to find somewhere to rent. In just a few days, she said, someone had hiked the rent on a place she was eyeing by $2,000 a month — raising their prices amid the booming demand, she said.
"People are renting places without even looking at them because there's such a shortage," she said.
A County Fire Department vehicle slowed alongside them and the driver asked if they needed a ride. The Nalbentians took him up on the offer, piling into the two spare seats for the sobering drive up to Point Dume.
Further south, Mimi Goldfinger gazed up at the scarred hillside at the intersection of Latigo Canyon Road and Pacific Coast Highway, cradling a fluffy white dog in her arms. Before, she said, "it was all lush."
She and her husband Morris were waiting to return to their home in a gated community and find out whether it had survived.
From their hotel near LAX, they had heard bits and pieces from the utility workers who had been dispatched to do work in the aftermath of the disaster — and who were staying at the same Sheraton hotel — as well as the security company their community had hired to patrol the area. They knew that other homes above and below had been destroyed, but "I don't know about our house," Mimi said.
She was wearing the black athletic pants she had on when she headed to the gym the morning that the fires broke out, before she discovered that the shops had no electricity and realized what was going on. When she got back to the house, Morris was packing up.
"I grabbed almost nothing," he said.
"The laptop," Mimi replied.
"And the dog," he added.
"And the daughter!" Mimi said, smiling.
Beyond the checkpoint at Malibu Colony Cove where deputies were turning back cars, some residents had nonetheless gotten back into their homes days earlier and were chafing at the restrictions placed on them coming and going around Malibu.
Angelina Radden had returned to West Malibu with her mother a few days ago, after her landlord groused about her mother staying with her in her West Hollywood apartment with a big dog. Radden said her mother couldn't afford to stay in a hotel, so she had decided to head back.
"She's very persistent," Radden said elliptically when asked how her mother had gotten back in.
They had spent days cleaning the ash that had pervaded the house, down to its curtains. When Radden heard on Friday that Ralph's was open farther south, she went to get groceries — only to find that the deputies would not let her come back in her car. She ended up leaving on foot instead.
Radden was hiking back south Sunday morning along Pacific Coast Highway, planning to meet up with a friend past the road closure at Paradise Cove who would ferry her back to her car.
"You kind of feel like you're under house arrest," Radden said. "You can't go anywhere or do anything."
"No one knows when anything is going to be reopened," she said. "Their only answer is, 'We will let you back in as soon as it's safe.'"
Another resident, who declined to give his name because he worried that deputies would try to roust him from his home, said he had remained there through the fires. The man, a former firefighter, said the only tools he had to defend his home were a wet towel and a five-gallon bucket.
He had driven down to Paradise Cove, where deputies were stopping cars, to get supplies from volunteers who were walking them to residents waiting just past the road closure.
"No level of government has provided anything to people out here," he said. "We're trying to stay alive out here with no power and no gasoline to run generators. The food supplies are holding up — because of volunteers."
Lynn Jacob strode past him, heaving bags loaded with ice and other supplies back to her car. "The aftermath of this disaster is a disaster in itself," she said.
Jacob, a longtime West Malibu resident who had returned to her home Sunday, complained that no one was telling residents that if they went past the road closure at Paradise Cove they would be unable to come back. One of her elderly neighbors had gone to the grocery store without realizing she would be unable to return to her husband, Jacob said.
"She had to cry and cry. She went back three different times before she finally got through," Jacob said.
Residents have ruefully started calling it the YOYO fire, she said, for "you're on your own."
When Jeff and Nan Thompson and their son Alex, a ruddy-haired 5-year-old with boundless energy, returned to their home atop a Malibu hillside, they were boggled by what had burned and what had not.
Burned: bushes scorched black along their driveway, a metal grate steps from their living room windows and a nearby house that used to peer over them from the hills.
Not burned: their butterscotch-colored house that looked over the scorched hillsides below, which seemed practically untouched, save for a scattering of Spanish tiles that had tumbled from its roof.
They already knew it had survived, thanks to word from neighbors and television footage, but it still amazed Nan Thompson to see just how close the flames had come. She stepped carefully over the broken tiles to photograph bits of damage: a charred patch of the sprinkler system, a garage window that had shattered.
Perhaps the strangest thing was their massive metal storage container, bigger than a dumpster, which had somehow been spun around and flung across the blackened land behind the house. The Thompsons feared it might tumble down the ravine, warning Alex not to get too close.
"Where's the beehive that was under the container?" Alex asked as he zipped back and forth, a toy dog in his hand.
"It's gone. All burned up," Jeff Thompson replied.
Alex paused to take it in. "The bees' home is burned," he said before running to examine a piece of scorched wood.
His father, still catching his breath from heaving a wheelbarrow up the steep ravine, peered at the hillside just under their home. He pointed to where he had cleared out brush around the house before leaving.
"That might be why," he said between breaths, "it didn't burn."
But the house had no water, so they would not be able to stay. They planned to pick up more clothes, maybe some toys, before heading back to the stretch of Pacific Coast Highway where they had left their car.
Disaster assistance centers will be open Monday in Malibu and Agoura Hills to help residents replace records lost in the blaze, file insurance claims and apply for disaster assistance.
President Trump toured the devastation on Saturday. "Hopefully, this will be the last of these, because it was a really, really bad one," the president said. "People have to see this to really understand it."
A chance of rain later this week has crews bracing for possible mudslides in burn scars of both fires.
Butte County could get four to five inches of rain from Tuesday night through the weekend, with the heaviest rain Thanksgiving night, said Eric Kurth, a meteorologist with the National Weather Service.
"That's going to be spread out over a period of days … not coming down all at once," he said.
That may be a good sign. Typically, debris flows are expected when rain falls at half an inch per hour or more, said David Gomberg of the weather service.
In Southern California, there's about a 50% chance of rain over the areas charred by the Woolsey fire as early as Wednesday, Gomberg said. Forecasters say the area could see a quarter to three-quarters of an inch of rain.
"It doesn't look like a real heavy rain producer," he said. "In San Bernardino County … it's very high certainty you'll get some rain, and going south into Ventura and Los Angeles counties, the probability weakens."
Even so, forecasters warned of potential rock slides and debris flows across roadways below fire-ravaged slopes, especially along Highway 1 and canyon roads.
alene.tchekmedyian@latimes.com
Twitter: @AleneTchek
---
UPDATES:
5:10 p.m.: This article was updated with more comments from Malibu residents.
2:35 p.m.: This article was updated with more comments from Malibu residents trying to return home.
1:50 p.m.: This article was updated with new comments from Malibu-area residents.
1:05 p.m.: This article was updated with new information Cal Fire.
This article was originally published at 10:10 a.m.
---
The stories shaping California
Get up to speed with our Essential California newsletter, sent six days a week.
You may occasionally receive promotional content from the Los Angeles Times.