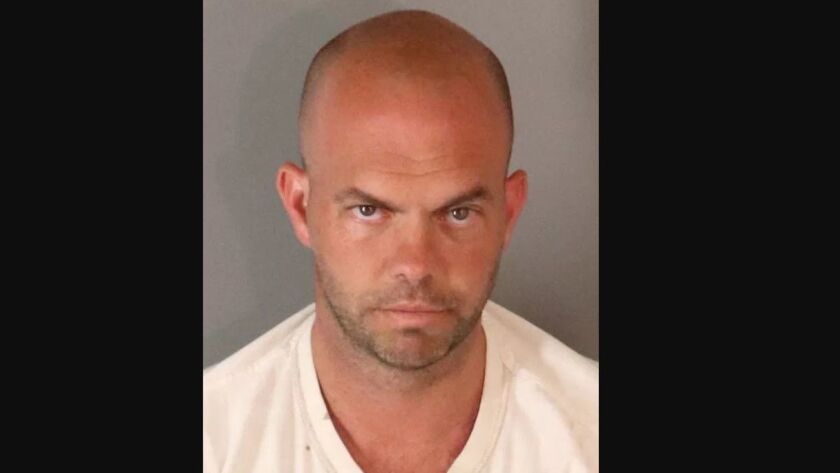 A Winchester man pleaded not guilty Wednesday to a second-degree murder charge in connection with a crash that killed a veteran California Highway Patrol officer in Lake Elsinore over the weekend.
Riverside County prosecutors allege that Michael Joseph Callahan, 36, was driving under the influence of alcohol about 4:30 p.m. Saturday when he drove his gray Toyota Corolla onto the right shoulder of the 15 Freeway near Nichols Road and hit Sgt. Steve Licon.
Licon, a motorcycle officer and 27-year veteran of the CHP, had pulled over another driver on the shoulder of the freeway when he was struck. Licon, 53, of Perris, was taken by helicopter to Inland Valley Medical Center in Wildomar, where he died of his injuries, according to prosecutors.
Late Saturday, law enforcement officers from various agencies gathered at the hospital to escort the hearse that transported Licon's body to the Riverside County coroner's office in Perris. On Wednesday, dozens of officers — most employed by the CHP — stood in the courtroom as Callahan entered his plea.
"Our hearts are heavy after the immeasurable loss of a friend, father, husband, and hero," CHP officials wrote in a statement on Facebook following the crash. "Sergeant Steve Licon, #13348, of the CHP Riverside Area made the ultimate sacrifice today while serving his community."
Callahan was arrested at the scene after officers suspected he was under the influence. However, authorities have not released details about Callahan's blood alcohol level at the time of the crash.
Prosecutors made the decision to file a second-degree murder charge based in part on a 2004 misdemeanor DUI conviction against Callahan in Orange County. In that case, Callahan received three years of probation and was required to attend classes about the dangers of drinking and driving.
If convicted, Callahan faces a maximum sentence of 15 years to life in prison. He is being held at the Robert Presley Detention Center in Riverside in lieu of $1-million bail, according to jail records.
Callahan's attorney, Kerry Armstrong, could not immediately be reached for comment Thursday. However, Armstrong told the Press-Enterprise that Callahan is so upset about the crash that he doesn't want to be bailed out of jail.
"He's devastated by this whole thing. Just a horrible, tragic case. I think he's still coming to grips with what happened," Armstrong told the newspaper.
Twitter: @Hannahnfry
---