Butte County faces massive cleanup after Camp fire: 'It is a historic, almost biblical disaster'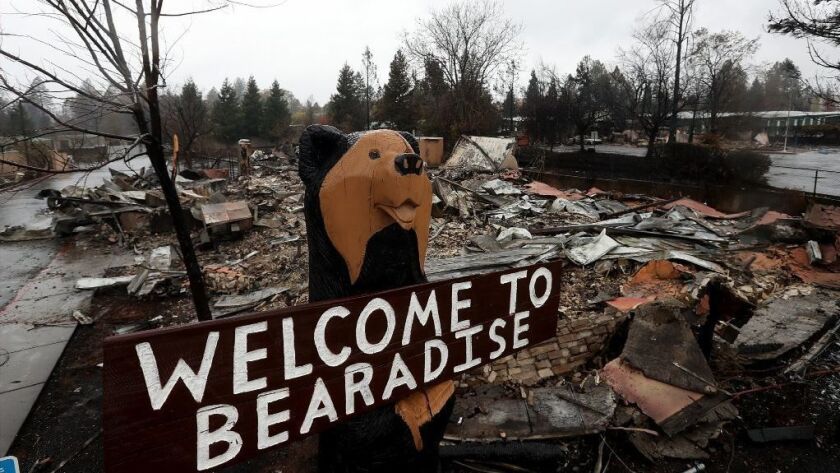 Reporting from Paradise, Calif. —
The fire cleanup facing Butte County's mountain towns is monumental in size but probably won't start for weeks.
With 83 residents confirmed dead and hundreds more unaccounted for in the communities of Concow, Magalia and Paradise, officials said they needed to first complete one of the largest search and recovery efforts in modern memory before crews and heavy equipment can move into the rubble to begin their work.
"We have so many souls unaccounted for; I believe that this search for remains is going to go on for a long time. Could be weeks," said state Sen. Jim Nielsen, a Republican who represents Paradise and has toured the destruction.
Officials say there are discussions underway to adopt a piecemeal approach that would begin cleaning up in areas that have been searched and leave other spots alone until that has happened. But narrow roads clogged with utility vehicles, law enforcement cruisers and fire trucks moving to and from the fire line pose safety concerns. Thus far, authorities have opted to wait.
But when the cleanup does begin, it will be the largest such effort ever undertaken by state officials. Paradise, which held more than 26,000 residents, was at least 90% destroyed, said Mark Ghilarducci, director of the Governor's Office of Emergency Services.
"It is a historic, almost biblical disaster," Nielsen said. "Old Testament stuff."
More than 18,000 structures were destroyed in the Camp fire, nearly 14,000 of them homes.
"We're going to dwarf Santa Rosa," Ghilarducci said, recalling the wine country fires of 2017.
That cleanup effort last fall led to more than 2 million tons of toxic debris removed from 6,000 properties in seven California counties: Sonoma, Napa, Lake, Mendocino, Butte, Yuba and Nevada, said Eric Lamoureux of the Governor's Office of Emergency Services. A single property can hold more than 100 tons of debris.
Lamoureux said the county, state and federal governments could jump-start the process of removing toxic ash and other debris, and could do so at no cost to the owner. (Officials can later seek reimbursement from a property owner's insurance company to defray some of the costs.)
Typically, about 80% of property owners give the government permission to conduct the cleanup operations, with the rest opting to do it themselves.
The first task will be removing hazardous materials. In a rural, working-class setting like Paradise and the towns above it, where residents lived in tree-lined mobile-home parks and affordable single-family homes built in the 1960s and '70s, the debris is loaded with asbestos, Ghilarducci said.
There will be propane, pesticides, paint and other toxic substances that have to be specially wrapped, "like a big burrito," then carried away, he said.
The same issue that stymied evacuations the day of the Camp fire — limited roads in and out of town — could also slow the cleanup effort as a caravan of heavy-duty haulers, excavators and bulldozers are motored into and out of the area.
And where to put it all is still a moving target.
Officials said they had found at least one landfill in the region that could take some of the debris, but they declined to identify it. Others will have to be found, and that could include out-of-state locations.
Experts are considering landfills that run along rail lines connected to Butte County to speed up the process. Once the cleanup begins, it could be eight or nine months before residents can break ground on rebuilding their homes, Ghilarducci said.
The job "is a heavy lift," he said.
Once the hazardous materials removal process is complete, residents will be allowed to return to their property to gather any personal belongings and keepsakes, officials said. They can opt to find their own way to remove the nontoxic debris left behind or sign a "right of entry" and have state workers remove it for them.
After the cleanup, the communities devastated by the Camp fire will have other distinct challenges.
Ultimately, city and state officials said any rebuilding effort should seriously consider modernizing Paradise's infrastructure — specifically its sewer system.
The city has the dubious honor of being the largest municipality west of the Mississippi River to have no sewer system. Instead, its residents and business district off its main road — Skyway — rely on between 11,000 and 12,000 septic systems that are prone to failure, according to a city website dedicated to the issue.
Unfortunately for crews tasked with scraping the topsoil then removing debris, those systems sit in shallow basalt soil resting on hardened bedrock, said Clint Snyder, assistant executive officer for the Central Valley Water Board.
If they scrape too deep into the volcanic earth, equipment could compromise the septic system — which would spoil the location for future use in many cases, he said. Finding a new septic leach field that is far from a domestic drinking well to avoid contamination would be difficult, he said.
"Our biggest concern would be anything that impedes those folks getting into [their] homes as soon as possible."
The town mayor said last week that an old study to add sewers to the business district should be updated and considered, and Snyder said state grants could help continue that work in the residential areas.
"This isn't a sprint, it's a marathon," Ghilarducci said. "Paradise is going to have to come together with Butte County and figure out what it wants to look like in the future."
Frank Mansell, a spokesman with the Federal Emergency Management Agency, said transitional housing for fire victims could be something like a mobile home or a travel trailer, and then perhaps eventually to direct housing, such as an apartment, where victims can set down roots while their houses are being rebuilt. Officials, however, caution against fire victims seeking to set up trailers on properties that still contain toxic ash.
It's possible that FEMA will set up a site to house trailers, such as was done after the wine country fires last year, where 100 travel trailers were placed at the Sonoma County Fairgrounds in Santa Rosa. FEMA officials would then work with disaster victims on a recovery plan for a permanent housing solution, Mansell said.
---
UPDATES:
3:25 p.m., Nov. 22: The article was updated with additional details about the cleanup and comments from a FEMA spokesman.
The article was originally published at 8:20 p.m. on Nov. 21.
---
The stories shaping California
Get up to speed with our Essential California newsletter, sent six days a week.
You may occasionally receive promotional content from the Los Angeles Times.