The epic undertaking to start school again amid the devastation of the Camp fire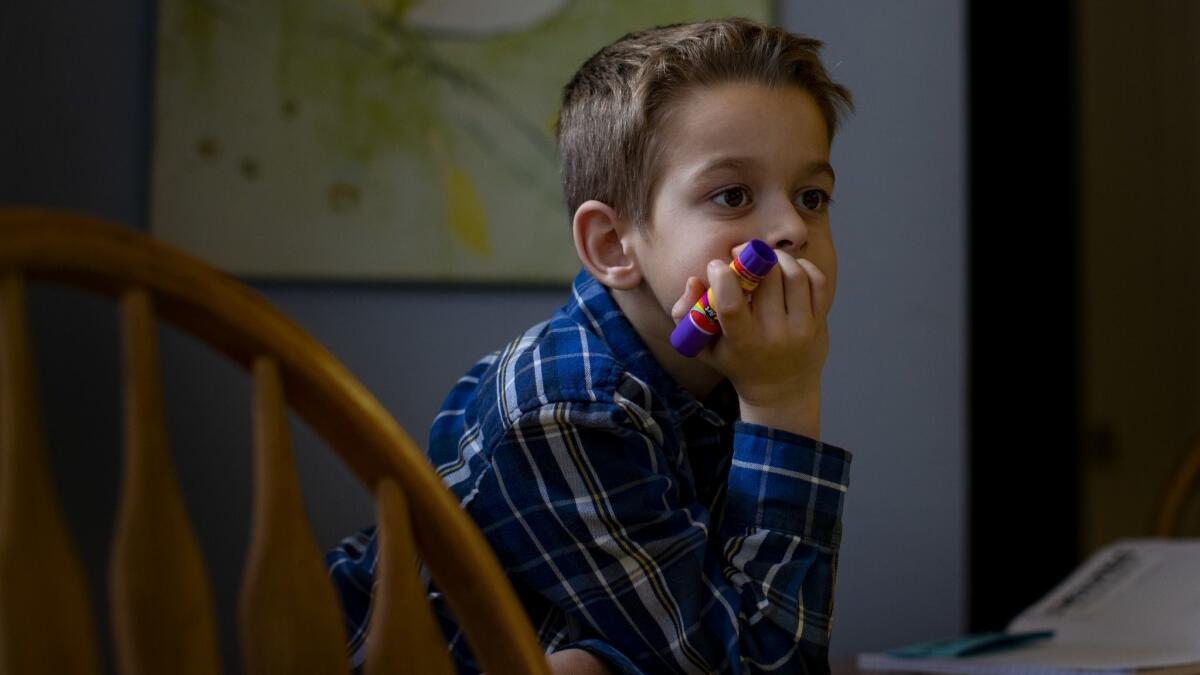 Reporting from Chico, Calif. —
It's been less than a month since the Camp fire tore through the Sierra Nevada foothills, leaving most of the Paradise Unified School District's students homeless and damaging or destroying eight of the district's nine schools.
But classes start Monday. Somehow.

For the record:
5:20 p.m. Dec. 3, 2018An earlier version of this article referred to Chico State. The university name is Cal State Chico.Also, the article said Sheri Eichar's third-grade class would start classes Monday at a gymnasium in Chico. Those classes will begin Wednesday.
"We have no idea how many students will show up because they are scattered far and wide," said Supt. Michelle John. "We're hoping to see, perhaps, 50% of our students."
There are several rural school districts in the fire-ravaged towns of Paradise, Magalia and Concow. They've all been scrambling.
An estimated 5,000 students in Butte County have been displaced by the fire. Some 3,500 go to Paradise Unified schools.
Administrators have rushed to set up makeshift classrooms. Some students will go to borrowed rooms at schools in nearby Oroville and Durham. Students from the tiny Golden Feather Union Elementary School District in Concow will go to the Spring Valley School, an isolated campus just off Highway 70 that was shuttered in 2010 because of declining enrollment.
Classrooms have been set up in several churches. Paradise high school and middle school students will go to the Chico Mall.
"The essence of PUSD was never its buildings; it was always the people inside them, so we feel that we can give a quality PUSD education no matter where we land," John said in a letter to families.
Teachers have made calls and sent scores of Facebook and text messages, trying to simply find their students, who are staying in hotels, shelters and other places all across the state. They've found most students. But not all.
John said some alternate classrooms will be outfitted with desks and chairs salvaged from Paradise campuses that "had parts of their structures still standing." After cleansing them of possible fire-related contaminants, many of those classroom essentials were taken to the Chico Mall over the weekend in U-Haul trucks.
Busing plans were still being worked out as of Friday. Families have been told to keep an eye out on Facebook to get last-minute details.
Paradise High School is still standing. But everything around it burned, and the still-evacuated town is covered in toxic debris. Students — an estimated 90% of whom lost their homes — will do much of their work online and have drop-in "learning labs" available in mall storefronts, said Principal Loren Lighthall.
The space is so small that students will come at staggered times based on the first letter of their last names, he said.
"There are 13 days left in the semester. We've just got to get through it," Lighthall said. "Most of it won't be about learning. It'll be about trauma. It'll be about being with their friends. But we want to do things that are ethical. We want to get kids their credits, but we can't just give them to them."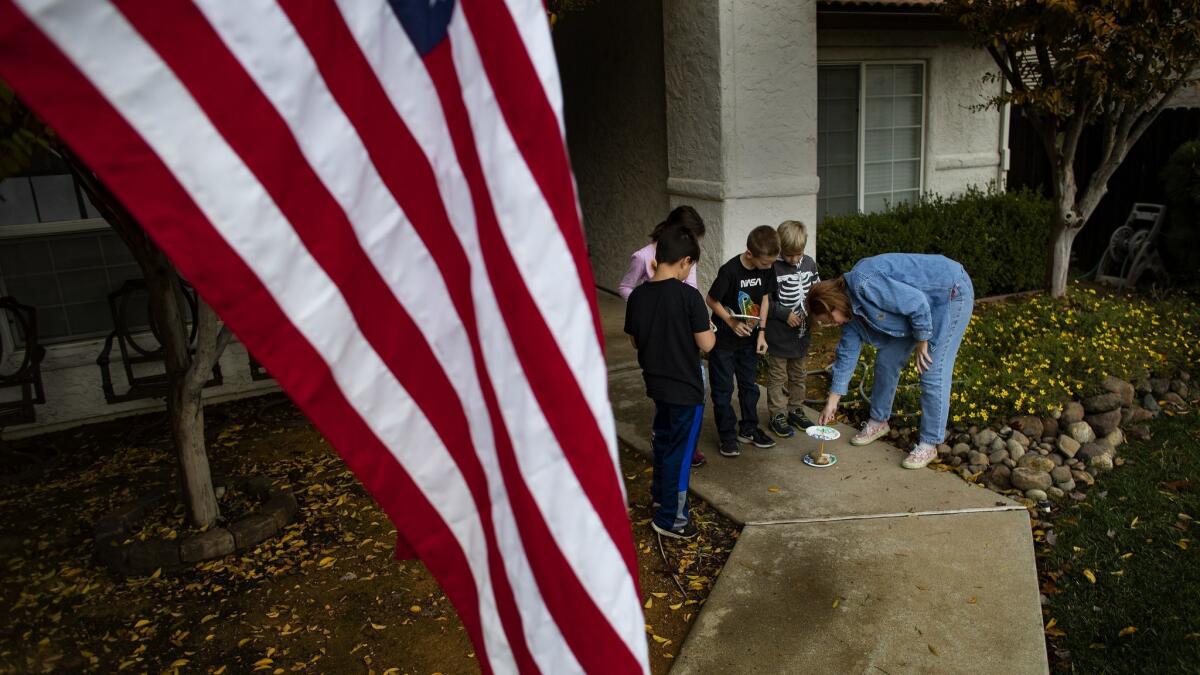 Paradise High administrators are looking for more permanent building space in Chico and hope to be there by January, Lighthall said.
"It would be easier if my house didn't burn down," said Lighthall, a father of seven. "We're getting it done, but everyone has got their own issues and trauma they're dealing with. But it's good for us to have something else to focus on other than having a pity party."
Of the six charter schools in the area, one was severely damaged and two were completely destroyed, including the new Achieve Charter High School, which opened in August.
Josh Garcia, a 15-year-old freshman at Achieve, had just gotten to school the morning the fire began. He and his siblings spent several hours sheltering at a gas station parking lot in an old Chevy TrailBlazer, then rode to an Oroville Walmart to meet their parents. Out the window, he saw something he'll never forget.
"When I was going down to Oroville, I saw our school," he said. "I saw our gym burn. Flames coming out of it. I was like, 'Our school isn't going to be there anymore.'"
Caity Heim, a spokeswoman for the California Charter Schools Assn., said area charter school teachers did trauma training in recent days. They will be flexible with the students, some of whom might not be ready or able to come back to class yet, she said.
"The best way to ensure [students'] well-being and education is to provide them a place of structure, support and security and establish that sense of normalcy as soon as possible because that will allow the students a chance to start healing," Heim said.
Sandy Durden's 16-year-old daughter attends Ridgeview High School, which has about 150 students. Its Magalia campus was destroyed, and though the school is part of the Paradise Unified district, Durden worries it will be forgotten with so much attention on the larger schools.
Her daughter, Eris, and other Ridgeview students will start class Monday at the Chico Boys and Girls Club. Durden — whose family lost their home in Paradise and now is staying in a recreational vehicle in Corning — said it's been frustrating trying to get basic information about when and where Ridgeview students would start class and whether they would have buses.
Durden, 45, attends Cal State Chico a few blocks away and plans to drive her daughter to the makeshift campus as much as she can. She's surprised they started classes so soon.
"I'm paranoid that if for some reason I don't take her that she's not going to get proper credits for this semester, and that would be the worst thing in the world," Durden said. "You have people who still have to go to their jobs. They have other kids, they're staying an hour away, and they're trying to figure this out."
Ron Parker, who lost his Magalia home, was shocked to hear that two schools would be reopening in Magalia on Monday. There are still families in areas that didn't burn, but access to town is limited for those outside the evacuation zone. With the main roads from the south still closed, displaced students and staff staying in Chico will have to travel north on an hour-long route up Highway 32.
Parker, whose family is staying in a Chico hotel, will not send his four children who attend Cedarwood Elementary, which is reopening, back to school in Magalia. He is enrolling them in Chico schools.
"My first thought was pretty much, 'They're going to make these kids drive past this destruction every day? That's not OK,'" he said. "It's hard because I understand they want to be with their friends. At the same time, I don't want them up there. If something happens, then what? How do I get them?"
Sheri Eichar is a third-grade teacher at Children's Community Charter School in Paradise. She spent the summer decorating her classroom like a beach resort, with beach chairs to read in and fish on the bulletin boards. Her classroom burned to the ground.
A few days after the fire, Eichar started holding class in her house in Chico. Of her two dozen students, 20 lost their homes.
"I just thought, 'Those children need normalcy, and the parents need an opportunity to go stand in a FEMA line,'" she said.
They do math in the kitchen, and when she cooks meals for the kids, Eichar uses it as an opportunity to teach fractions. They jog around the block for recess and read on living room couches. Eichar gives lessons over Facebook Live for kids too far away to come. When those students take spelling tests, their parents snap a photo and message it to her, and she's able to write "Good job!" on the images.
"I'm the most grateful because being idle is when you go dark," she said. "What could be better than spending your day with 8-year-olds?"
Eichar's school will start classes on Wednesday at a gymnasium in Chico.
The children have been very matter-of-fact when they tell her what they've been through, she said. One boy told her there were flames on both sides of his family's SUV that day, and when they got stuck in traffic, his dad drove them out of Paradise on the bike path.
"There have been a few tears, but mostly it's, 'Mrs. Eichar, my home is gone. There's only ashes there now,'" she said. "All you can do is hug them and tell them, 'I'm sorry your home is ashes, but I'm so glad you're safe.'"
Twitter: @haileybranson
Twitter: @LouisSahagun
Sign up for Essential California for news, features and recommendations from the L.A. Times and beyond in your inbox six days a week.
You may occasionally receive promotional content from the Los Angeles Times.