L.A. councilman's proposal targets companies seeking work on Trump's planned border wall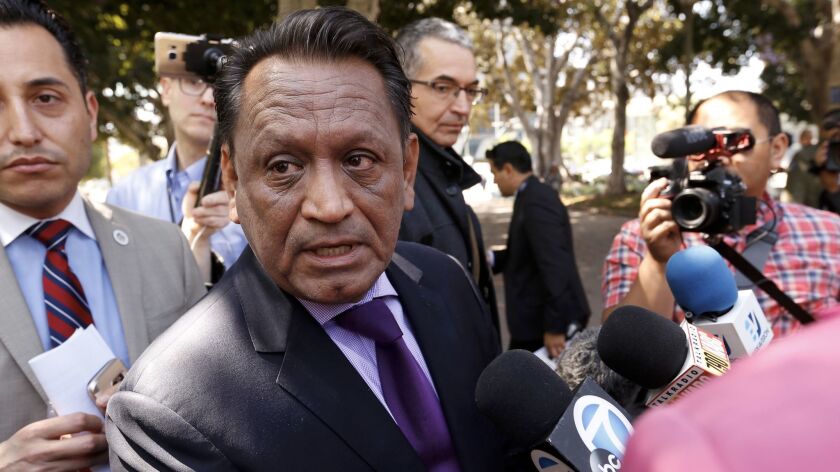 Companies that do business with the city of Los Angeles would have to disclose if they also have contracts to work on President Trump's proposed border wall under a motion unveiled Thursday.
City Councilman Gil Cedillo's proposal would require prospective and existing contractors to state "under affidavit" whether they have any contracts for building Trump's U.S.-Mexico border wall.
Companies from around the country are bidding to build the wall, which Trump made a rallying point in his presidential campaign.
Cedillo, who opposes the wall, said at a news conference that his motion is about "transparency."
"I would hope that those who want to do business with us share our values and understand the importance of a city that is significantly immigrant, that the foundation of our economy is immigrant, that our social fabric is immigrant," Cedillo said.
Members of the City Council, all but one of whom are registered Democrats, have taken on Trump's policies before.
The council passed a resolution last week asking Congress to investigate whether Trump violated the Constitution's foreign emoluments clause or committed any other high crimes and misdemeanors that could lead to impeachment. The clause is designed to ensure that presidents aren't influenced by gifts or aid from a foreign government.
The council also backed a proposal in February barring city employees from helping the federal government create a registry based on religion or spiritual faith.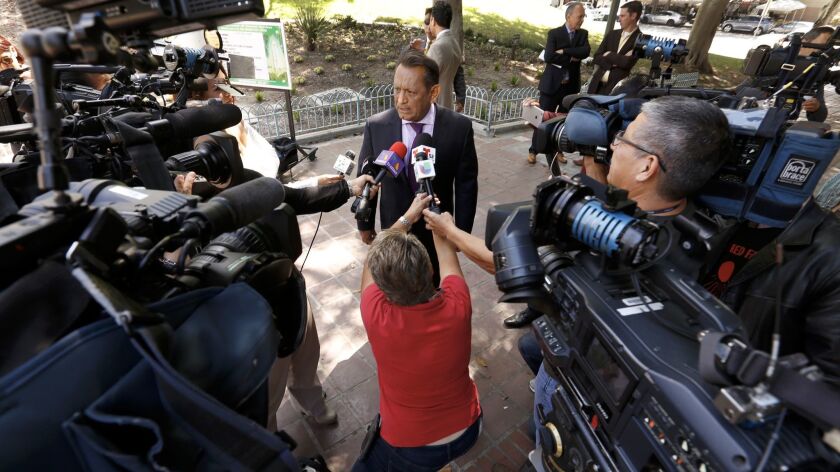 Cedillo chairs the council's Ad Hoc Committee on Immigrant Affairs and oversees a district, stretching from Pico-Union to Highland Park, that includes communities with large immigrant populations. His motion comes just ahead of Tuesday's runoff election against bike advocate Joe Bray-Ali.
The councilman's proposal follows a bill introduced in the Legislature by state Sen. Ricardo Lara (D-Bell Gardens) that would prohibit the state from contracting with any person or organization that provides goods or services for construction of the wall. Cedillo's proposal is less restrictive than Lara's; it does not prohibit the city from doing business with such companies.
Cedillo said he supports Lara's proposed bill, as well as a similar law proposed in San Francisco. Asked why his motion does not go as far as Lara's proposal, Cedillo said his office is consulting with city attorneys to determine whether the city could follow the state plan.
Tom Holsman, chief executive of the Associated General Contractors of California, criticized the Cedillo and Lara proposals, calling them part of a "new overreaching by cities and states."
Punishing or making public companies that are working on the border wall hurts companies and their employees, Holsman said. Two companies that belong to the contractors group recently withdrew from the wall bidding process amid concerns over backlash, Holsman added.
Gary Toebben, president and CEO of the Los Angeles Area Chamber of Commerce, said it was "inappropriate" for the city to ask companies about bids on other projects and make a "value judgment" about the qualifications of the bidder.
"This precedent could lead to an endless number of litmus-test questions based on the personal preferences of City Council members," Toebben said. "We strongly discourage the City Council from adding this precedent to the public bidding process."
In a statement Thursday, Mayor Eric Garcetti said he supports Cedillo's motion and that "Angelenos have a right to know who they're in business with on important city contracts."
City Councilman Gil Cedillo describes his proposal that would require prospective and existing contractors to state "under affidavit" whether they have any contracts for building the proposed U.S.-Mexico border wall. (Al Seib / Los Angeles Times)
Twitter: @dakotacdsmith
---
UPDATES:
6:20 p.m.: This article was updated with a statement from Mayor Eric Garcetti.
5:15 p.m.: This article was updated with additional reaction and background.
This article was originally published at 12:55 p.m.
---
The stories shaping California
Get up to speed with our Essential California newsletter, sent six days a week.
You may occasionally receive promotional content from the Los Angeles Times.