Santa Monica City Council votes to save 'Chain Reaction' sculpture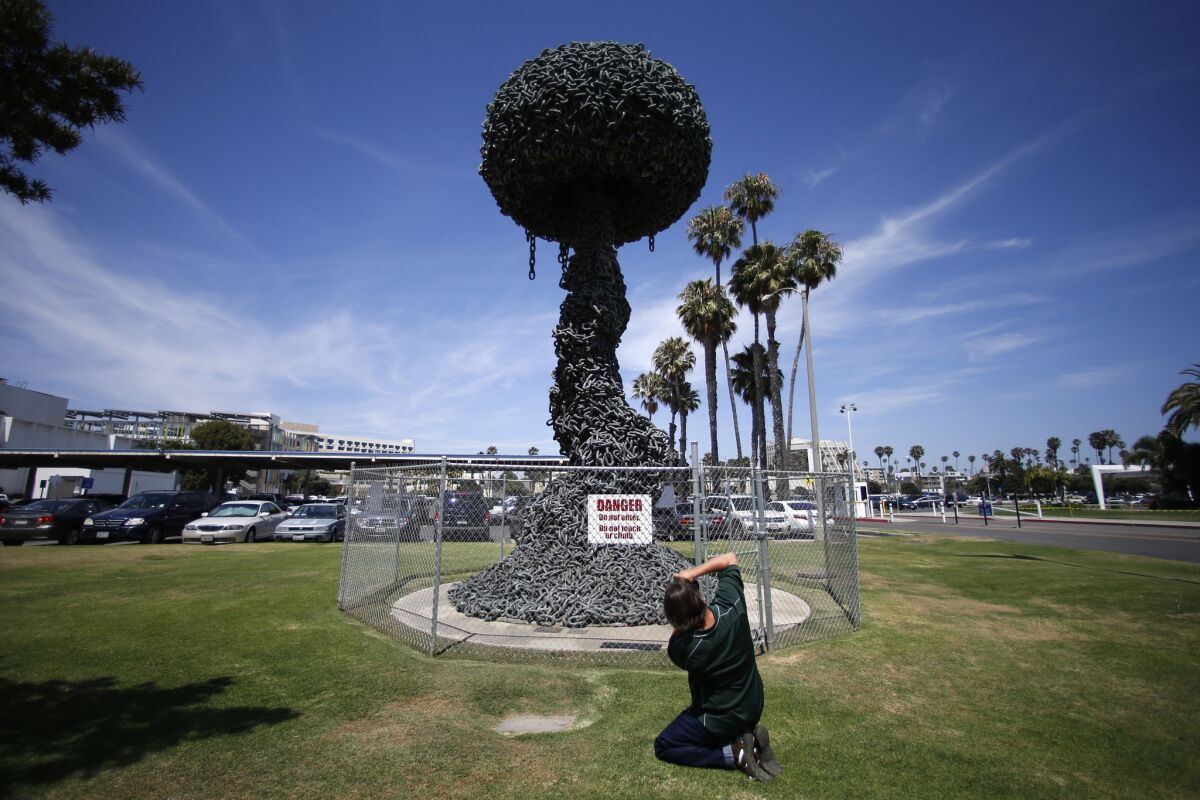 "Chain Reaction" lives.
After years of uncertainty over the anti-nuclear war sculpture's fate, the Santa Monica City Council voted 6 to 1 on Tuesday night to use more than $100,000 in public donations and to provide city funds to cover the rest of the cost of refurbishing the towering work near the Santa Monica Civic Auditorium.
Designed by Pulitzer Prize-winning cartoonist Paul Conrad and completed in 1991, the piece is made of tangled chains in the shape of a mushroom cloud.
"A year ago you challenged us to raise enough money to save this sculpture," said David Conrad, son of the late cartoonist. "You wanted us to prove to you how much the community cared.... I'm proud of our 'chain gang,' as we like to call ourselves."
Dozens of advocates of the 5 1/2-ton, 26-foot-tall sculpture squeezed into council chambers to show their support. Of the 30 or so individuals who spoke, one contended taxpayers' money could go to better uses, such as art classes. Two Santa Monica High School students were among those lobbying for preservation.
Artist Ed Ruscha, TV producer Norman Lear, actors Tim Robbins and Ed Asner and antiwar activist Ron Kovic were among the scores of people who had signed on to the effort to preserve and restore the sculpture.
In 2011, a city official raised concerns about the artwork's safety after he saw children climbing on it.
Hampered by the loss of redevelopment money, the City Council in March 2012 approved the sculpture's removal but gave supporters several months to raise funds to save it.
In July 2012, the city's Landmarks Commission voted unanimously to designate "Chain Reaction" a local landmark, complicating the removal plan.
Jerry Rubin, a local peace activist, co-founded a group called Save Chain Reaction and rallied support with the help of David Conrad. They raised more than $100,000 from hundreds of donors. The council agreed to accept those funds and to provide general funds to complete the work of stabilizing the sculpture.
In January, City Manager Rod Gould had urged the council to support refurbishing the sculpture.
Estimates for repairs have varied, but the price tag could move into the hundreds of thousands of dollars. At the council meeting, Jessica Cusick, the city's cultural affairs manager, said the "dome" of the sculpture would have to be removed so that officials could determine the extent of needed repairs.
Conrad, who was The Times' editorial cartoonist for 29 years, won three Pulitzer Prizes for his biting, witty drawings.
Joan Kroc, the late San Diego philanthropist, nuclear disarmament proponent and widow of McDonald's founder Ray Kroc, paid the original $250,000 cost for the sculpture. It was built according to Conrad's designs by Peter Carlson, who also fabricated scores of large pieces for artists such as Robert Rauschenberg and Roy Lichtenstein.
Councilman Robert Holbrook, who voted against the project, said he could not in good conscience commit so much public money to repairing a statue that consists largely of copper tubing over fiberglass.
Councilwoman Gleam Davis called the combination of public funds and private donations an "elegant solution" to keeping a work of art "much beloved in the community."
Twitter: @MarthaGroves
The stories shaping California
Get up to speed with our Essential California newsletter, sent six days a week.
You may occasionally receive promotional content from the Los Angeles Times.