More than 275 arrests made in child exploitation investigation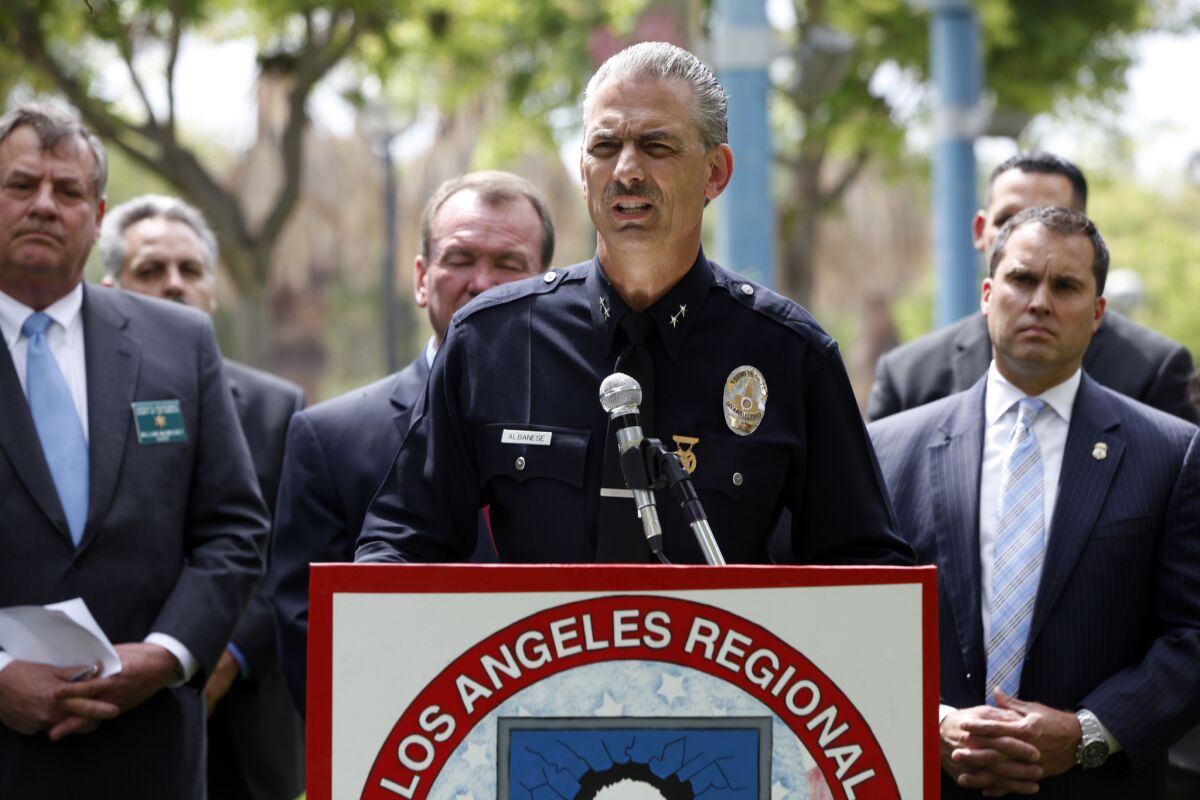 Law enforcement officials from across the region Thursday touted the success of a wide-reaching child exploitation investigation that resulted in more than 275 arrests in May.
"Operation Broken Heart" involved 62 federal and regional law enforcement organizations across five counties.
"The dirty old man stereotype no longer applies," said Homeland Security Special Agent Claude Arnold at a Thursday news conference. "The perpetrators in these cases come from all walks of life."
According to authorities, those arrested include a retired Los Angeles County sheriff's deputy involved in child pornography, a special needs teacher's assistant who sought sex with two children, and a 64-year-old computer programmer who hoped to meet a 15-year-old at a public park for sex.
In addition, parole officers arrested 186 sex offenders accused of violating the terms of their parole by possessing child pornography or approaching minors in public places.
Throughout the operation, detectives often pretended to be minors to lure predators into sting meetings, said Los Angeles police Deputy Chief Kirk Albanese.
In addition to arrests, officers invited the public to a series of discussions on Internet safety and about 600 people attended the sessions.
"Parents are naive," said Lt. Andrea Grossman of the LAPD's Internet Crimes Against Children Task Force. "Unfortunately kids know technology better than we do and know where to hide. Fortunately, our team knows where to hide, too."
Grossman said the workshops helped parents understand what their children are doing online, and what apps and devices they are using. With the proliferation of messaging applications, such as WhatsApp and Kik, it's easier for children to fall prey to adults hiding their identities online, she said.
"In 2008, we had 500 cyber tips," Grossman said. "Last year, we had more than 3,700 cyber tips."
Child pornography can be a gateway to other crimes, such as sex trafficking and prostitution, agents said. Many of these crimes cross state lines, making cooperation essential, said Long Beach Police Chief Jim McDonnell.
"This operation shows that we should have no borders as it relates to this crime," he said. "Jurisdictional boundaries limit policing, but they don't limit the criminals."
Threats to minors online aren't decreasing. Officials cited statistics showing that one in 25 children between the ages of 10 and 17 nationwide have received online solicitations from strangers to meet in person. Law enforcement can only do so much, said Arnold, the Homeland Security special agent.
"We can't arrest our way out of the problem," he said. "Parents and children need to have frank conversations about how to stay safe in cyberspace."
Matt Hansen can be reached at matt.hansen@latimes.com or @mtthnsn.
---
Life is stressful. Our weekly mental wellness newsletter can help.
You may occasionally receive promotional content from the Los Angeles Times.