Be prepared to shell out more green for that Christmas tree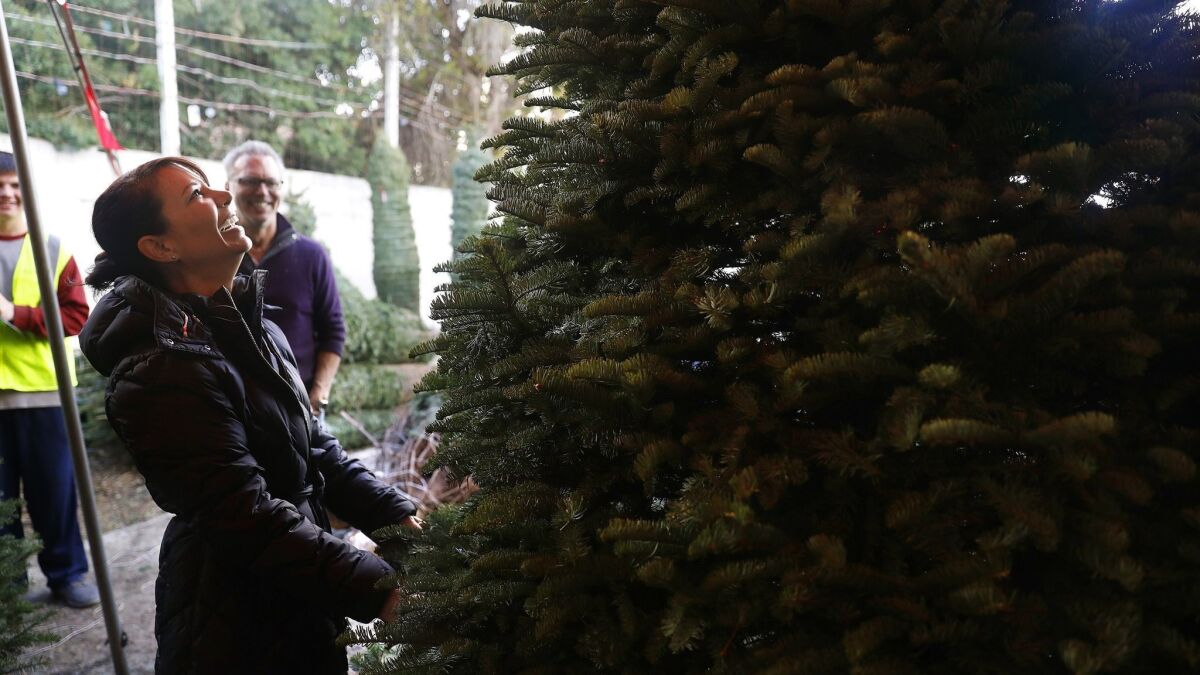 Strolling among rows of Douglas and noble firs searching for the perfect Christmas tree at the YMCA lot in South Pasadena has been a holiday tradition spanning generations of San Gabriel Valley families.
But this year, for the first time in five decades, the South Pasadena-San Marino YMCA will not be selling trees as a holiday fundraiser after the organization was unable to find a supplier with enough high-quality stock.
"We have families that I know this year are going to come to us and be disappointed," Executive Director Rick Politte said.
The Christmas tree industry took a turn a decade ago when the Great Recession hit and growers started planting fewer trees. For California, the problem has been exacerbated as growers in the Pacific Northwest — where most of California's Christmas trees are grown — moved away from planting pines in favor of more lucrative crops like hazelnuts and, in some cases, marijuana.
The result has been a tighter supply of trees that has translated into higher prices at tree lots nationwide. Some sellers have even been forced out of the market.
Growers in Oregon, who supply the bulk of California's Christmas trees, were betting on an increase in demand shortly before the recession hit in late 2007. Instead, sales took a dive, leading to a severe oversupply of trees and resulting in sharply reduced plantings the following season. Some growers who didn't make money that year opted to leave the business altogether.
Seedlings planted during that time have finally grown tall enough to be classic Christmas trees now sitting on lots around the country, which is why people are feeling the effects, said Chal Landgren, a Christmas tree specialist at Oregon State University.
Experts predict that the exodus of hundreds of growers from the industry as a result of the recession means tree prices likely will continue to rise amid a tight supply in future years.
"Most growers here in Oregon wish they had more trees, but they're glad all of their neighbors don't," Landgren said.
Fewer trees means that some small lots, like the one at the YMCA, can't get high-quality pines at a price that's low enough to make the sale lucrative.
Last year, the YMCA netted $15,000 from its tree sales, which the organization used to fund scholarships for members to go to camp and participate in other activities, Politte said.
Planning for the fundraiser came to a halt after the grower the Y typically uses told organizers the farm wouldn't have enough trees this season. The nonprofit considered switching suppliers but couldn't find trees of a comparable quality to ones sold in previous years.
"Money that we generate from the sale had been declining over the years as competition increased and the cost of trees from the grower increased," Politte said. "All of it just means this fundraiser is ending for us."
Shoppers are feeling the squeeze as well. The average price of a tree has been $75 for the last two years, and officials are predicting a roughly 2% uptick in prices this season, according to the National Christmas Tree Assn.
While consumers lament rising prices for their main holiday decor, the shift is a welcome one for growers, who for years produced more trees than they could sell. Oregon has turned out roughly 5.2 million Christmas trees annually in recent years, with most of the stock going to California. Experts predict growers will produce the same number in future years. The area has produced as many as 9 million trees in past years, Landgren said.
"Looking at it from the perspective of a grower, the supplies are about right," he said. "Growers are able to raise their prices a little bit and still have people interested in buying trees. The increased price means they're able to catch up a little bit and make up for a lot of bad years."
Prices at local lots vary based on the height and type of tree. Noble firs, which sellers say are the most popular tree sold in Southern California, are more expensive than Douglas and grand firs because they take several more years to grow.
Prices also fluctuate depending on where a customer is shopping. Trees at big-box retailers are usually cheaper because the chains can keep costs down by buying in bulk and through other private arrangements. But even independent lots just a few blocks apart can have striking price differences.
"Christmas trees are a fair-market commodity," Landgren said. "There's no central price that gets set. It's really a lot of individual transactions."
Cynthia Cruz, 29, went to two tree lots before she selected her 6-foot noble fir that she had dusted with white flocking at Todd's Christmas Trees in Long Beach. Her son and daughter played hide-and-seek between the rows of perfectly lined-up pines as she shelled out $119.
It was a bargain compared to the $170 price tag on a similar tree at a lot a few miles away, she said.
"I heard the price and said, 'There's no way,' so we came over here," Cruz said.
Doug Hundley, seasonal spokesperson for the National Christmas Tree Assn., is quick to point out that there hasn't been a shortage of Christmas trees despite the reduced supply. For years before the recession, more trees were grown than could be sold, so the tightening of the market has caused supply to drop more in line with demand, he said.
In addition, people have been buying more artificial Christmas trees lately. Last year, 21.1 million of the fake trees were bought, up from 18.6 million the year before, according to data provided by the National Christmas Tree Assn.
"We have a nice tight market, but we don't know of anybody who couldn't find a real tree that wanted one in past years," Hundley said. "We feel the same way about it this year."
Still, with a smaller selection, trees left on lots at the end of December likely won't be as lush as those snatched up in late November.
Sherri Marquez, 49, and her husband, John Marquez, 53, showed up at Todd's Christmas Trees a few days after Thanksgiving to shop for their tree. After a quick inspection, the couple decided on one for about $80.
A few days later, Todd's offerings were sparse after selling hundreds of trees and awaiting its next shipment. Jacob Kolar, an employee at Todd's Christmas Trees, said when people buy a Christmas tree, they are looking for more than a simple pine.
"Everyone who comes here is looking for their own piece of Christmas," he said. "We get to help them find that."
Twitter: @Hannahnfry
The stories shaping California
Get up to speed with our Essential California newsletter, sent six days a week.
You may occasionally receive promotional content from the Los Angeles Times.