Los Angeles tops the nation in chronically homeless people, federal report finds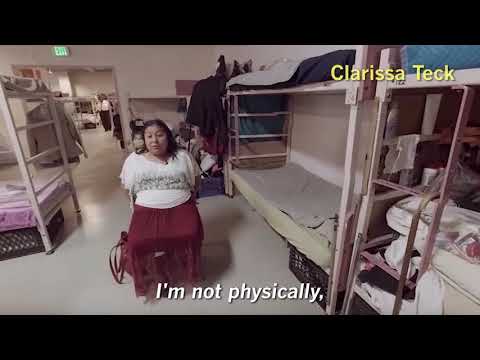 There are 14,000 homeless women in L.A. County now, a 55 percent increase from 2013.
For the second year in a row, Los Angeles reported the largest number of chronically homeless people in the nation — nearly 13,000 — and 95% of them live outdoors, in cars, tents and encampments, according to the U.S. Department of Housing and Urban Development's report to Congress released Wednesday.
Los Angeles also topped the national register this year in homeless veterans — 2,700 — despite slashing the numbers by a third. It also recorded the most unaccompanied homeless youth — more than 3,000, the report said.
Federal housing officials blamed soaring rents and Congress' failure to fund affordable housing for a rise in homelessness in Los Angeles, Seattle, Dallas and the District of Columbia, which reported the biggest jumps.
"What we saw in Los Angeles and Seattle in particular is consistent with the housing crisis we're seeing particularly in higher-cost areas on the West Coast," Norm Suchar, director of the federal housing agency's homeless assistance programs, said during a phone conference with reporters.
Mayor Eric Garcetti said the city last week took a "huge step" toward addressing its homelessness crisis when voters approved a $1.2-billion bond measure to build 10,000 permanent homes for homeless people in the next decade. Garcetti also said the city plans more immediate relief by converting motels and developing unused city land for homeless apartments.
The new homeless numbers came from a nationwide street count and shelter survey conducted in January; local results were released in May. City and homeless officials at that time pointed to an improvement in counting homeless youth to account for all or part of the city's 11% increase in homelessness and a 5.7 % jump countywide from the year before.
Suchar, however, said the federal housing agency had decided against including a footnote or adjusting the numbers, as they had in the past when they believed Los Angeles' methodology skewed the count.
"I think it's a part of the story of their increase; it's not an overwhelming part of the story," Suchar said of the improved youth tabulation. "It's not like everything was OK except for the youth count."
Tom Waldman, spokesman for the Los Angeles Homeless Services Authority countered: "The change in youth count methodology drove an increase in the overall count. Without the methodological change, the count would have been relatively flat, which means we saw an increase in the single adult population, since families and vets decreased."
Los Angeles continues to trail New York City in the overall number of homeless people, with 44,000 compared with New York's 73,500. (The Los Angeles city and county tabulation excludes Glendale, Pasadena and Long Beach, which conduct separate tallies).
But most homeless people in New York, which is required by law to shelter its homeless population, live with their families in leased shelter apartments or other shelters, while in Los Angeles, three-quarters, including many families, live on city sidewalks, ravines and riverbeds. New York in recent years had also reported rises in homelessness, but in 2016, recorded a 2% drop from the year before.
Suchar said Los Angeles, though recording the increase in chronically homeless people, had made good progress in reducing the numbers of veterans and families in the streets. The housing agency defines people's homelessness as chronic if they are disabled, out of a home for a year or homeless four times in three years.
"In Los Angeles, there's a lot of very good stuff happening," he said. "The work on family homelessness is impressive … certainly they are focusing on single adults but clearly not showing progress yet."
Suchar said the affordable housing crisis is the major "driver" of homelessness.
Follow me for homelessness news on Twitter: @geholland
ALSO
Report on L.A. city homelessness plan gives a sobering picture of the struggle ahead
L.A. votes to spend $1.2 billion to house the homeless. Now comes the hard part
This is what L.A.'s homeless voters have to say about the presidential election
Sign up for Essential California for news, features and recommendations from the L.A. Times and beyond in your inbox six days a week.
You may occasionally receive promotional content from the Los Angeles Times.