Chubbs the cat, internet sensation, got adopted. But other cute fat cats need homes too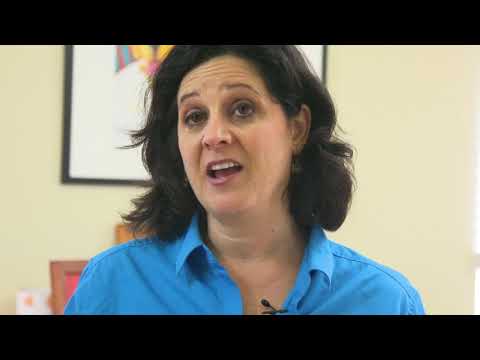 Chubbs, the 29-pound cat who gained followers worldwide from his perch at the Pasadena Humane Society, has been adopted.
Chubbs, the 29-pound wandering cat who became a Southern California internet sensation last week, is finally going home. He was adopted Wednesday, following a purrfectly choreographed social media campaign.
Someone found the stray 10-year-old Himalayan mix walking down a "busy Altadena street" without an ID tag or microchip, and brought him to the Pasadena Humane Society & SPCA, the shelter said in a post on its website on Thursday.
On Wednesday, Ruben and Yvette Viola of Monrovia adopted Chubbs, three months after they lost their 14-year-old cat to cancer.
After postponing his adoption to try to find the cat's erstwhile owner, the shelter announced this week that on Wednesday at noon, the first qualified aspiring cat parent would be able to take Chubbs home.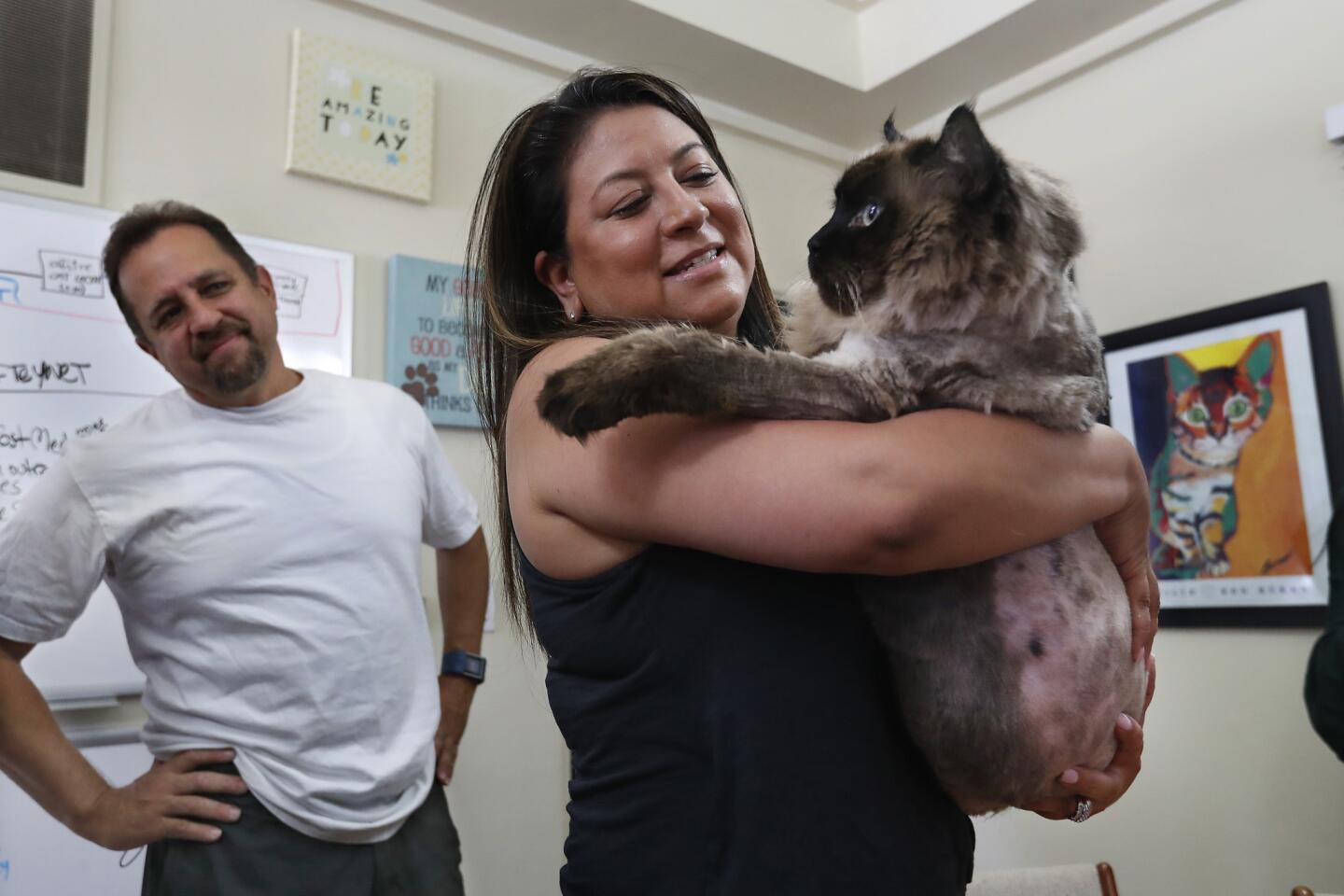 Yvette Viola of Monrovia holds Chubbs for the first time before adopting him at the Pasadena Humane Society. The cat, who was found walking along an Altadena street, weighed 29 pounds when he arrived at the shelter.
(Mel Melcon / Los Angeles Times)
Ruben Viola and his wife, Yvette, of Monrovia get a load of Chubbs at the Pasadena Humane Society.
(Mel Melcon / Los Angeles Times)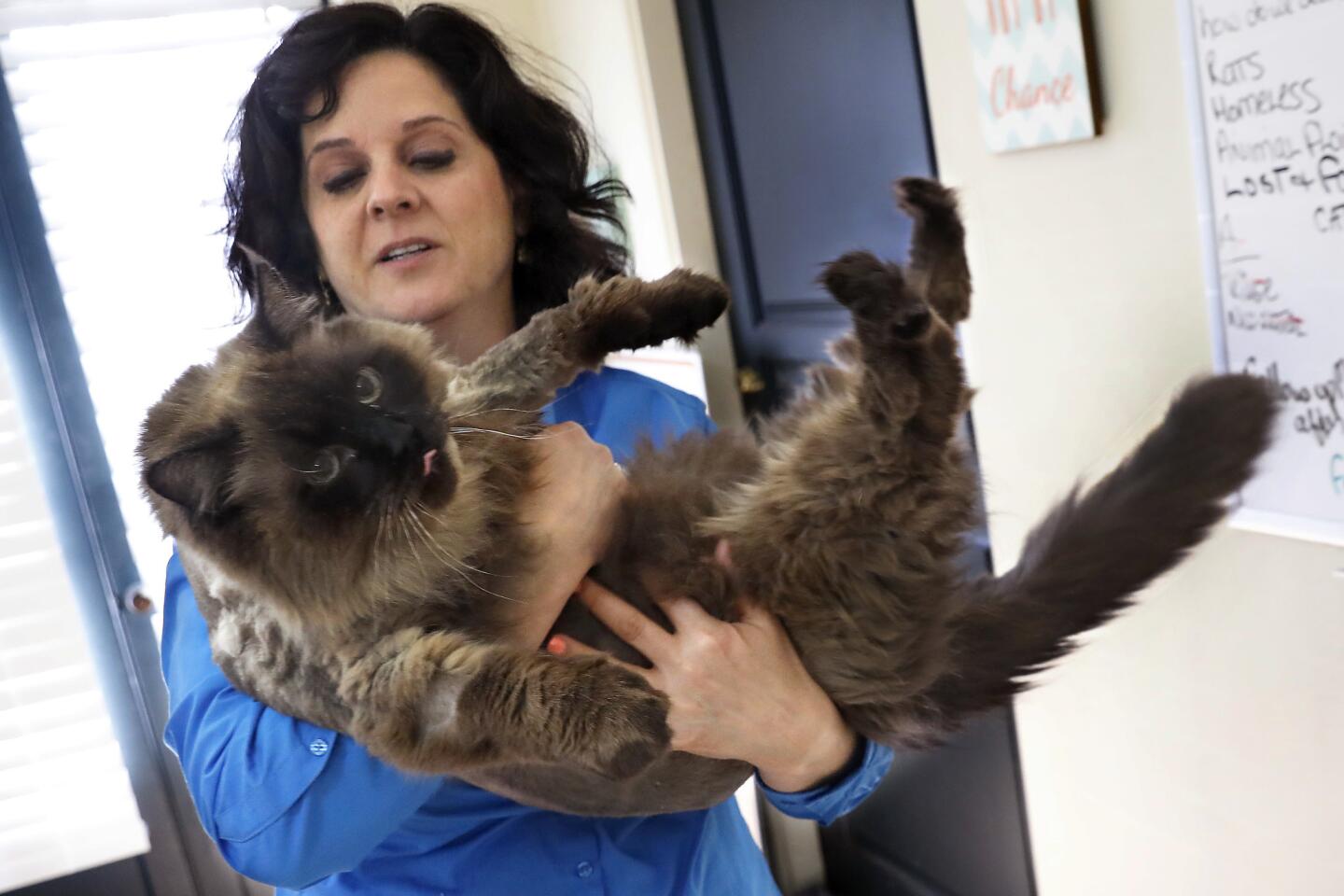 Julie Bank, president and CEO of the Pasadena Humane Society, picks up Chubbs in her office.
(Mel Melcon / Los Angeles Times)
Chubbs is a Himalayan cat believed to be about 10 years old. Along his back, his long fur was severely matted, so Pasadena Humane Society employees shaved it off. Chubbs was far more comfortable with the mats gone, they said.
(Mel Melcon / Los Angeles Times)
Chubbs weighs in at 26.36 pounds on June 20 -- down a couple of pounds since he arrived at the Pasadena Humane Society the week before.
(Mel Melcon / Los Angeles Times)
It's was a long road to get to adoption day, though.
The cat came to the shelter in need of help, suffering from "deep, painful mats along his back" that took the staff hours to clean.
They nicknamed him Chubbs and went about trying to find his owner. They photographed Chubbs in a shelter worker's lap — belly up — as the cat stared directly at the camera and posted the images to their website, Twitter and Facebook.
Just a day later, Chubbs was a viral sensation. So many people responded and said Chubbs was theirs that the shelter postponed his adoption date "[t]o thoroughly investigate these claims," according to a second post.
"There have been a lot of people saying he is their cat," Julie Bank, president and chief executive of the Pasadena Humane Society, told KABC-TV in an in-studio interview while Chubbs lounged atop the anchors' desk. "We have had people from Colorado, from Wales, internationally, sending best wishes and also hoping that it was their cat."
Ultimately, the shelter weeded out the copycats and determined none of the claims were credible. Chubbs still had no permanent home and was relegated to staff offices because he was "too large to fit comfortably in a kennel."
Since he went on a diet last week Chubbs has lost about two pounds, though he's still "the size of three cats," said Pasadena Humane Society & SPCA spokesman Jack Hagerman.
On Wednesday, potential owners were allowed to fill out adoption profiles in the morning, and the adoptions director was going to start interviewing them at noon, Hagerman said Wednesday morning.
The Viola family was ahead of the game, though. Yvette Viola saw Chubbs in the news last week and visited him at the shelter Thursday, said Pasadena Human Society & SPCA spokeswoman Jamie Holeman. She then arrived at 11:30 a.m. Wednesday and was first in line to adopt him, Holeman said.
It was important to find the right fit, Hagerman said. For example, Chubbs loves humans but vehemently dislikes other cats, he said.
The shelter also warned potential adopters that, as cute as Chubbs may be, he brings a large medical and financial responsibility to his future owner.
"While we know Chubbs is adorable, obese cats are more likely to suffer from health issues like heart disease, diabetes and thyroid issues," the shelter wrote in the post announcing his adoption date.
The shelter is also encouraging potential adopters to look beyond Chubbs to find another pet who can claw its way into their heart. A sign on the door reads, "We're Chubby and Adoptable Too!" and features photos of other "portly cats," Bank wrote in the Pasadena Star-News.
"We're in the midst of kitten season … so pretty much every animal shelter in the L.A. region is kind of inundated with kittens right now," Hagerman said.
And if you already have a cat, Bank encouraged owners to take care of their pet's health and make sure they have identification, so they don't get lost like Chubbs.
Times photographer Mel Melcon contributed to this report.
Reach Sonali Kohli at Sonali.Kohli@latimes.com or on Twitter @Sonali_Kohli.
---
UPDATES:
1:20: This article was updated with Chubbs' adoption and other details.
11:45 a.m.: This article was updated with comments from Pasadena Humane Society & SPCA spokesman Jack Hagerman.
12:55 p.m.: This article was updated with the information about Chubbs' adoption.
This article was originally published at 8:55 a.m.
Sign up for Essential California for news, features and recommendations from the L.A. Times and beyond in your inbox six days a week.
You may occasionally receive promotional content from the Los Angeles Times.