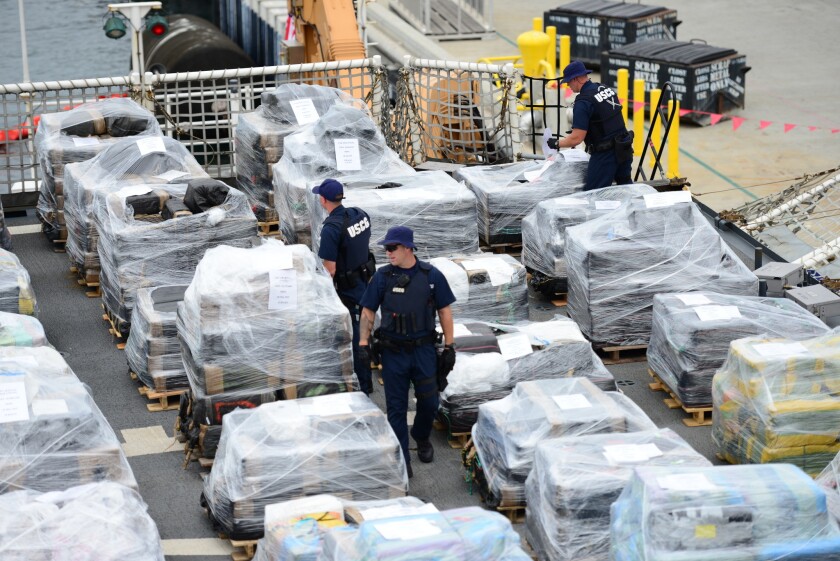 The U.S. Coast Guard dropped off more than $1 billion in cocaine in San Diego on Monday that was seized in one of the most successful seasons of patrolling off the Central and Southern American coasts, authorities said.
The cargo: more than 66,000-pounds of cocaine worth an estimated $1.01 billion, the Coast Guard said. It was the biggest single offload of narcotics in Coast Guard history and the result of 23 separate confrontations with drug smugglers in the Pacific, officials said.
"There is still work to be done," Adm. Paul Zukunft, commandant of the Coast Guard, said in a statement. "We must increase already hard-earned momentum to curb the rising tide of crime, violence and instability in our hemisphere."
For the current fiscal year, which runs from Oct. 1 to Sept. 30, the Coast Guard has seized more than 119,000 pounds of cocaine worth more than $1.8 billion and apprehended more than 215 alleged smugglers. That amounts to more than the previous three years' total combined and the most in a single year since 2009, officials said.
Monday's offload included bales of cocaine seized in two interdictions in June and July, Coast Guard officials said.
On July 18, the crew aboard the 418-foot Coast Guard cutter Stratton seized more than six tons of cocaine worth an estimated $181 million from a partially submerged vessel in the Pacific Ocean, the agency said last week.
The bust occurred in international waters 200 miles off the coast of Central America, after a Navy maritime patrol aircraft spotted the vessel and alerted the Alameda-based crew, which was patrolling the area, Petty Officer Michael Anderson said.
Video of the confrontation shows armed Coast Guard crew members opening the vessel's top — the craft is floating at the surface — and demanding its crew to climb out.
"Afuera! Afuera!" a Coast Guard crew member yelled.
One by one, the four men in the vessel climbed out. They were taken into custody and will be prosecuted by the U.S. attorney's office, officials said. A list of charges was not immediately available.
Inside the vessel was 16,000 pounds of cocaine in hundreds of bails and bricks, Anderson said.
The smuggling vessels act like low-tech submarines, which are mostly submerged with only a cockpit and an exhaust pipe above the surface. They're extremely difficult to detect and dangerous to operate, Coast Guard officials say.
In June, they stopped another partially submerged vessel carrying 5,460 pounds of cocaine.
There have been 25 known semi-submersible interdictions in the eastern Pacific since 2006. The patrols are a joint effort between the Coast Guard, the U.S. Navy and cooperating governments in Central America, officials said.
For breaking California news, follow @JosephSerna.
---