NAACP official wants Coliseum chief to quit over Col. Klink comment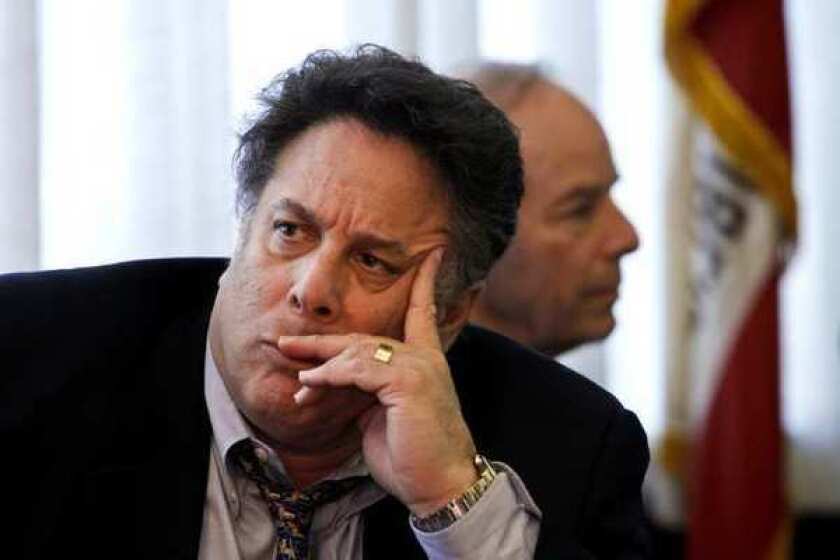 The local branch of the NAACP has called on the top manager of the Los Angeles Memorial Coliseum to resign because of an email exchange that referred to City Councilman Bernard C. Parks as "Col. Klink," the inept fictional character from the 1965-1971 sitcom "Hogan's Heroes."
In the December 2011 email, then-Coliseum Commission President David Israel made the remark in a message to John Sandbrook, the stadium's interim general manager. A copy was given to The Times.
The Klink remark came after Sandbrook responded to an Israel email by writing, "I know nothing, I hear nothing, I see nothing," which echoed a catchphrase of another bumbling "Hogan's" character, Sgt. Schultz.
Israel then wrote, "Too bad Col. Klink's missing the next meeting," referring to an earlier discussion of Parks' scheduled absence from a commission session.
When informed of the comment, Parks labeled Israel "classless."
The exchange occurred during secret discussions of the commission's plan to turn over control of the taxpayer-owned Coliseum to USC. Israel and Sandbrook supported the lease deal and Parks opposed it.
In a letter earlier to county Supervisor Don Knabe, the current commission president, NAACP chapter head Leon Jenkins, termed Israel's comment "profane, unethical and derogatory," noting that the Klink character commanded a Nazi prisoner of war camp.
Jenkins, whose organization also opposed the Coliseum-USC lease, wrote that Parks is "one of our community's most adored leaders."
He said Sandbrook should step down for taking "no action" after Israel sent the email. In addition, Jenkins demanded that USC and the commission denounce the remark.
Knabe, Sandbrook, Israel and a USC spokesman did not respond to interview requests.
Jenkins said in an interview that while he did not consider the comment racist, Parks is black and it has "racial overtones" because Klink's buffoonish nature could conjure hateful stereotypes that "African Americans are not thinkers, they're not educated, they shouldn't be in a position of power."
The exchange was among nearly 100 pages of emails mailed anonymously last month to The Times and 24 others, including Gov. Jerry Brown and Mayor Eric Garcetti. In the documents, Israel and Sandbrook discuss limiting public debate on the USC lease and excluding state officials from closed-door talks.
The emails also show the two tallying the commission's expected vote on the lease terms weeks before they were made public.
Earlier this month, Los Angeles Superior Court Judge Luis A. Lavin rejected a commission request for an order requiring The Times to hand the emails over to the agency. Lavin ruled that the panel provided no evidence to support its claim that the emails contained privileged attorney-client communications.
ALSO:
Coliseum manager walks out during deposition
Judge backs L.A. Times in Coliseum email dispute
Coliseum negotiations kept confidential, stadium official says
---
The stories shaping California
Get up to speed with our Essential California newsletter, sent six days a week.
You may occasionally receive promotional content from the Los Angeles Times.