Years after suing Insomniac, L.A. Coliseum panel to get $3.5 million in corruption scandal settlement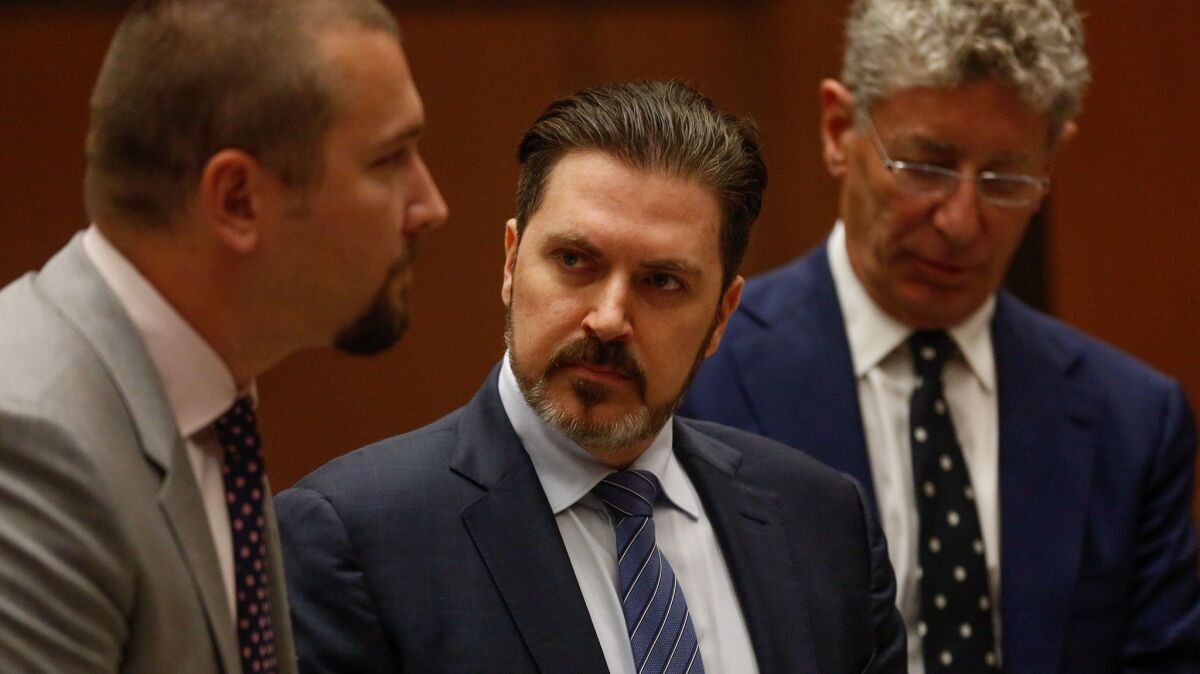 Rave promoter Insomniac and its chief executive, Pasquale Rotella, have agreed to settle a civil lawsuit filed by the Los Angeles Memorial Coliseum Commission, which will result in a payment of $3.5 million to the government agency.
The settlement, announced Monday in Los Angeles Superior Court, marks the end of the six-year legal battle in the multimillion-dollar Coliseum corruption case, in which two longtime stadium managers were accused in court documents by the government of enriching themselves through "corrupt efforts" while two rave companies were allowed to underpay the Coliseum.
The lawsuit alleged that Insomniac and Go Ventures "engaged in unlawful and/or unfair business practices" by underpaying the Coliseum while employing firms founded by ex-events manager Todd DeStefano.
Information detailed in the allegations mirror disclosures the Los Angeles Times made in a series of reports in 2011. Between 2007 and 2010, at least five people died of drug overdoses after attending Insomniac or Go Ventures events at the Coliseum or companion Sports Arena. Those deaths included a 15-year-old girl who fatally overdosed on Ecstasy while attending the Electric Daisy Carnival in 2010.
Insomniac, which has since been acquired by Beverly Hills-based concert giant Live Nation Entertainment, and Go Ventures, which has filed for bankruptcy, have not held raves at the Coliseum complex since 2011.
"The commission believes the settlement is in the best interest of the public and the commission," said a statement provided by Charles Slyngstad, an attorney for the government agency, which is a joint-powers authority of the city and county of Los Angeles and the state of California. The settlement agreement is still being prepared and should be finalized in the next 15 days.
A lawyer for Insomniac, Gary Jay Kaufman, did not respond to a request for comment.
"I'm so pleased to finally be putting this matter behind me," Rotella said in an emailed statement. "It's been a long journey to get where we are, and I'm excited about what's next for me in my hometown of Los Angeles."
The commission outlined a broad corruption scheme led by DeStefano and former General Manager Patrick Lynch, dating from at least 2006 and continuing until the two resigned in 2011.
It alleged that Lynch, who ran the Coliseum for 17 years, had begun to operate the stadium and Sports Arena as if they were "private businesses he personally owned." It accused Lynch of unlawfully receiving at least $394,716 in payments from a janitorial contractor — money that was deposited in a Miami bank.
The suit also accused DeStefano and his wife, Carisse, of "diverting revenue that could and should have been paid" to the government by the rave promoters and other companies that did business with the Coliseum, including vendors and film productions.
The Times has reported that firms founded by DeStefano received at least $1.8 million from promoters, vendors, film companies and others he oversaw in his role as Coliseum events manager, according to records and interviews.
The suit alleged that Lynch and DeStefano failed to "maximize rent or other revenue" from Insomniac and Go Ventures.
"Instead, they used the growing popularity and revenue generation of these events to benefit one or both of themselves," the suit said.
The Coliseum Commission's civil case against DeStefano and his wife is set to be dismissed without prejudice, which means the government agency would be able to bring another lawsuit on the same grounds in the future.
In an earlier criminal case, DeStefano pleaded no contest last year to one felony confict-of-interest count, and was sentenced to six months behind bars and ordered to pay $500,000 to the Coliseum Commission. He has paid $25,000 so far.
A year ago, DeStefano's lawyer, Richard G. Hirsch, said DeStefano's frozen bank account would soon be emptied to pay his former employer.
Lynch pleaded guilty in 2012 to a count of felony conflict of interest, and agreed to pay $385,000 to the Coliseum Commission. He settled the civil lawsuit in 2013, paying an additional $30,000.
Go Ventures filed for bankruptcy in November 2016, and its chief executive, Reza Gerami — who was also separately named as a defendant — did the same earlier this year. The civil case against Go Ventures and Gerami has been stayed indefinitely.
In the criminal case, Gerami pleaded no contest to a misdemeanor conflict-of-interest charge, and agreed to pay $30,000 and be placed on probation.
The commission's civil case against the rave companies and former managers encountered turbulence. In 2013, a Superior Court judge threw out civil complaints against the two firms. Two years later, however, a California appellate court reinstated key parts of the government lawsuit.
The appellate court's ruling enabled the Coliseum Commission to pursue profits Insomniac and Go Ventures made from rave concerts at the stadium complex between 2007 and 2011.
Monday's settlement was announced as a trial date approached in the civil case: Jury selection was to begin Oct. 10. On Sept. 15, Los Angeles Superior Court Judge J. Stephen Czuleger rejected a request by attorneys for Insomniac and Rotella to prohibit the Coliseum Commission from introducing evidence that DeStefano was a public employee barred from having a financial interest in government contracts he oversaw.
The Coliseum corruption case forced Insomniac's Electric Daisy Carnival out of Los Angeles and into Las Vegas. Rave fans have stood by Rotella, whom one website called the musical genre's "fearless leader."
In the criminal case, Rotella pleaded no contest to a misdemeanor conflict-of-interest charge and agreed to pay $150,000 to Los Angeles County and serve three years of probation.
---
UPDATES:
10:05 a.m., Oct. 3, 2017: This article was updated with a statement from Pasquale Rotella.
This story was originally published at 8:40 p.m. on Oct. 2, 2017.
---
The stories shaping California
Get up to speed with our Essential California newsletter, sent six days a week.
You may occasionally receive promotional content from the Los Angeles Times.