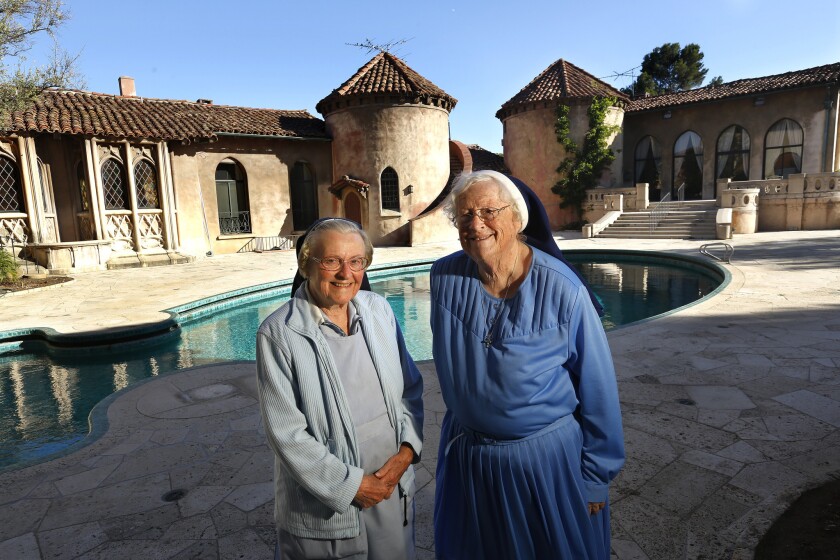 A judge has asked attorneys for a group of nuns and attorneys for the L.A. Archdiocese to work out the terms of a restraining order regarding the proposed sale of their convent to pop star Katy Perry.
The Sisters of the Immaculate Heart of Mary asked for a temporary restraining order against the archdiocese, which is suing to stop the nuns from selling the villa-style hilltop property in Los Feliz to restaurateur Dana Hollister for $15.5 million.
------------
FOR THE RECORD
An earlier version of this story said the nuns and archdiocese were asked to work out their differences over the proposed sale. They were asked to work out the terms of a restraining order related to the sale.
------------
The nuns will return to court July 30, when the archdiocese's attorneys will argue to kill the sale. They will return again in October to discuss who has legal control over the property.
The nuns' attorney, Bernard Resser, said it was disappointing that Los Angeles County Superior Court Judge James Chalfant wasn't able to set an earlier court date.
The archdiocese argues it has legal authority over the property and that the nuns' sale was unauthorized.
The archdiocese already agreed to sell the convent to Perry for $14.5 million in cash. The agreement, the archdiocese argued, is legally sound.
"The Dana Hollister deal is horrible," said the archdiocese's attorney, J. Michael Hennigan. "Forty-four thousand dollars and not a penny for three years, are you kidding?"
The archdiocese argued that Hollister put down only $44,000 for possession of the title and property. She is not required to make any additional payments until July 2018, according to the archdiocese.
But the sisters' attorneys contend the archdiocese never sought to establish legal control over the order's nonprofit institute until June and installed officers to oversee it.
The attorneys argue the move was illegal and accused the archbishop of acting "as if he were above the rules and immune from the obligations of civil law."
The sisters say they were first informed in September 2014 that the archbishop planned on selling the property to a woman called Katherine Hudson, who they later learned was Katy Perry.
But the sisters objected to selling the property to Perry after learning about the singer and her "public image," the attorneys said in documents filed in court Friday.
They then moved forward with their plans to sell to Hollister. The transaction, they said, would bring more money and provide care for sisters in their retirement.
Archbishop Jose Gomez told the sisters to present a proposal for him to approve, according to the documents.
But he refused to meet with the sisters to approve the sale, and instead moved ahead with his agreement to sell to Perry, their attorneys said.
Times staff writer Stephen Ceasar contributed to this post.
For breaking news in California, follow @sarahparvini and @VeronicaRochaLA
---