AEG drops hotel project amid dispute at L.A. City Hall over convention center plans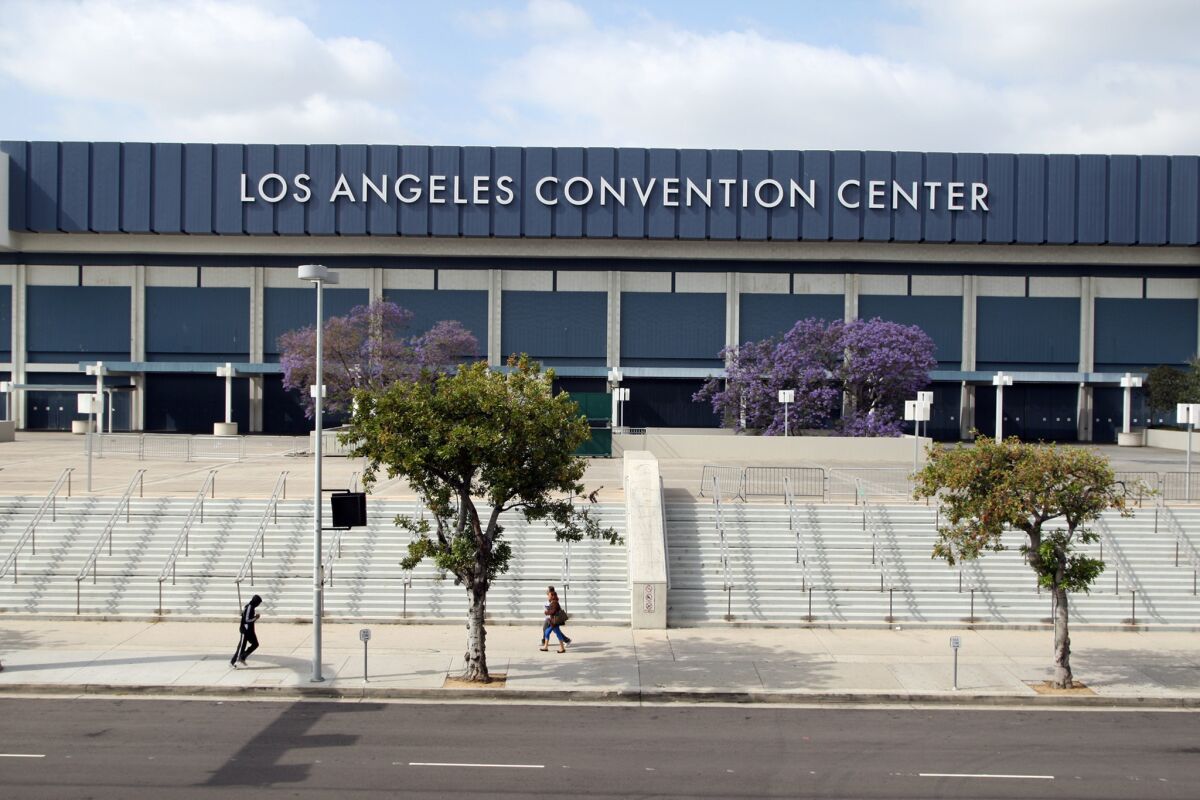 Officials with entertainment giant Anschutz Entertainment Group said Thursday they are dropping plans for a 755-room hotel on Olympic Boulevard, the latest development in an escalating dispute over a proposal to put a hotel next to the Los Angeles Convention Center.
AEG spokesman Yusef Robb said the company will no longer pursue construction of a high-rise Marriott project, which was announced in March 2015. The decision is a direct result of the city's ongoing effort to modernize the convention center in a way that would include an on-site hotel, said Robb, a former aide to Mayor Eric Garcetti.
The city's convention and tourism officials have spent two years laying the groundwork for the development of a 1,000-room hotel on convention center property. But that project probably would pose competition to AEG's L.A. Live, an entertainment complex that includes a convention-serving hotel tower.
AEG Vice Chairman Ted Fikre warned the city last week that its proposal for a hotel at the convention center could have "severe operational and economic consequences" for his company. In a letter to City Atty. Mike Feuer, Fikre said construction of that project would violate agreements between AEG and the city over the company's Staples Center arena and L.A. Live projects.
Those agreements, some dating back to 1997, gave AEG the right to use convention center parking garages, walkways, driveways and other facilities, Fikre said. AEG would have had to give up some of those rights in order to get a taxpayer subsidy for its proposed hotel on Olympic, company officials said.
"We believe the proposal for a second convention headquarters hotel is a fundamental violation of the deal entered into by AEG and the city, and would deprive AEG of the benefit of the agreement it negotiated with the city," Fikre wrote.
AEG's statements are extraordinary, given the company's close relationship with the city over the last two decades. The City Council voted in 2014 to turn management of the convention center over to a division of AEG. Two years before that, city leaders struck an agreement with AEG to upgrade the convention center as part of a larger NFL stadium development.
That deal was scrapped after AEG failed to secure a team. But the company has several other entanglements with the city.
To get L.A. Live built, Mayor Antonio Villaraigosa and the City Council voted to let AEG to keep as much as $270 million in city taxes generated by the project over nearly three decades. To spur the development of Staples Center, the city entered into a complex arrangement with AEG that included a 55-year ground lease.
In his letter, Fikre accused the city of trying to "usurp" L.A. Live's status as the city's convention headquarters hotel. "The development of a second headquarters hotel was not a part of the deal when the city insisted that AEG build a convention headquarters hotel," he wrote.
Councilman Curren Price, whose district includes Staples Center and L.A. Live, said through an aide that he remains committed to the idea of putting a 1,000-room hotel – the one opposed by AEG – next to an upgraded Convention Center.
"It is a priority for the council member," said Paloma Perez-McEvoy, Price's planning deputy.
Asked about AEG's decision to drop its Olympic Boulevard hotel project, Perez-McEvoy said: "That's AEG's prerogative and business decision."
Feuer spokesman Rob Wilcox said his boss had received AEG's letter and will be "providing advice" on it. Garcetti spokeswoman Connie Llanos issued a statement that did not address AEG's assertions.
"Los Angeles desperately needs a modern convention center, and more hotel rooms. Mayor Garcetti is focused on working with all key stakeholders, including AEG, to make sure both of these things happen for downtown," she said.
AEG's announcement comes as city officials weigh the best strategy for modernizing a section of the convention center, which is seen as a way to make L.A. more competitive with other major cities. City Administrative Officer Miguel Santana issued a report Thursday warning that the cost of upgrading the facility will be significantly larger than expected six months ago.
Santana said the plan to add exhibit halls, new meeting rooms and a ballroom to the convention center will cost $720 million if the city finances the project and oversees construction. Officials put the price tag at $470 million last year, he said.
The city's elected officials will have to decide whether to bring the project in line with the smaller budget estimate, Santana said.
"If the council's expectation is [for the convention center project] not to exceed $500 million, then the next step would be to … reduce the scope of the project and evaluate what would be removed" from the design, he said.
AEG's Fikre said some city officials are pursuing a plan for the convention center that won't be "cost effective."
Updating the facility with an on-site hotel "will likely cost well over a billion dollars to construct, with the vast majority of funding … coming in the form of public debt and subsidies," he said in his letter.
Twitter: @DavidZahniser
ALSO
Military contractor pleads guilty in 'Fat Leonard' bribery scandal
Lt. Gov. Newsom's gun control initiative qualifies for November California ballot
Long Beach to pay nearly $3 million after shooting unarmed man 19 times in 2013
The stories shaping California
Get up to speed with our Essential California newsletter, sent six days a week.
You may occasionally receive promotional content from the Los Angeles Times.