Cortines criticizes Broad, calls on warring factions to work together for L.A. students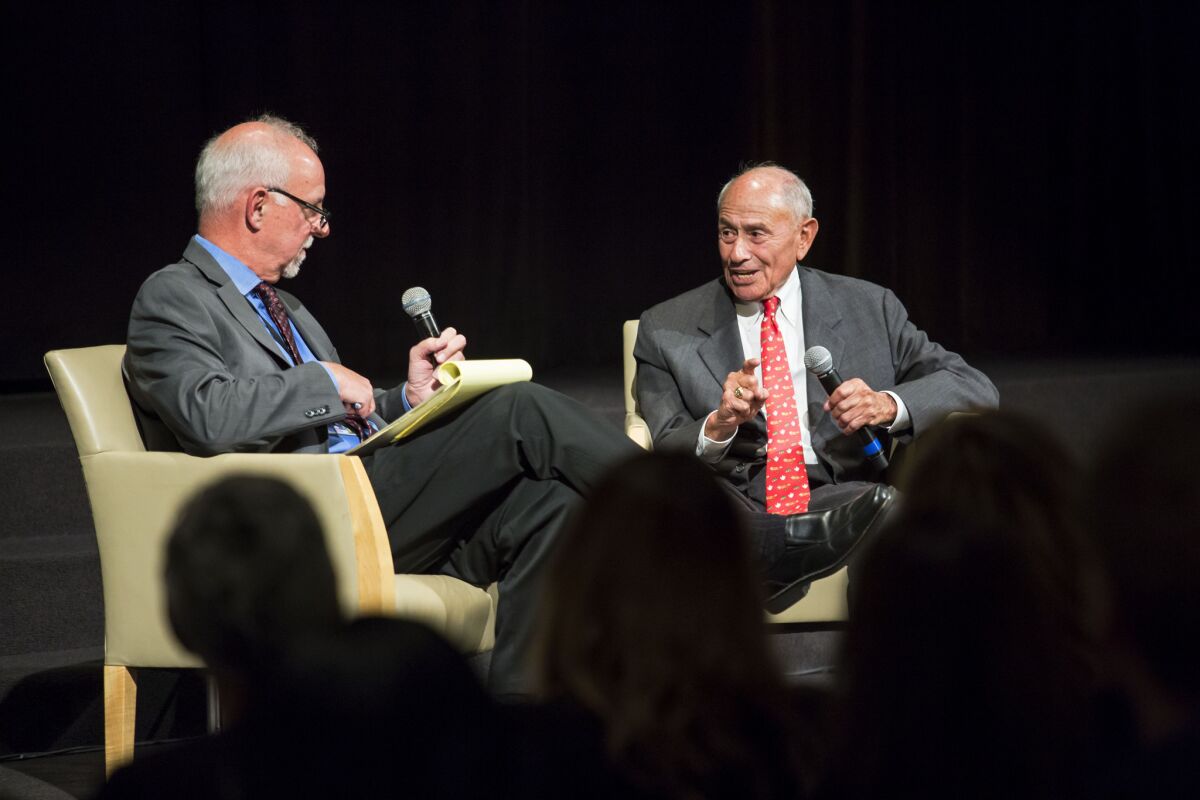 In his first public criticism of a massive charter-school expansion plan, outgoing Los Angeles schools chief Ramon C. Cortines on Wednesday referred to philanthropist Eli Broad, who spearheaded the proposal, as "ill advised."
In an hourlong conversation at The Times with columnist Steve Lopez, the L.A. Unified superintendent also said that he supports offering choices to parents, including charter schools, and said that warring factions need to learn to work together in the interest of students.
"Parents do need choices," Cortines said. "It's not just one way.... We need to be collaborating together. Schools are struggling. Charter schools are struggling, parochial schools are struggling…. We need to get on a plan to work together."
Lopez asked Cortines if the Broad plan, outlined in a confidential draft obtained by The Times, would result in harm to the district and its students. That proposal talked about raising $490 million to move half of Los Angeles students into charter schools. Some critics say that such a migration could threaten the solvency of the nation's second-largest school system.
Cortines did not directly address the fate of L.A. Unified. But he did briefly take on Broad and the proposal.
"I think he was ill advised," Cortines said of Broad. "I think somebody brought him an elixir without having it be tested to see if it will really do what it is promised to do."
The superintendent noted, however, that after the plan became public, Broad's foundation toned down its pro-charter rhetoric.
The Eli and Edythe Broad Foundation has characterized the leaked proposal as a draft meant for discussion purposes. The Broad plan has led to the creation of a nonprofit that officials said will work to create high-quality schools of any kind, charter or otherwise.
Cortines defended traditional schools and the dedication of their employees.
"We are doing some things right," he said. "This district, this school system, does not get a fair shake."
He added that the district needed to improve in many areas, but "schools are struggling in America because families are struggling in America."
He reminded the audience of civic leaders, students, parents and others that employees accepted pay cuts during the recession to maintain district jobs and programs for students.
Cortines framed his comments about collaboration as offering a hopeful path forward but also as a warning about serious potential harm to students and even the long-term economic health of the region.
"It will not be good for this city," he said, if battling interest groups can't put aside differences.
The day before, at Tuesday's board meeting, unions and charters had separately rallied parents and students on behalf of conflicting visions of the district's future.
First, in two separate demonstrations outside district headquarters, advocates defended their own charter schools and called for creating new ones. Later, at the board meeting, charter proponents celebrated after the school board approved keeping eight of those campuses in operation. Later, charter opponents also protested against the charter expansion plan.
Charters are independently operated and exempt from some rules that govern traditional schools. Most are non-union.
On Wednesday evening, Cortines, 83, said that he was trying to avoid involvement in the search for his replacement but that "you have to have the best person possible that does not use the cop-out of single families, poor children and where they live for not achieving."
Besides disappointing student achievement, L.A. Unified faces declining enrollment, partly as a result of the growth of charter schools, which have proved popular with many parents.
In the wide-ranging conversation, Cortines also spoke about why the district had problems rolling out costly new programs, such as a balky student records system and the now-abandoned effort to provide an iPad to every student.
Incomplete planning was a persistent problem, he said, sometimes caused by a mentality of "Fix it quickly, give me a silver bullet, use it politically to get my next job. … That's what's gotten this district in trouble, not just recently but time and time again."
He added: "We have the educational hucksters out there at universities, in schools, etc." who want the district's money and also want to say, "L.A. Unified bought this so you should buy it also."
Cortines also defended the idea of an elected school board, even though few residents vote in board elections and competing factions use board members to vie for influence.
"I'm not willing to give up on democracy because few vote," he said. "It is democracy, and it is the best we have."
As for the board members, Cortines said the superintendent needs to develop a working relationship with them but that too often they are overly bound by ideology. Still, he said, he respects board members even if he doesn't "drink beer with them."
And, in response to a question, Cortines said that parents are an integral part of the education system and that too often they are pushed away after elementary school. But, he said, high schools need parents, and students are the most "fragile" during those years.
The Times receives funding for its digital initiative, Education Matters, from the California Endowment, the Wasserman Foundation and the Baxter Family Foundation. The California Community Foundation and United Way of Greater Los Angeles administer grants from the Broad Foundation to support this effort. Under terms of the grants, The Times retains complete control over editorial content.
Twitter: @howardblume
---
The stories shaping California
Get up to speed with our Essential California newsletter, sent six days a week.
You may occasionally receive promotional content from the Los Angeles Times.