L.A. social workers may strike despite progress in labor talks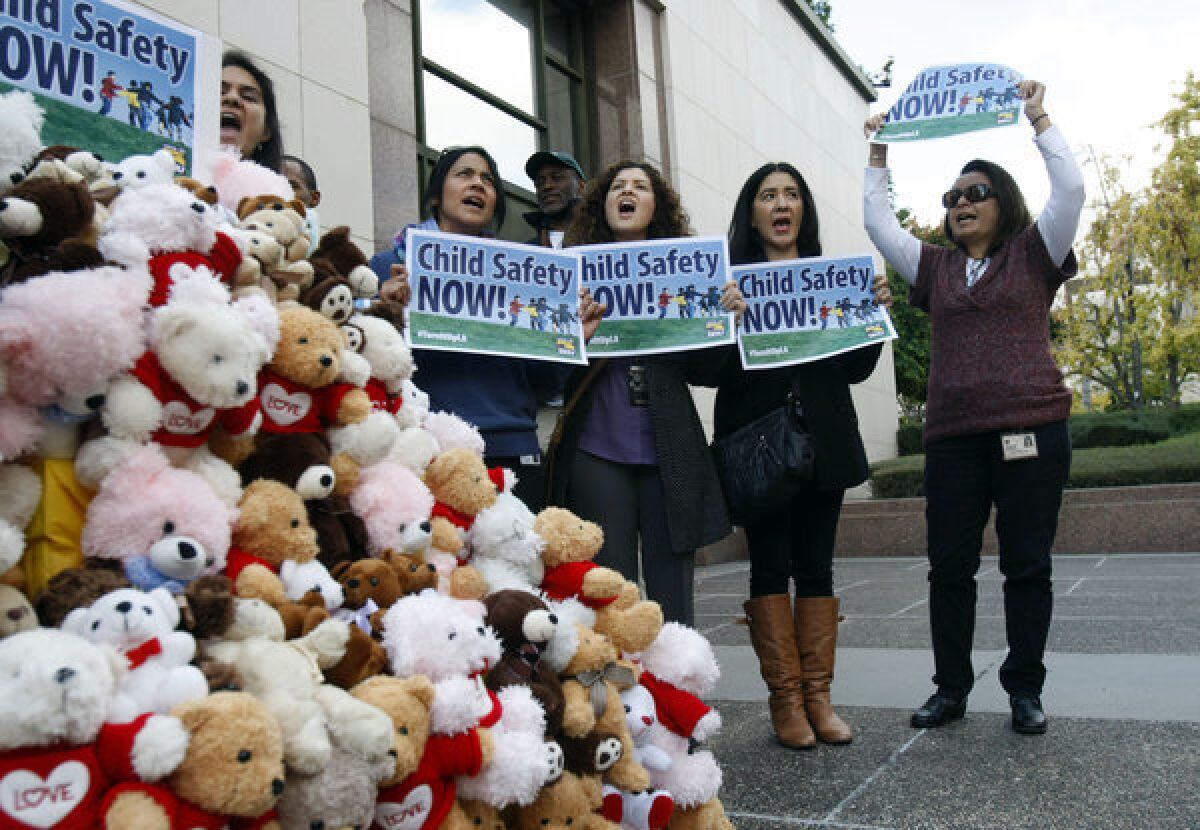 Los Angeles County social workers plan to strike Thursday if progress is not made toward lowering their caseloads, according to sources familiar with the ongoing bargaining but who were not authorized to discuss the negotiations publicly.
The news comes as the Service Employees International Union Local 721 -- the county's largest public-employee union, representing 55,000 workers -- announced significant progress in negotiations in an email to its members. Union employees have been working without a contract for more than two months
Both sides have agreed on the county covering increased 2014 premiums for most healthcare plans, as well as a 6% raise that most of the county's other unions have already agreed to, a $500 bonus in 2014 and $400,000 in ride-share subsidies, according to the email.
A sticking point is that the union wants the first part of the 6% raise -- a 2% increase -- to retroactively go into effect Oct. 1, the day after the previous contract expired.
"They are only offering to provide this 2% increase after settlement, thereby screwing SEIU 721 members out of at least two months' salary increase," the union wrote to its members Tuesday night.
County officials have traditionally not offered retroactive pay increases before a settlement.
"There hasn't been a conversation about retroactivity because that is inconsistent with the board's policy," said county spokesman David Sommers.
For social workers, a key issue is caseloads, which was the subject of a protest Tuesday afternoon outside the county Board of Supervisors' weekly meeting.
"We're asking the Board of Supervisors to do the right thing," said SEIU Regional Director Michael Green, standing in front of a pile of stuffed teddy bears and scores of social workers holding signs that read "Child Safety Now!"
"Their voices have been ignored," Green said. "Now we're at a tipping point."
It's unclear how many of the county's 4,000 social workers would strike or how long the action would last. The county is reportedly making contingency plans.
The union has also sued the county over the caseload issue, alleging that a directive from an arbitrator last year to reduce the social worker-to-child ratios in the Compton office of the county child welfare department had been ignored.
Under their most recent contract, the social workers were supposed to monitor no more than 30 children at a time, but SEIU said they often handle two or three times that number.
In labor negotiations, the union is asking the county to commit to hiring 35 new social workers per month for 17 months, according to SEIU spokesman Lowell Goodman.
Relations between the county and the union have sunk to the lowest point in more than a decade. But on Tuesday, both sides appeared more optimistic about a deal than they have been in weeks, when labor leaders walked away from the bargaining table and workers voted to authorize a strike.
Negotiators will return to the bargaining table Wednesday.
ALSO:
Sheriff Baca ordered to explain hiring of unqualified officers
Kabbalah Centre misused $1 million in contributions, suits allege
Condition upgraded for boy wounded in Mid-City drive-by shooting
Twitter: @LATSeema
---
The stories shaping California
Get up to speed with our Essential California newsletter, sent six days a week.
You may occasionally receive promotional content from the Los Angeles Times.