Bicyclist from San Francisco 'Critical Mass' ride gets probation for attacking motorist's car
A bicyclist who split off from a Critical Mass ride in San Francisco was ordered to 16 weeks of anger management classes and three years of probation after he blocked a driver and smashed her vehicle with a U-lock.
Ian Hespelt, 39, pleaded guilty to two felonies last month in connection with the Aug. 28 incident near the Golden Gate Bridge that was recorded and posted on YouTube.
Video of the incident showed a group of bicyclists surrounding a woman in a Zipcar and shouting at her and hitting her car. Police think the group was part of a Critical Mass "splinter group" that peeled off from riders downtown and headed toward the Golden Gate Bridge.
Police identified Hespelt as the primary suspect and arrested him days after the incident. On Monday he was also sentenced to pay more than $1,800 in restitution and given credit for serving six days in jail.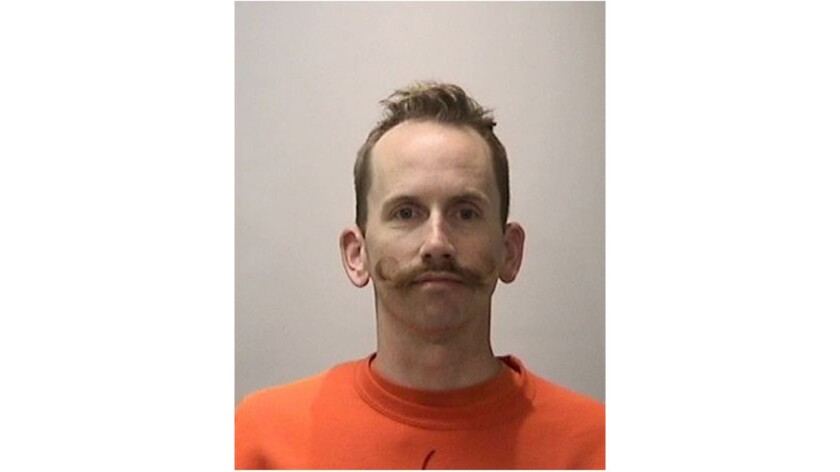 The video shows at least a dozen cyclists crossing Marina Boulevard on a marked crosswalk before steering into lanes and toward oncoming, slow-moving traffic.
On the video, one cyclist appears to stop directly in front of a Zipcar, which creeps slowly forward and bumps the bike's tire.
"Hey, stop that!" the cyclist yells before he lays down his bike in front of the car and walks to the driver's window.
Additional cyclists are seen surrounding the car as other vehicles keep their distance.
"You ain't going nowhere! Put it in park!" someone is heard yelling.
"You're really going to run me over for stopping for five minutes?" another person is heard saying.
A cyclist, apparently the one whose bike was bumped, is heard telling the female driver that once police arrive on the scene, "You're done."
Others yell that she has nowhere to go as about half a dozen cyclists surround her car.
The video shows the driver back up and steer right to go around the group, but they roll in front of her again, trapping her. The driver is heard yelling something to the cyclists about standing there, then slowly rolls her car forward.
One man lifts his bicycle and slams it on top of her car hood. As the car rolls forward, another cyclist – Hespelt – begins smashing the hood with a U-lock. He also hits the driver's-side window and a passenger window as the woman drives off.
For breaking California news, follow @JosephSerna on Twitter.
---
For reporting and exclusive analysis from bureau chief John Myers, get our California Politics newsletter.
You may occasionally receive promotional content from the Los Angeles Times.