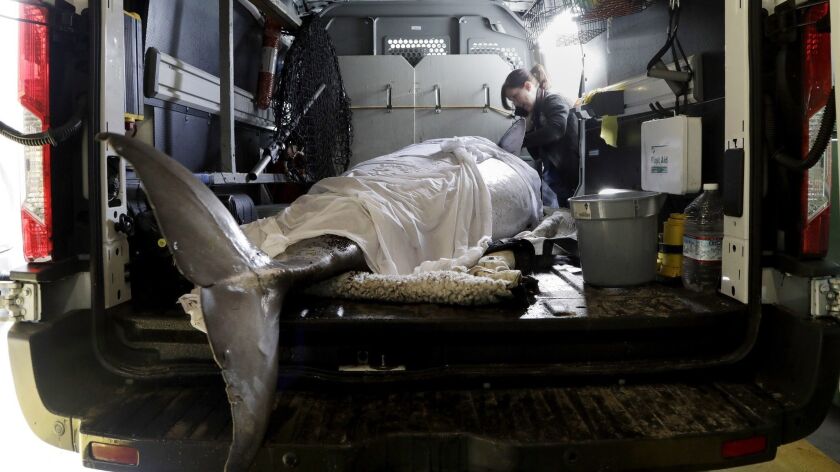 A 12-foot pygmy sperm whale that washed ashore at Zuma Beach in Malibu early Friday was euthanized by wildlife officials after they determined the animal was severely ill.
The 900-pound whale was first spotted around midnight in the water but showed up in the breaking waves about 7:30 a.m. Beachgoers and officials from the California Wildlife Center waded into the chilly ocean water in an effort to send the animal back out to sea but were unsuccessful. Their efforts were impeded by 4- to 6-foot swells, which continued to push the animal toward the shore.
Instead, officials pulled the whale onto the sand and — with the help of dozens of people on the beach — lifted the animal into the back of a vehicle where a veterinarian could examine it. The whale had chronic wounds on the right side of its body, bloody diarrhea and was unable to see, according to California Wildlife Center Executive Director Jennifer Brent.
WHALE 🐋 AT ZUMA | Very ill Pygmy Sperm Whale at Zuma with what may be viral/bacterial infection per Mammal Rescue Volunteers. Rain storms sent ash/debris/septic run-off into ocean that may have contributed to the condition. Whale taken to CA Wildlife Center for treatment #malibu pic.twitter.com/deaUd6Gu84

— Malibu90265 (@malibu90265org) January 18, 2019
Brent said the decision to euthanize the animal was made after consulting with Sea World in San Diego, the only location large enough to house a whale in Southern California, as well as with National Oceanic and Atmospheric Administration experts.
"We're very sad we had to euthanize the whale," Brent said. "The species does not generally fare well in rehabilitation settings, and they typically don't strand unless they're very ill."
Pygmy sperm whales, which are smaller than many other whale species, tend to stay in warm, deep waters in tropical and temperate ocean areas. Experts say they rarely are seen in the wild, and much of the research that is done on the animals occurs when they show up along beaches.
This is the second whale of the same species to show up in Malibu in six months, which Brent said is highly unusual, and could be the effect of toxins and other debris that have flowed into the ocean from recent rainstorms and wildfires. Sick animals that appear along the shore often can provide researchers with information that tells them more about changes in the condition of the ocean.
The Natural History Museum of Los Angeles will run a series of tests on the whale in an effort to learn more about what contributed to its illness.
"It's very much a cause for concern," Brent said. "These are not animals that should be coming ashore and certainly not in our neighborhood."
Twitter: @Hannahnfry
---