Under D.A. Jackie Lacey, only people of color have been sentenced to death, report says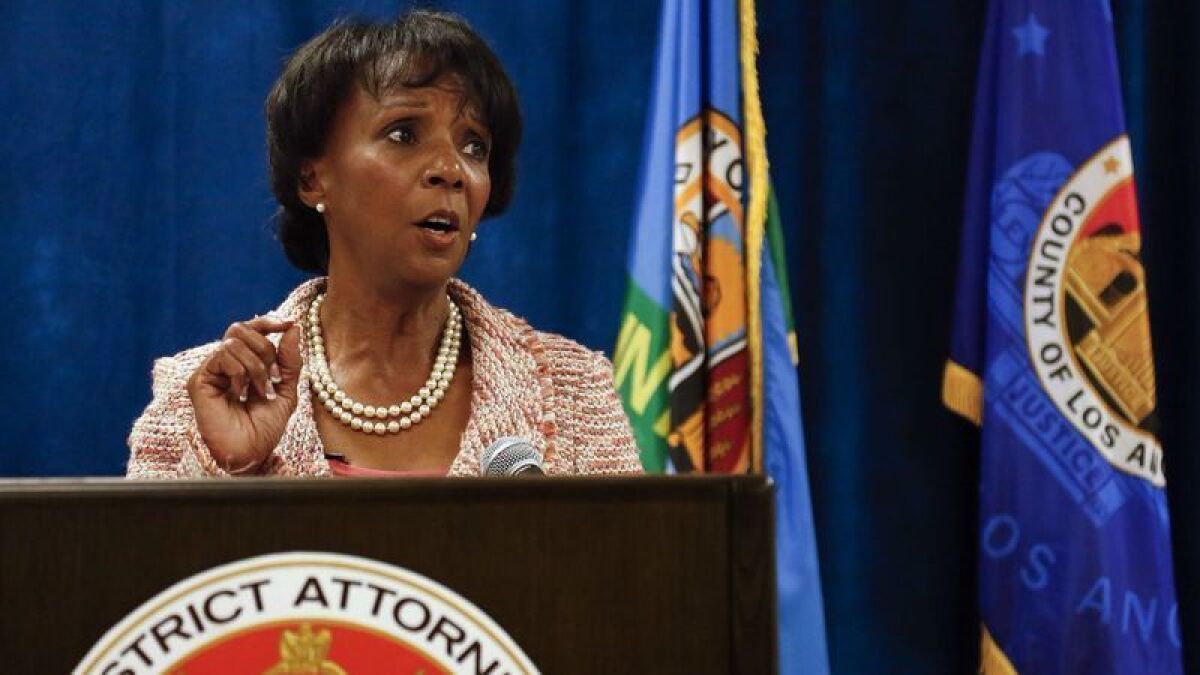 Since Los Angeles County Dist. Atty. Jackie Lacey took office, every defendant who has been sentenced to death in the county is a person of color, a report shows.
The district attorney's office has secured death sentences for 22 defendants since Lacey took office in December 2012, eight of whom were represented by attorneys with serious prior or subsequent misconduct charges, according to a new report by the American Civil Liberties Union. Of the 22, the report states, 13 were Latino, eight were black and one was Asian.
The report states that defense attorneys in five cases had either been or would go on to be suspended or disbarred. In another case, the report states, a defense attorney dozed off multiple times during the trial.
"L.A. County is an example of everything wrong with the death penalty," Cassandra Stubbs, director of the ACLU's Capital Punishment Project, said in a statement. "Abysmal defense lawyering, geographic disparities and racial bias are the legacy of Los Angeles' unfair and discriminatory use of the death penalty."
Prosecutors have continued to seek the death penalty in L.A. County after Gov. Gavin Newsom, in a controversial move, issued a moratorium on death row executions.
In a statement, Lacey said that her office sought the death penalty in less than 3% of eligible cases last year. In each case, prosecutors conducted an "extensive" review of the facts without considering the defendant's or victim's race.
"As a career prosecutor, I believe the death penalty is the appropriate punishment for some crimes – a serial killer, someone who tortures and kills a young child, the person who rapes and then kills the victim to silence his only witness or someone who kills a police officer trying to do her job safely," Lacey said in the statement.
"California voters have twice failed to abolish the death penalty," she continued. "I will follow the law as prescribed by the citizens of California – whether that is seeking the death penalty for the most heinous crimes or, with the abolition of the death penalty, life without parole."
The ACLU report states that of the 723 people on California's death row, almost a third are from L.A. County. Even when considering its large size, L.A. County has had more death sentences per capita in the last five years than 53 of 58 counties in the state, the report said.
L.A. and Riverside counties, and Maricopa County, Ariz., were the only three counties nationwide to have more than 10 death sentences from 2014 to 2018. L.A. was one of only four counties nationwide last year with more than one death sentence, the report states.
A recent poll shows that Californians narrowly support Newsom's moratorium but oppose abolishing the death penalty outright.
The poll — conducted for the Los Angeles Times by UC Berkeley's Institute for Governmental Studies — found that 52% of California voters backed Newsom's decision to grant a blanket reprieve to all condemned inmates on death row, compared with 48% who opposed the governor's action.
But the survey also shows that a majority of Californians support capital punishment. Just over 61% of California voters said they supported keeping the death penalty as a "possible punishment for serious crimes," compared with 39% who said it should be abolished, the poll found.
alene.tchekmedyian@latimes.com
Twitter: @AleneTchek
The stories shaping California
Get up to speed with our Essential California newsletter, sent six days a week.
You may occasionally receive promotional content from the Los Angeles Times.