If this Death Valley job isn't the worst one to have in triple-digit heat, it's at least No. 2
For Mike Darby, hard work for an honest day's pay means servicing Death Valley's septic systems when they reach capacity.
At 10:30 a.m. on Tuesday, the needle on a nearby vintage thermometer was pushing 113 degrees as he wrapped up a job at a gas station that is a popular pit stop for many of the roughly 100,000 people who visit this forbidding landscape of buckled earth and scruffy mountains each month in summer.
"Two more stops and I'll have a full load of 4,000 gallons," Darby, 57, said with a satisfied smile as he helped a co-worker stow hoses, valve connectors and tools in compartments beneath the massive steel tank on the back of his rig.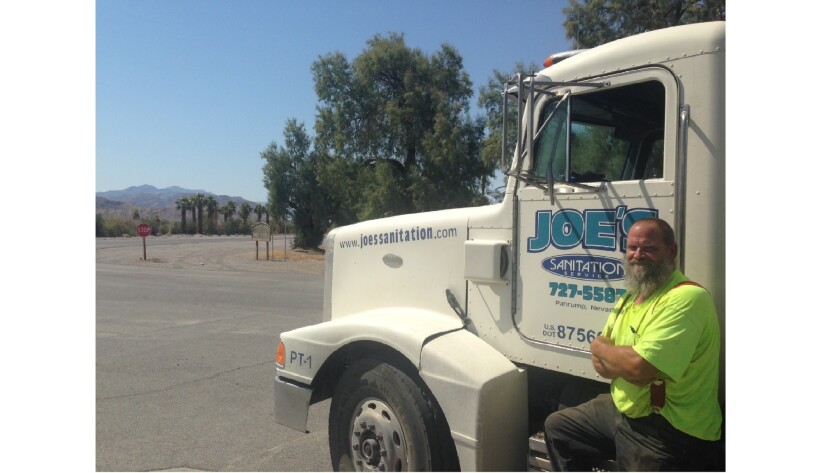 Darby shrugged off the notion of sweating through a historic high in the park where the temperature is expected to peak in the afternoon at 126 degrees.
"You have to be cut from a certain kind of cloth to do this work," he said, thoughtfully stroking his beard that was glistening with perspiration. "It's got to be done, and I was made to do it."
"Around here," he added with a chuckle, "it also helps to drink a more than a gallon of water a day, and keep a wet towel around your neck."
A few minutes later, he and his co-worker were rumbling down the road, headed for Pahrump, Nev., where the sewage sludge would be treated and processed into products including effluent water and compost.
For breaking California news, follow @JosephSerna on Twitter.
ALSO
Wildfire burning near Big Bear Lake grows to 950 acres amid sweltering California heat wave
Scorching Southern California heat wave expected to peak Tuesday
Californians urged to reduce power as heat wave triggers statewide alert
---
The stories shaping California
Get up to speed with our Essential California newsletter, sent six days a week.
You may occasionally receive promotional content from the Los Angeles Times.