This gated community insists California's drought is over, wants green lawns again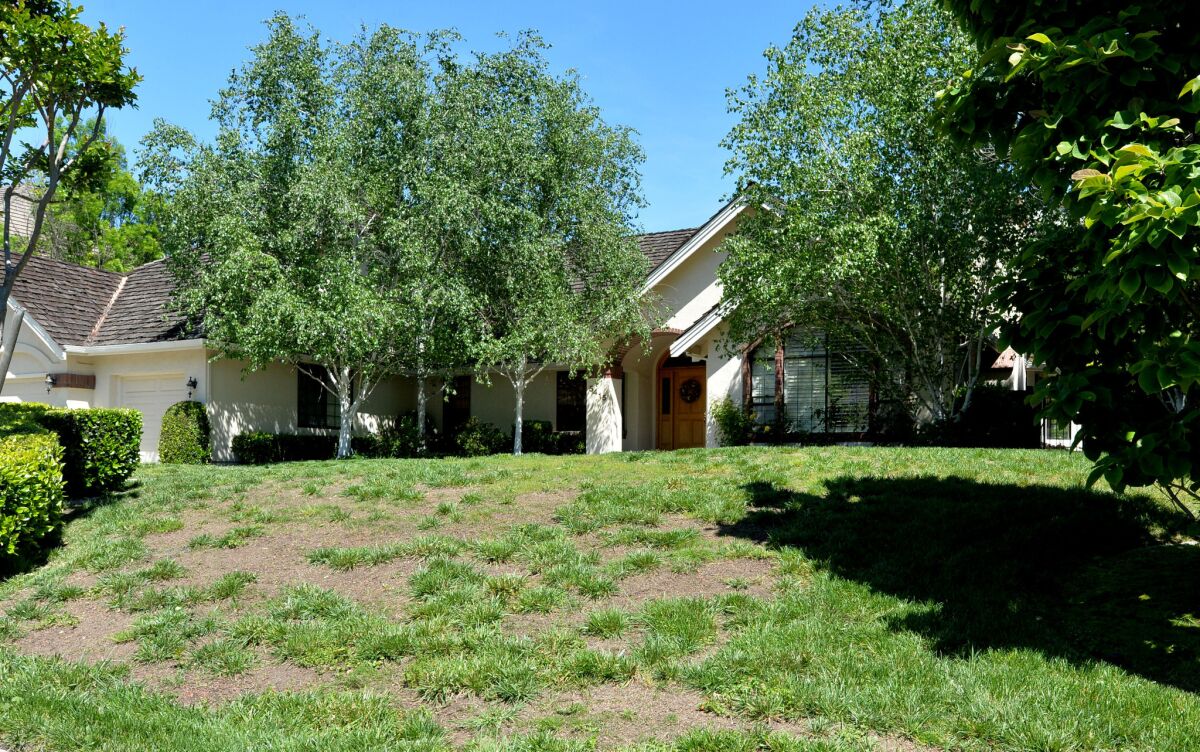 The warning was stern and unequivocal: The days of unkempt, browning lawns in the gated community of Blackhawk were officially over.
"We believe that allowing the drought to negatively impact the landscaping at any Blackhawk home does a disservice to property values throughout the community," the homeowners association announced. "We believe there is no longer any reason that all landscaping in the community cannot flourish as it once did."
Starting on June 1, any of Blackhawk's 2,000 homeowners who fail to maintain green lawns or install drought-tolerant landscaping will now risk fines or litigation.
With El Niño-fueled storms drowning out reminders that most of California remains in a state of severe drought, a growing number of communities and water associations are demanding an end to emergency water restrictions that were first imposed more than a year ago.
The outcry is particularly strong among those in the Northern California, where El Niño storms have hit hardest and filled reservoirs nearly to the brim.
"I have not been flushing my toilet, I've been taking Navy showers and putting my landscape at risk under the emergency circumstances," said Tim Quinn, executive director of the Assn. of California Water Agencies, or ACWA. "But I don't want to have to do that when we're not in an emergency."
Though local water officials say Blackhawk's move is premature, and possibly violates a governor-backed emergency declaration to not penalize residents for failing to maintain a lush, green lawn, it is nonetheless something officials anticipated would eventually happen.
"The reality is that with the most recent rains and snowpack, [water storage] has really been uneven in parts of the state," said George Kostyrko, spokesman for the State Water Resources Control Board.
See more of our top stories on Facebook >>
Blackhawk, which is located near Danville, is just the latest among several water districts and communities that have begun to signal they'll push back if the state doesn't address the inequities, Kostryko said.
Both the Placer County Water Agency and Nevada Irrigation District last month asked the state to roll back water conservation mandates, citing higher-than-average reservoir levels. These water reserves, they said, are ready to serve customers for at least a year.
"Drought conditions no longer exist in the watersheds that service the region," the PCWA wrote to the State Water Board March 17.
Over the last decade, Blackhawk has cut its water consumption by nearly half, from using 51 million gallons in 2004 to about 26 million this year, the East Bay Municipal Utility District said.
"Although precipitation and snowpack conditions may be 'normal' or even somewhat 'below normal' in some regions, surface water supplies are clearly available…storage is being fully replenished and the drought emergency has been substantially alleviated," ACWA argued in a letter to the water board earlier this month.
"California water users are aware that the severity of the drought has been mitigated, and it is extremely important to acknowledge that, for now, conditions no longer warrant extraordinary emergency conservation mandates," ACWA wrote.
Since the end of 2015, swaths of California from Santa Cruz to the Oregon border have enjoyed a conveyor belt of rain and snowstorms that have replenished reservoirs and built a snowpack that's been well above average in some areas of the Sierra Nevada.
In mid-December, about 45% of California was in exceptional drought, the most severe category. By April 19, that had dropped to only 21%, without any of the northern half of the state being included, according to the U.S. Drought Report, a weekly project released by a group of federal agencies.
Three of the state's biggest reservoirs, Oroville, Shasta and Folsom lake, are above their historical average.
But in Southern California, the media-hyped "Godzilla" El Niño never made an appearance. Though there was more rain than in recent years, it was nothing like previous El Niños and not enough to reduce calls to save water.
Perris Lake in Riverside County and Castaic Lake in Los Angeles County were well below their historical averages as of Thursday, according to the water board. The disparity can lead to competing priorities among water consumers and suppliers.
In an effort to suss out the future of California's hydrological infrastructure, agencies from across the state met in Sacramento on Wednesday.
Among the options discussed were switching the water conservation requirements from mandatory to voluntary, if and how the state should continue to monitor local districts' water usage and determining what's a viable amount of water storage for agencies across the state to prepare for future droughts.
See the most-read stories this hour >>
The California water board is expected to announce possible adjustments to the state's requirements in early May, with a final vote coming as early as May 18.
If the state lifts the ban on homeowner associations punishing residents for brown lawns at the meeting, Blackhawk's enforcement, which takes effect June 1, could be then be legal, officials said.
"I think the question is, 'If we're still in a drought, in what sense do we maintain that 'we're in this together?'" said Felicia Marcus, chair of the water board. "The drought last year was the worst snowpack in 500 years. We're still in a drought, but certainly not in that level."
ALSO
Donald Trump faces battleground in Disneyland's hometown
In Owens Valley, they're skeptical of Angelenos bearing gifts, including new artwork
Hail, rainbows, snow, downed trees and signs: A blustery Monday in Southern California
The stories shaping California
Get up to speed with our Essential California newsletter, sent six days a week.
You may occasionally receive promotional content from the Los Angeles Times.