Supervisors hiring an ex-dropout to lead L.A. County education office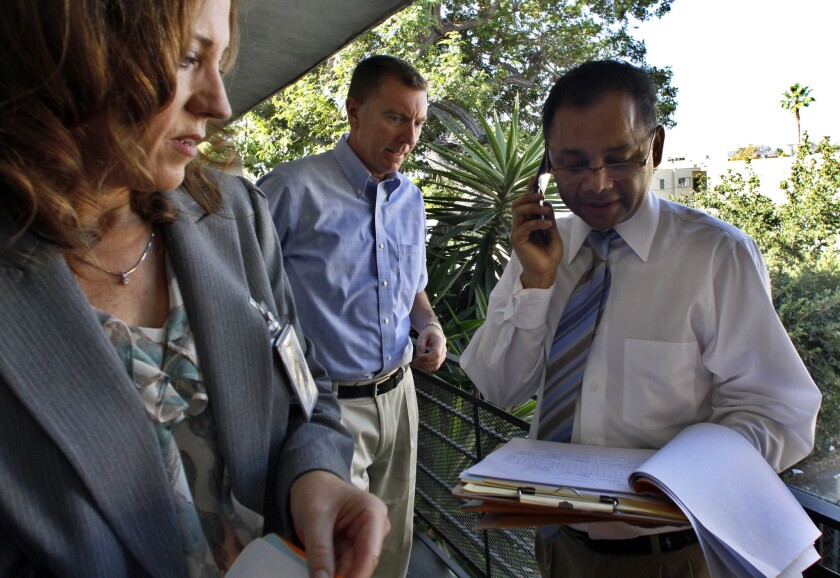 Debra Duardo, a former high school dropout, will become the top education official for Los Angeles County, heading an agency that provides schooling for teenage inmates as well as for thousands of disabled students—programs that have been criticized in recent years.
Duardo, 53, was the consensus pick of the county's five-member Board of Supervisors after closed-session interviews with three finalists last week. She is scheduled to be formally hired Tuesday, when the board votes in open session.
She would replace Arturo Delgado, who will have served five years when he retires in June.
Duardo, a veteran administrator, comes over from the mammoth L.A. Unified School District, where she's worked for two decades and heads the student health and human services division.
"Because of her role at L.A. Unified, Debra is uniquely qualified to run the Los Angeles County Office of Education," said Supervisor Sheila Kuehl. "I'm thrilled."
The county's education office also manages the payroll for nearly all of the county's dozens of smaller school systems. In a watchdog role it also provides an early warning system about districts that face insolvency.
But the county's own programs, including services to the disabled, also have come under scrutiny. This has contributed to a decline in revenue. In 2011-12, the education office's special education programs received almost $84 million in state tax revenue. The estimate for 2014-15 was $38 million, according to a recent outside review.
See the most-read stories this hour >>
In 2012-13, the county programs employed 772 teachers. Two years later, that number was down to 408.
"There have been some real complaints from school distrcts about the quality of programs we put together," Kuehl said. "Some districts have already pulled out."
Kuehl added that there also have been shortcomings in classes for juvenile offenders, but said that a new, successful pilot program showed promise and needed to be expanded. Other county-managed operations, such as a huge Head Start effort for preschoolers, are performing better, she said.
Duardo has spent her entire career focused on students who are troubled, disengaged from school or facing difficult challenges.
She was such a student herself, dropping out of Hollywood High after a week to work the counter at a Kentucky Fried Chicken. She eloped to Las Vegas and gave birth to her first son as a teenager.
Her son was born with a spinal disability; she decided she needed to know more to help him and herself. Saddled with parenting duties and the night shift at a grocery store, Duardo needed 10 years to earn a diploma and a two-year community-college degree.
Follow the Times' education initiative to inform parents, educators and students across California >>
She subsequently earned a bachelor's, master's and doctorate at UCLA.
At L.A. Unified she worked in a succession of counseling-related positions. She inaugurated the Diploma Project in 2006, when the district came under fire from then-Mayor Antonio Villaraigosa for a dropout rate well above the state average.
That's still the case, although the numbers have improved considerably.
In her school district position, Duardo has focused on improving student attendance at campuses with the worst attendance rates, concentrating especially on kindergartners and ninth-graders. She said there have been significant gains, but more needs to be done.
One key to helping students, she said, is to involve families, other government agencies and the larger community. School district counselors are now expected to conduct home visits and often work in conjunction with officials from other agencies.
At the district, "we fought really hard to make sure that students in foster care are getting support," Duardo said. "We worked hard for data sharing with county children's services so that we know when a child is in foster care. They tell us which students are taken out of a home, when a case is opened and we give them the child's enrollment history, grades, attendance. We are in the third year of that now."
She added: "We're all serving the same children and families, and we can all do a lot better if we work together."
See more of our top stories on Facebook >>
Under the county's arcane system, the supervisors hire the superintendent and recommend a salary, but the salary must be approved by the county Board of Education. This board is appointed by the supervisors.
The supervisors have recommended a salary of $267,788 for Duardo. County Board of Education member Alex Johnson said he expected the board to have no issue with Duardo's hiring.
The supervisors "made an extremely strong selection," Johnson said. "Dr. Duardo's leadership and personal story of triumphing over adversity is shining example for a county office which serves young people in our juvenile halls and camps."
Twitter: @howardblume
Times staff writer Joy Resmovits contributed to this report.
ALSO
UC Berkeley chancellor defends provost under fire in sexual harassment case
Nearly 250 arrested, 20 hospitalized at Beyond Wonderland rave in Inland Empire
Amid custody battle, 6-year-old girl is removed from her Santa Clarita foster parents
---
The stories shaping California
Get up to speed with our Essential California newsletter, sent six days a week.
You may occasionally receive promotional content from the Los Angeles Times.