Longtime friend says Durst taped himself practicing his testimony in Texas murder case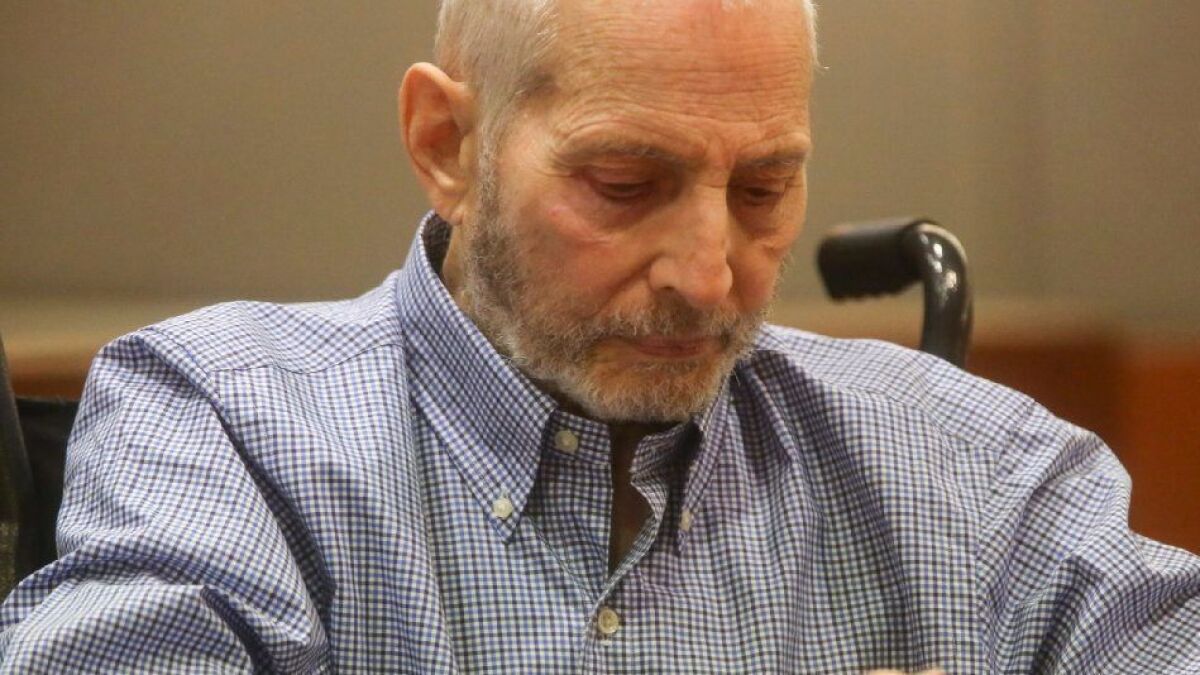 In his third day of testimony, one of Robert Durst's longtime friends revealed Thursday that he'd previously destroyed tapes of the idiosyncratic New York real estate scion practicing what he planned to say during his 2003 murder trial in Texas.
Stewart Altman said that while Durst was behind bars accused of the 2001 killing of his neighbor in Galveston, he'd recorded himself and then given the tapes to Altman.
"I got the tapes, I listened to them and I destroyed them," said Altman, who has acted as Durst's personal attorney over the years.
When a prosecutor asked him why, Altman peeked over at his personal attorney, who objected to the question, saying it would reveal the work product of his client, who is also an attorney. The judge ruled that Altman didn't have to answer as it may have been a decision he'd made in preparing for litigation.
Durst, now 74, admitted to shooting his neighbor, Morris Black, in self-defense during a struggle for a gun before dismembering him and throwing the body parts into Galveston Bay. Durst had been hiding out in the city, pretending to be a mute woman, when the killing occurred. Durst testified in the case and was acquitted of murder.
But it is because of the 2000 slaying of his confidante Susan Berman that Durst now awaits a murder trial in Los Angeles. Prosecutors have theorized that Durst killed Berman to silence her for what she knew about the 1982 disappearance of his wife, Kathleen.
As Durst — who has pleaded not guilty — walked into a Los Angeles courtroom Thursday, he turned to look into the audience. At one point, he locked eyes with Altman and smiled. The eccentric millionaire is unlikely to go to trial until at least 2018, and the judge has allowed lawyers to preserve early testimony from some older witnesses.
When a prosecutor initially asked Altman if he had picked up recordings of Durst practicing his testimony in preparation for trial, the witness' attorney invoked Altman's 5th Amendment right against self-incrimination. But the judge ordered Altman to answer, noting that he didn't believe the witness had committed a crime and that, if he had, the statute of limitations had expired.
Altman then testified to having picked up, listened to and destroyed the tapes.
During Thursday's hearing, prosecutors played a 2002 jail call between Durst — who was in custody awaiting trial in the Galveston case — and his second wife, Debrah Lee Charatan, in which they seemed to be discussing the same practice recordings.
"Do I sound A plus?" Durst asks. "Do I sound 100% believable?"
"Oh, yeah," she responds.
"The tone of my voice sounds sincere?"
"Yes."
On Wednesday, Altman testified that he remembered getting a call from Durst a few days after Kathleen went missing. When the prosecutor asked if the defendant had sounded concerned, Altman responded, "no," adding that his friend's tone seemed strange.
After that phone call, Altman said, he and Durst never had a more in-depth conversation about Kathleen's disappearance. "Bob didn't want to talk to me about it," Altman said. "If he did, he would've called me."
Altman, 74, testified that although he'd been close friends with Kathleen — who prosecutors contend was killed by Durst — his allegiance ultimately lies with Durst, not his wife.
"Would you agree," the prosecutor asked, "that Bob Durst is basically like family to you?"
"Yes," said Altman, a labor lawyer who went to high school with Durst in Scarsdale, N.Y.
Attorneys for both Durst and Altman argued that the witness should be shielded from testifying under attorney-client privilege, but prosecutors said Altman knows many things about the defendant that he learned as Durst's friend, not as his lawyer. The judge ultimately ruled that Altman did have to take the stand, but said that his lawyers could object to individual questions.
Defense attorneys opted not to ask Altman any questions on cross-examination.
Durst will return to court Sept. 20, when attorneys will discuss whether they will be prepared for a preliminary hearing scheduled for Oct. 16. The judge said the timetable will be somewhat flexible, as several Houston-based members of Durst's legal team either had to evacuate their homes or had office damage caused by Hurricane Harvey.
For more news from the Los Angeles County courts, follow me on Twitter: @marisagerber
The stories shaping California
Get up to speed with our Essential California newsletter, sent six days a week.
You may occasionally receive promotional content from the Los Angeles Times.