How did Robert Durst chop up a body and not get convicted for murder?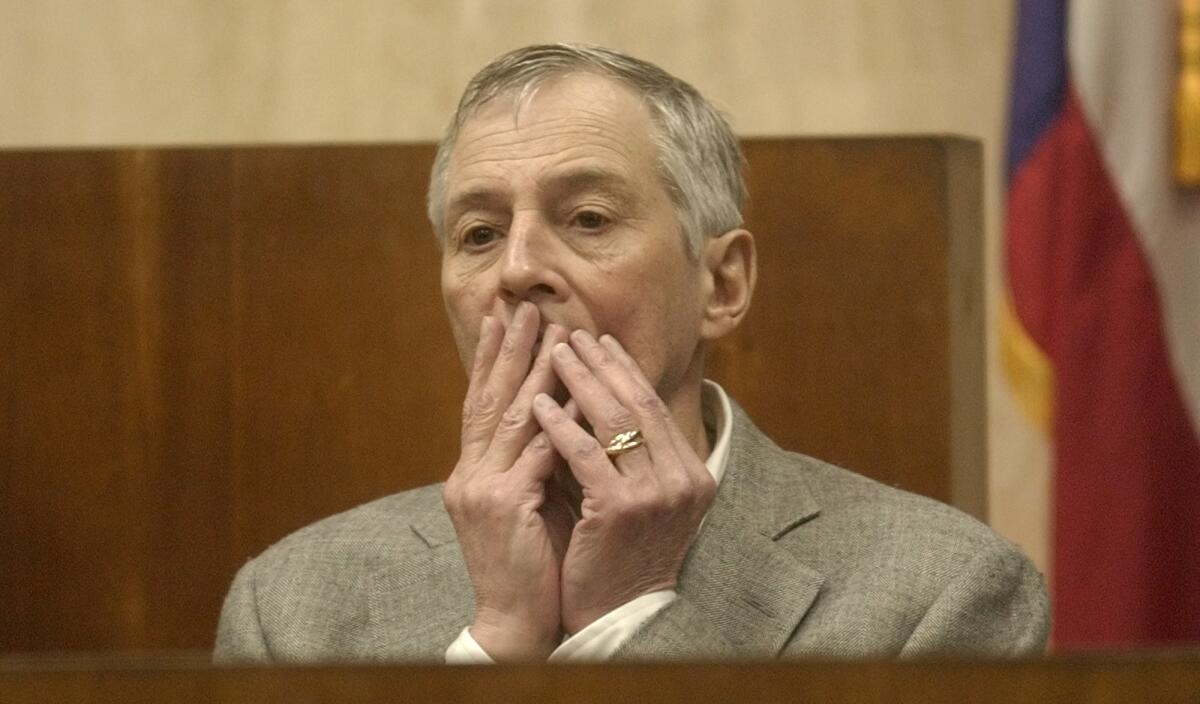 On Sept. 30, 2001, a 13-year-old boy fishing in Galveston Bay in Texas spotted something terrible out in the water.
A human torso, with nothing attached to it. No head. No arms. No legs. Police divers later found the arms and legs in two garbage bags.
Along with the torso, the limbs belonged to a 71-year-old man named Morris Black.
Officials would later charge an eccentric, cross-dressing, wig-wearing, real estate magnate named Robert Durst with the murder of his Galveston neighbor.
Now 71 years old, Durst has emerged again under the spotlight. He agreed Monday to be extradited to Los Angeles in connection with a different murder case -- the 2000 shooting death of his friend Susan Berman, a crime writer. The extradition comes after an HBO documentary explored Durst's possible ties to the killing.
In the 2001 case, however, Durst was living in Galveston under an assumed identity as a mute woman in a threadbare apartment that cost $300 a month. He pleaded not guilty to murder in the Black killing. A trial would reveal that Durst had indeed chopped up Black's remains. He faced up to 99 years in prison.
Those facts were not disputed -- and yet Durst would be found not guilty.
How was it possible?
At the sensational 2003 trial, Durst's legal team, spearheaded by Houston attorney Richard DeGuerin, laid out an elaborate argument of self-defense -- that a jury of eight women and four men agreed with.
"Morris Black died as a result of a life-and-death violent struggle over a gun that Morris Black had threatened Bob Durst with," DeGuerin told the jury, according to the Los Angeles Times' coverage of the trial, from which this account is drawn. "As they struggled, the gun went off and shot Morris Black in the face."
Another defense attorney on Durst's team, Mike Ramsey, ventured that Durst was then thrown into a traumatized state similar to an out-of-body experience, caused by a previously undiagnosed psychological disorder.
"His friend is dead, lying on the floor in a $300 apartment rented by a billionaire in Galveston, Texas, who is dressed as a woman. How much stranger does it get than that, and who will believe him?" Ramsey said during the opening arguments.
Prosecutors tried to paint Durst as a methodical killer who chopped up Black's body on his kitchen floor over the course of two days and then dropped Black's remains into the Galveston Bay.
But Durst said he had downed a fifth of Jack Daniels and didn't remember chopping up Black's body.
"You were drunk when you were cutting him up?" Galveston County District Atty. Kurt Sistrunk asked Durst, who had taken the stand.
"I hope so, yes sir," Durst replied.
Prosecutors said Durst had the presence of mind to file a money order to pay Black's rent for the coming month to ward off attention. After Durst was charged with the murder, he posted a $300,000 bond and then fled Texas. Durst was later caught in Pennsylvania while shoplifting a chicken sandwich and a box of bandages and was brought back to Texas to face trial.
"It was nothing but a cold-blooded murder and a man on the run afterward," Dist. Atty. Kurt Sistrunk told the jurors during opening arguments.
The jurors disagreed. On Nov. 11, 2003, after five days of deliberation, they found Durst not guilty of murder.
Gasps rippled through the courtroom. Durst's mouth hung open and his eyes rimmed with tears. He then grinned and embraced his lawyers.
"It comes down to reasonable doubt," juror Joanne Gongora, 49, a nursing instructor, said after the verdict. "The burden is on the prosecution to show how the event happened, and we didn't see that. It wasn't proven."
Durst was not unscathed: He later pleaded guilty to jumping bond, evidence tampering and taking a gun across state lines while on the run in connection with the Black case. He served five and a half months for the gun charge and was sentenced to parole, for which he was later jailed for violating.
But the murder trial marked a coup for lead defense attorney DeGuerin.
"It was a simple case," DeGuerin told Texas Monthly in 2004, referring to the self-defense argument. "It was complicated because Durst is rich, wore a wig, pretended to be a mute woman, and was suspected of killing his wife in 1982."
Durst has not been charged with any involvement in the 1982 disappearance of Kathleen Durst.
DeGuerin told Texas Monthly that the key to his strategy was to remind jurors that it wasn't the chopping-up of Black's body that mattered -- it was the killing itself. "It was like asking them to forget the elephant in the room," DeGuerin told the magazine. "But we got their promise that they could separate the facts and put them in their place."
As for the claim of self-defense? "The prosecution couldn't prove it wasn't self-defense," wrote Texas Monthly's Gary Cartwright. "There were only two witnesses, and one was dead."
Follow @MattDPearce on Twitter for national news.
Sign up for Essential California for news, features and recommendations from the L.A. Times and beyond in your inbox six days a week.
You may occasionally receive promotional content from the Los Angeles Times.