After billing woes, DWP halts new shutoff notices, collections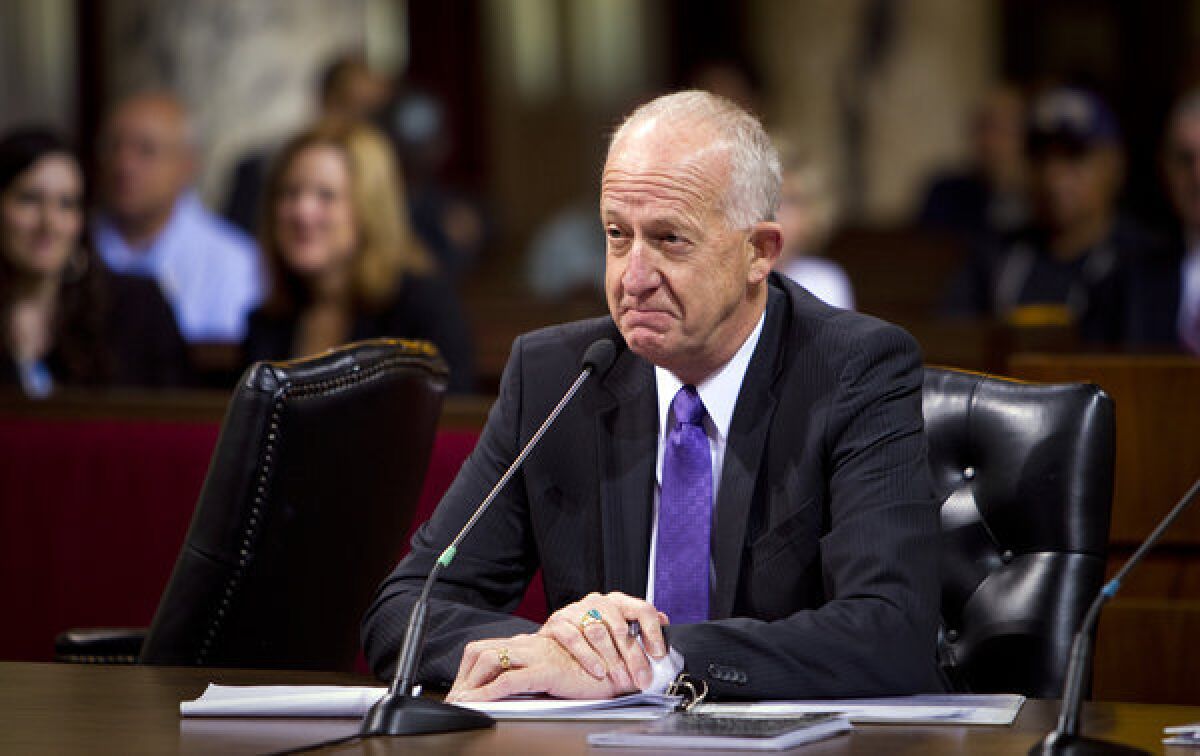 The top executive of the Los Angeles Department of Water and Power said Wednesday that his agency had stopped issuing shutoff notices as it attempts to clear up problems with as many as 70,000 late or inaccurate customer bills.
Faced with questions from City Council members upset over the billing debacle, DWP General Manager Ron Nichols said the utility also would not initiate new collections on unpaid bills through the end of the year.
Since the DWP switched to new customer software three months ago, customers have been hit with delayed charges, bills dramatically higher than they should be and long waits on hold when they call the utility demanding answers. Nichols told council members that corrections were underway, with reimbursement checks already received by some customers.
The situation "is getting better each day," he said.
Despite those reassuring words, the council voted 12 to 0 to impose a moratorium on new shutoff notices. As part of that vote, the council agreed to give the DWP the flexibility to cut off service to those whose accounts were delinquent before the utility switched to the new billing system.
Councilman Mitchell Englander, who proposed the moratorium, said the shutoff notices sent by the DWP in recent weeks had left families and seniors on fixed incomes "scared to death."
"We've heard of nightmare stories ... where people are on autopay and suddenly their savings are sucked out of their account and they can't pay their bills or they're bouncing checks," said Englander, who represents part of the west San Fernando Valley.
DWP customer Maria Schriber, 34, received two overdraft notices from her bank after the DWP billed her for $1,766, an amount she described as roughly 40 times her typical bimonthly bill. Schriber, who lives in a 400-square-foot apartment, pays the utility through an automated deduction system and did not have the funds available for such a large sum.
The Silver Lake resident said she spent 10 hours on the phone with the DWP and her bank over a three-week period trying to solve the problem. Of the seven utility employees who spoke with her, two were pleasant and helpful, four were unhelpful and one was so dismissive he made her cry while she was on the phone, Schriber said.
Last week, a DWP employee personally delivered to Schriber a reimbursement check. It was for about $1,500, she said, because the DWP had undercharged her earlier this year.
"I do appreciate those two employees who were nice to me. And they refunded my money, so I'm grateful for that," Schriber said. "But the whole experience left a pretty negative taste in my mouth."
DWP spokesman Joe Ramallo said the agency has also installed a system that allows customers who call during peak times to dial in a number to request a call back -- a move designed to reduce waiting times on hold.
ALSO:
Big Bear Mountain is the latest Southland snow resort to open
Man throws homeless woman's cats into S.F. Bay, killing them
Body parts identified as those of East San Gabriel Valley woman

Twitter: @davidzahniser
The stories shaping California
Get up to speed with our Essential California newsletter, sent six days a week.
You may occasionally receive promotional content from the Los Angeles Times.