DWP union chief warns L.A. officials not to withhold trust payment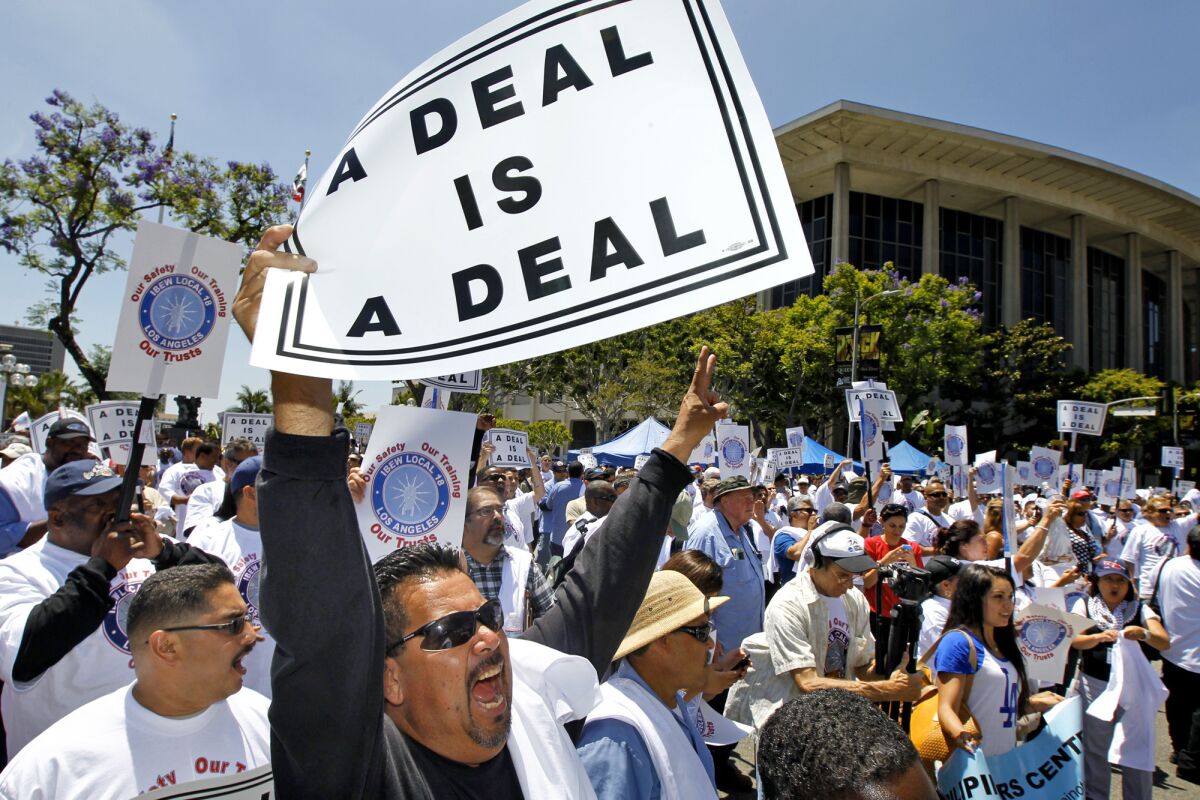 Flanked by a passel of labor leaders, Department of Water and Power union chief Brian D'Arcy warned Los Angeles officials Tuesday not to halt a scheduled payment to two DWP-affiliated nonprofits, arguing it would break a bargaining agreement with the city.
If that pact is broken, "they're looking for trouble," D'Arcy said to hundreds of union workers and their allies amassed outside the DWP building. "And I know you can give it to them."
Labor leaders say that the DWP board has threatened to withhold a July payment to two nonprofit trusts, the latest salvo in a long battle over the groups' financial records. At a rally, they argued that halting the payment would break the labor agreement that they negotiated with the city last year."Do what you said you were going to do," D'Arcy warned city officials. "And quit playing politics. Because a deal is a deal."
Mayor Eric Garcetti and other city leaders have been pressing months for more information about spending at two nonprofit training organizations. The trusts, which are charged with improving relations between labor and management, have received more than $40 million in ratepayer funds.
D'Arcy, who sits on the board of both trusts, has blocked attempts by City Controller Ron Galperin and City Atty. Mike Feuer to access detailed financial records for the nonprofits. The union leader also declined to answer questions from reporters after delivering his remarks to the crowd.
DWP board President Mel Levine said no decision had been made on the July payment but that the board was seeking legal advice on its options to prod the union to hand over more information.
"Brian D'Arcy has stonewalled every effort to find out where $40 million went," said Levine, a Garcetti appointee. "We're looking for every possible means of obtaining this disclosure."
In order to prevent the payment from being made, the board would have to take action, Levine said. The roughly $4 million payment is due from the DWP to the trusts in early July.
Garcetti, who was at an event elsewhere in the city, issued a short statement as throngs of workers gathered on Hill Street. "This is a simple issue: the ratepayers should have the right to know how their money is being spent," the mayor said.
His spokesman Jeff Millman added that the union had refused to meet with representatives appointed by the mayor to serve on the boards of the two trusts, which "has put the trusts at risk." The union contends that the appointees are not qualified.
Maria Elena Durazo, executive secretary-treasurer of the County Federation of Labor, said that the city couldn't legally withhold the payment to pressure the DWP union on the trusts or any other issue.
"It's illegal," she said. "It flies in the face of what collective bargaining is."
Follow @latimesemily for what's happening at Los Angeles City Hall.
---
Life is stressful. Our weekly mental wellness newsletter can help.
You may occasionally receive promotional content from the Los Angeles Times.