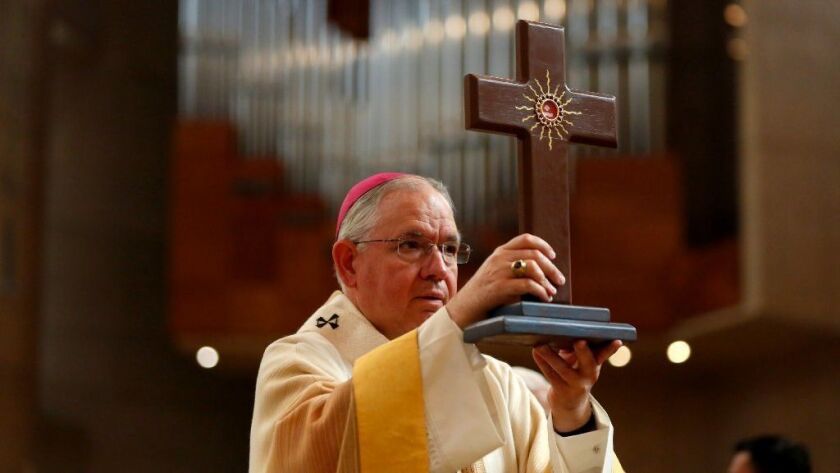 Addressing the Easter Sunday explosions in Sri Lanka, Archbishop Jose H. Gomez of Los Angeles offered his condolences to those affected by the violence and said, "We pray for the conversion of every heart that is hardened by hatred."
"We are praying for our brothers and sisters who were killed this Easter morning in Sri Lanka," said the archbishop, who was scheduled to lead a Spanish-language Easter Mass on Sunday afternoon at Our Lady of the Angels Cathedral downtown. "Only love can conquer evil and violence, so we ask Jesus this morning for the courage to love and we pray for the conversion of every heart that is hardened by hatred.
"May the Blessed Virgin Mary, who is our mother and the mother of mercy, console those who are suffering and watch over all of us. And may God grant us peace."
More than 200 people were killed in several bomb blasts that targeted at least three churches and several luxury hotels across Sri Lanka on Easter Sunday morning. Hundreds more were wounded in the explosions in the island country's deadliest day of violence since the end of a long civil war a decade ago.
At least 27 of those killed at the hotels were foreign nationals, said officials, who had determined that most of the six attacks were suicide bombings. Among the victims were "several U.S. citizens," said Secretary of State Michael R. Pompeo, in a statement, condemning the terrorist attacks.
"Attacks on innocent people gathering in a place of worship or enjoying a holiday meal are affronts to the universal values and freedoms that we hold dear, and demonstrate yet again the brutal nature of radical terrorists whose sole aim is to threaten peace and security," he said.
No group immediately claimed responsibility for the blasts. But Sri Lankan authorities said they had arrested seven suspects in the attacks.
At Easter Mass at St. Peter's Basilica in Rome on Sunday, Pope Francis condemned the "grave attacks" in the South Asian country.
"I want to express my loving closeness to the Christian community, targeted while they were gathered in prayer, and all the victims of such cruel violence," Francis said. "I entrust to the Lord all those who were tragically killed and pray for the injured and all those who are suffering as a result of this dramatic event."
Other religious leaders also condemned the attacks.
"We stand in solidarity with the Christian worshippers in Sri Lanka and others who were the targets of hatred and intolerance on one of Christianity's most sacred holidays,'' said Hussam Ayloush, executive director of the Los Angeles chapter of the Council on American-Islamic Relations. "We also offer our support to members of the Sri Lankan community living in Southern California. We ask American Muslims in the Greater Los Angeles area to join people around the world in saying, Pray for Sri Lanka.''
Meanwhile, Los Angeles police officials on Sunday said the department would step up its presence at places of worship out of caution, noting that the department was also in contact with other local, federal and international law enforcement agencies.
"Southern California residents are waking up this Easter Sunday morning to news of a violent terrorist attack in Sri Lanka, and while there is no nexus to Los Angeles at this time, the LAPD is monitoring the situation," the statement said. "In abundance of caution the department will maintain a visible presence around places of worship today, as well as public spaces where families will be gathering for the holiday."
Los Angeles Mayor Eric Garcetti also tweeted about the attacks: "`Our hearts are with the people of Sri Lanka on a day of unimaginable loss," he said. "This horror is why the world must always unite against hate and extremism.''
---