L.A. gives green light for eminent domain to clear out Manchester Square
Manchester Square near LAX is on its way to becoming empty. (Aug. 10, 2017)
Year after year, Manchester Square has slowly become a ghost town in the shadow of Los Angeles International Airport.
Houses and apartments have gradually been razed or boarded up. Empty lots surround the scattered buildings that remain. Homeless people pitch tents along its streets, under the roar of airplanes.
"This place used to be so beautiful," said Jena Morgan, who first moved to Manchester Square two decades ago. "This whole place was packed with homes. I used to take my 3-year-old trick-or-treating up here."
"Now look at it!" she said, gesturing to the vacant lots beyond her apartment window.
For nearly two decades, airport authorities have been trying to buy up property under the flight path, aiming to get rid of homes in a neighborhood nagged by airplane noise. Los Angeles World Airports, the city agency that owns and operates LAX, is planning to build a rental car facility, parking areas and a transportation hub there as part of a sweeping modernization plan that aims to reduce congestion around the busy airport.
And now Manchester Square is on its way to finally being empty: The Los Angeles City Council gave the green light Wednesday to acquire dozens of homes in the neighborhood via eminent domain, a process that allows government agencies to take over land for public purposes.
"This is an important step for the airport to get us to the modernization that we've been seeking," Councilman Mike Bonin said before the council vote.
As of June, airport officials had already spent nearly $400 million to buy more than 500 properties in the area, located just west of the 405 Freeway and north of Century Boulevard, but were at a stalemate over more than three dozen that remained. They sought permission to get the remaining properties through eminent domain, calling it "a fallback."
Since the Board of Airport Commissioners approved that plan, owners of 30 of the 37 properties have agreed to sell them, though not all of the titles have been transferred. Airport officials still see eminent domain as a fallback option as they continue to try to negotiate on the remaining seven properties, said Mark Waier, director of communications for Los Angeles World Airports.
"It is always possible that a settlement could be reached without a trial or significant litigation … and that is always our hope," LAWA Chief Commercial Officer Debbie Bowers told the council on Wednesday.
Pursuing eminent domain is also a welcome step for some property owners: Attorney John S. Peterson, who is representing two of the owners who have not yet agreed to sell, said that eminent domain allows them to seek another assessment of how much their property is worth, instead of relying on an appraisal that the government has obtained.
"It levels the playing field," Peterson said. "We are not challenging the right of LAWA to acquire the property. We're not trying to stop the project. But we are seeking just compensation."
Waier added that the eminent domain declaration also affords property owners some tax benefits. Attorneys and airport officials say the legal process could take a year or longer, though the airport agency could take over the remaining properties sooner if it sought a court order.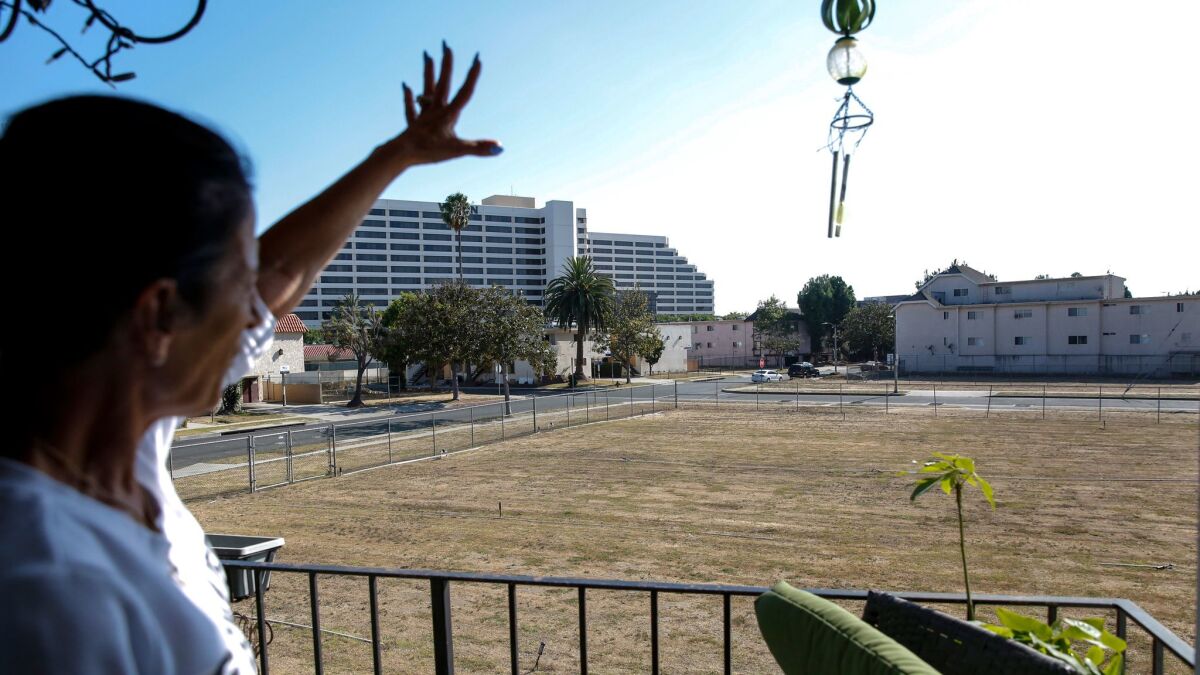 Renters are also supposed to get help. Airport officials have hired consultants to assist tenants with relocating, Waier said. Under city and federal rules, the agency is also legally required to provide financial assistance to displaced renters: Waier said that last year, the airport agency paid out an average of $45,000 for each unit occupied by a renter, based on a sampling of its data.
But remaining tenants like Morgan are anxious about how much they will ultimately receive and how far that assistance will stretch as L.A. rents continue to surge. "I'm scared," she said on a recent afternoon. "If they didn't do this, we would probably have been here for the rest of our lives."
Others are worried about what will happen to the hundreds of homeless people who have found refuge along its empty streets. "I fear they'll just fence everything off," said Heather Oblon, a Hermosa Beach resident who coordinates community service projects in the area.
Waier said that revenue restrictions prevent the airport authority from providing financial assistance directly to the homeless, but it has hired a manager and partnered with other groups to help connect them to housing and services. So far, 23 people have been housed, he said, and that process is expected to accelerate now that a nonprofit team is focusing on it full time.
The City Council vote on Wednesday did not address how much any property owner would be paid, though the airport commission approved spending up to $108 million to acquire the dozens of remaining properties in June.
The sole owner who came to speak at the Wednesday hearing was Michael Parris, a 92-year-old who lamented that he did not want to leave his home of 60 years, where his wife and father died, and where his sons grew up.
"Now they're ready to throw us out," Parris said.
Twitter: @LATimesEmily
ALSO
Robin Abcarian: Venice has become an epicenter of Los Angeles' struggle over short-term rentals. Call it the Airbnb problem
Malibu Colony is L.A.'s most expensive neighborhood this year – by far
Mental illness and homelessness are connected. But not how you might think
A 5% rent increase would push 2,000 Angelenos into homelessness, study warns
The stories shaping California
Get up to speed with our Essential California newsletter, sent six days a week.
You may occasionally receive promotional content from the Los Angeles Times.